The Surprising Real-Life Connection Between Richard Jenkins And The Humans - Exclusive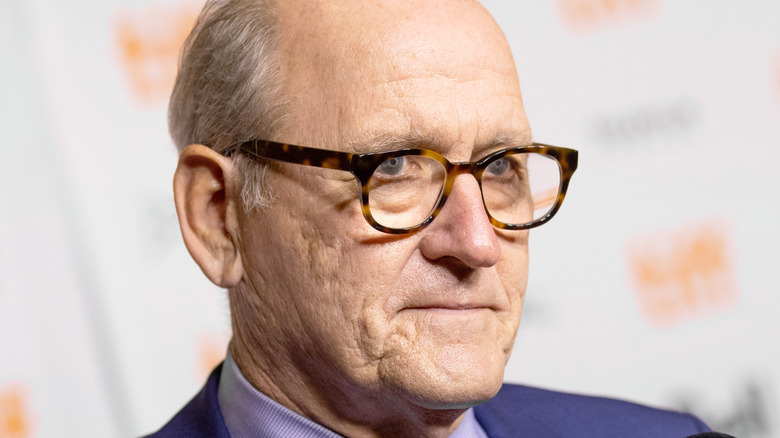 Emma Mcintyre/Getty Images
As one of the most acclaimed actors of his generation — with two Oscar nominations, an Emmy win and many other accolades to his name — Richard Jenkins is one of those performers who seems to be constantly working in high-profile projects, effortlessly switching from movies to TV and from lead roles to supporting turns. 
Among the many hit films and TV series he's best known for are "Six Feet Under" (2001-2005), "The Visitor" (for which he was nominated for Best Actor), "Step Brothers" (2008), "Burn After Reading" (2008), "White House Down" (2013), "Kong: Skull Island" (2017), "The Shape of Water" (for which he was nominated for Best Supporting Actor), and "Olive Kitteridge" (for which he won an Emmy for Outstanding Lead Actor).
Times weren't always good for Jenkins and like so many actors, he struggled in his early days — which is why he found himself relating especially well to his latest film, "The Humans."
Based on a Tony-winning play by Stephen Karam (who directed and wrote the film adaptation as well), "The Humans" stars Jenkins as Erik Blake, the patriarch of a Scranton, Pennsylvania family who gathers with his wife, his mother, his two daughters and one daughter's fiancé for Thanksgiving dinner at the latter couple's downtown Manhattan apartment.
During the course of the evening in this rather eerie abode, family secrets, disappointments and fears come to light amidst an atmosphere of sometimes overwhelming dread and anxiety. As Jenkins tells Looper, "I think it's recognizable. Some people say, 'Well, I don't know anybody like that,' and I want to go, 'What are you talking about? How can you not? How do you live your life?' You want to say, 'I bet your Thanksgiving dinner is exactly like theirs.' I think some people are in denial about it."
Richard Jenkins wasn't always doing well as an actor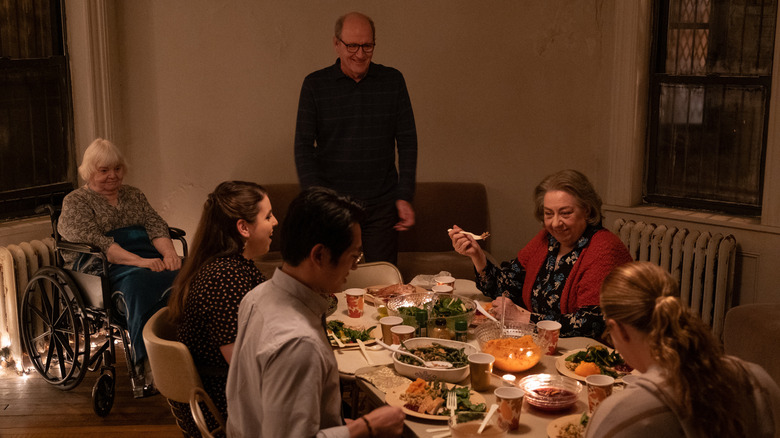 A24
Richard Jenkins made his screen debut in 1974, in a TV production called "Feasting with Panthers," but he struggled for a decade and worked in a theater company until the mid-1980s, when he began landing a steady string of small jobs in films and TV shows.
"I don't have to worry about [money] now, but I did for many years," he explains. "I worried about it ... I had two kids and it was like, 'What do I do now?' My wife, thank God, she was a dancer, and she's a choreographer and she taught dance in an arts magnet high school. I don't know what we would have done."
That is one reason why Jenkins empathized with the Blakes in "The Humans." Like so many working families, they face deep financial worries: his daughter Brigid (Beanie Feldstein) is attempting to make it as a musician, her fiancé Richard (Steven Yeun) is still in school, and the parents themselves are facing a perilous economic cliff that is revealed during the course of the film.
"It was very familiar, but I think it's familiar to any of us," says Jenkins about the characters' plights and the movie's dissection of them. "I grew up in a small town in the Midwest and the Blakes' problems are not unique to the Blakes. They're in every family — if not all of them, some of them. Health, money, betrayal, yearning, wanting to be loved."
Although his days as a struggling actor are behind him, Jenkins says issues of money seen in "The Humans" can resonate with everyone. "There are so many people who live day-to-day not knowing if they're going to have enough money to pay the electricity bills or the mortgage," he says. "It's a terrifying feeling, to have that feeling all the time."
Richard Jenkins still remembers the worst place he ever lived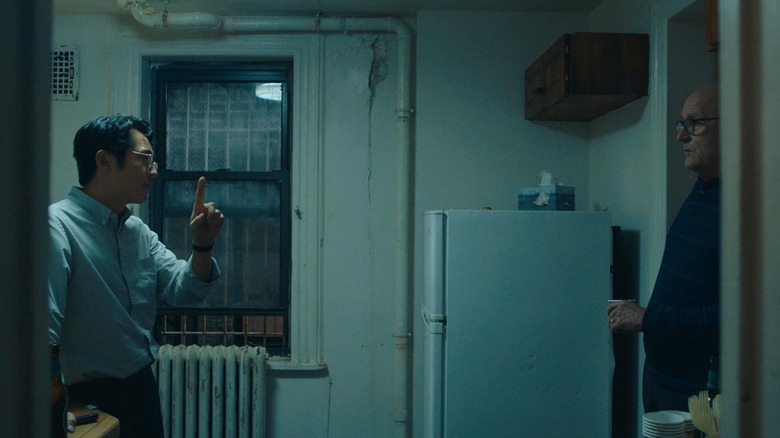 A24
One of the most striking aspects of "The Humans" is the apartment that Brigid and Richard are renting in lower Manhattan. The split-level habitat is old, worn down, and almost splitting apart at the seams. The plaster on the walls seems to bubble up randomly, noises from the apartment above boom through the place, and the lights flicker on and off for no reason. Jenkins, who attended college in Illinois before moving to Providence, Rhode Island, says he was "jumpy" on the foreboding set (which was built full-sized on a soundstage) and recalled his own early apartment woes.
"I was in graduate school and my wife was coming up and I found this apartment," he recalls. "It's the last apartment she ever let me find. One night we were sleeping, we had a hide-a-bed you pulled out, and I woke up and she was on her side and her back was to me, and there was this huge cockroach on her shoulder. I went (makes flicking noise) and she never woke up. I think I told her about it about a month later. When you sat on the toilet, you had to put your feet in the shower."
"The Humans" is now playing in limited theatrical release and available on Showtime.