The Untold Truth Of Chicago Fire's Tony Ferraris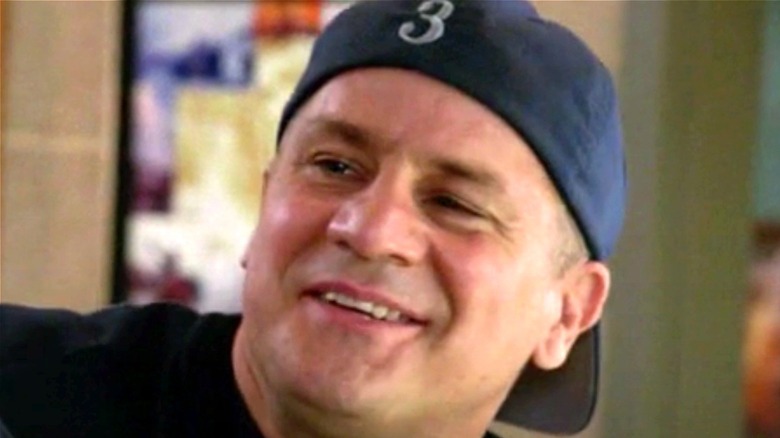 NBC/Hulu
NBC's hugely popular action-drama "Chicago Fire" features many veteran actors whose relatable appeal has made them some of the most recognized faces in the world of network TV. With mainstay series regulars like Taylor Kinney racking up a Twitter following over 300,000 fans, the names of the stars on this ratings-topping series have in many cases become household names.
All that being said, there's a factor beyond the obvious talent and charisma of the show's stars that keeps viewers tuning in every Wednesday night. It's that indefinable sense that "Chicago Fire" takes place in a real-life city with genuine characters facing authentic challenges. In that regard, a big part of what makes the series ring true with fans can be attributed to the deceptively simple fact that some of the minor and background actors on the show are, in reality, not actors at all. But one of those non-actors, Chicago native Tony Ferraris, has earned a place in fans' hearts to rival any of the higher-luminosity stars in the "Chicago Fire" lineup. 
That's because Ferraris is not only a hard-working on-screen first responder hauling hose, driving the squad truck, or executing high-risk, fictional rescues on "Chicago Fire" — he's also a Chi-town firefighter in real life. So, for the many dedicated Ferraris buffs out there, here's a deep-dive into some of the intriguing, untold truths about this low-key but high-impact real-world hero.
Without Ferraris, Chicago Fire would literally never have started rolling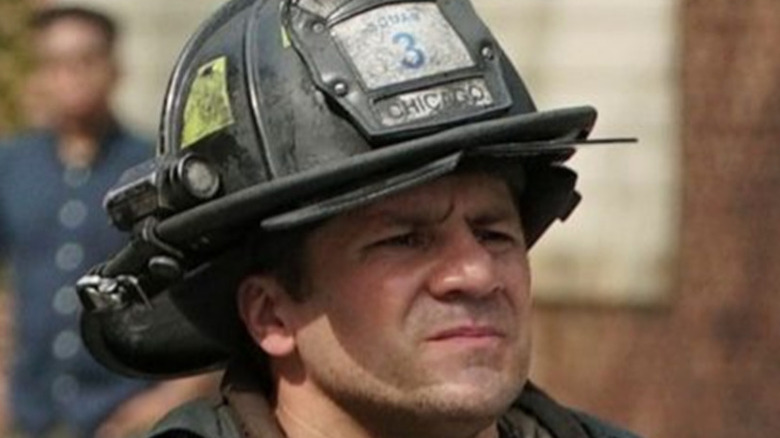 Elizabeth Morris/NBC/NBCU Photo Bank
As avid "Chicago Fire" viewers know, Tony Ferraris regularly turns up on the show as a supporting team member of the Station 51 squad team. But in addition to his role as an apparatus operator on "Chicago Fire," his actual day job finds him working as a firefighter assigned to Chicago Fire Department Squad 2, headquartered and partnered with Engine 91 and Battalion Chief 7 in the Windy City (per Ferraris's Instagram). In an interview with the show's producers at Wolf Entertainment, Ferraris was asked how he came to be cast as a background actor, and he revealed that his entire on-screen career was a bit of a coincidence. "A friend of mine received an email from the firefighter's union saying the show was looking for extras," he said. "He asked me if I would go with him to the audition. I went in with him, and I guess they liked me."
As his many recurring appearances on the show make clear, the producers definitely liked what they saw. But as Ferraris notes in the same interview, it turns out his actual professional experience would become positively indispensable to the show before shooting even began. "On the first day of filming, the crew realized nobody in the cast was able to drive squad," Ferraris said, referencing the station vehicle that needed someone at the wheel for one of the series' initial scenes to begin filming. "Steve Chikerotis, the show's technical advisor, who I've known for years, asked me if I would drive. I said sure, and that's pretty much how it all went down." Ferraris described working on several episodes in a non-speaking capacity before he was tabbed to do more in the show. "I started as an extra," he said. "And then Derek Haas, our 'Chicago Fire' showrunner, approached me around episode five or six and asked me to read for him, and then they started writing me in." Many episodes and seasons later, Ferraris continues to be written in as a low-key but vital part of the "Chicago Fire" first responder team.
This beloved series extra has a huge episode tally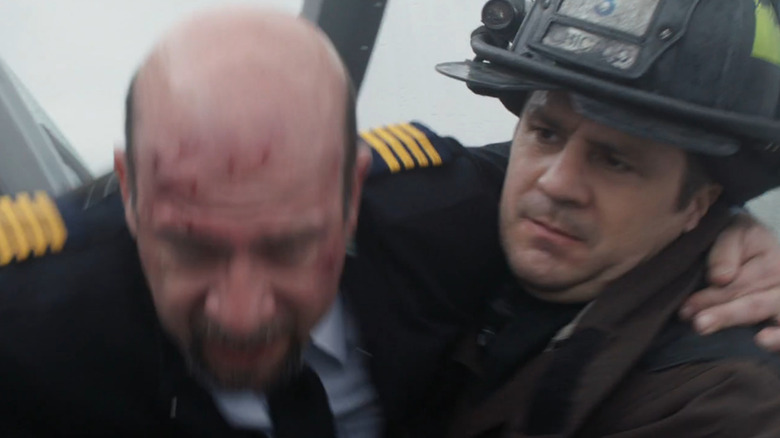 NBC/Universal
As noted, "Chicago Fire" is loaded with high-profile series regulars who have accumulated impressive numbers of appearances in episodes spanning multiple seasons during the show's extensive run on NBC. And that should come as no surprise, considering that the show's narrative premise counts on fans eagerly returning each week to catch up on their favorite stars' exploits. For instance, in Taylor Kinney's case, his Kelly Severide has been a presence on the show for all ten seasons of "Chicago Fire" (via IMDb). Equally enduring characters include Kara Killmer's Sylvie Brett, onboard as a paramedic in the series since Season 3, Miranda Rae Mayo, who's portrayed firefighter Stella Kidd on the show for a total of six seasons, and team member David Eigenberg's Christopher Herrman, on duty at Firehouse 51 for over 200 episodes.
But the fact is, while his fire-suppression and rig-driving duties may not occupy the central focus of a given "Chicago Fire" installment, Tony Ferraris is no slouch when it comes to piling up eye-popping episode counts. In fact, Ferraris' on-screen credit list includes no less than an astounding 160 episodes of "Chicago Fire." In addition to that remarkable tally, Ferraris can also lay claim to appearances in both "Chicago Fire" sister series, including five episodes of "Chicago P.D." and one episode of "Chicago Med."  With that in mind, it seems fair to say that Ferraris can rightly consider himself one of the foremost background talents in the entire "One Chicago" universe.
For Tony Ferraris, acting is tougher than fighting fires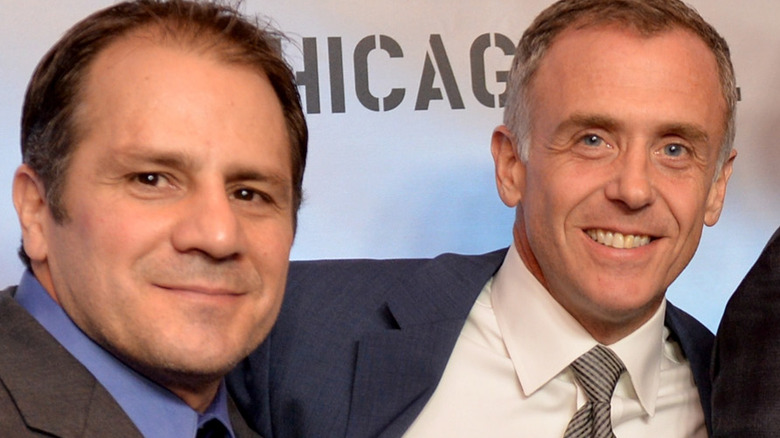 Daniel Boczarski/Getty Images
As a veteran firefighter with a long career spent risking his life to save others in one of the nation's largest cities, Tony Ferraris has personal experience facing the kind of catastrophic events fictionalized on "Chicago Fire." From battling high-rise blazes to braving toxic hazmat situations to risky rescue operations, he's likely confronted emergencies even the show's writers have yet to imagine. But when it comes to stepping before the cameras in a major network TV series, Ferraris' was as green as any rookie.
"I was never an actor," he said in an online feature for the show's production company, Wolf Entertainment. "I had never wanted to act, so the big thing for me was just trying to get comfortable around a bunch of people," he said. Commenting on his total lack of experience as a performer, he added, "I didn't know what to do, but everybody just told me to do what I normally do on the [first responder] incidents and things like that." As for whether he finds acting or firefighting more challenging, there seems to be no contest. "Acting! It's tough, man. I work with some incredible people, and to see them turn it on and off is pretty impressive. But I'm learning. I'm getting better." The executives at Wolf Entertainment certainly feel that Ferraris plays a pivotal role in all three Chicago-centric shows, writing in the same feature, "He brings decades of frontline experience to the 'One Chicago' franchise, and after eight seasons of being part of our 'Chicago Fire' family, we couldn't imagine the Firehouse 51 squad without him."
Ferraris helps keep the action and drama real on Chicago Fire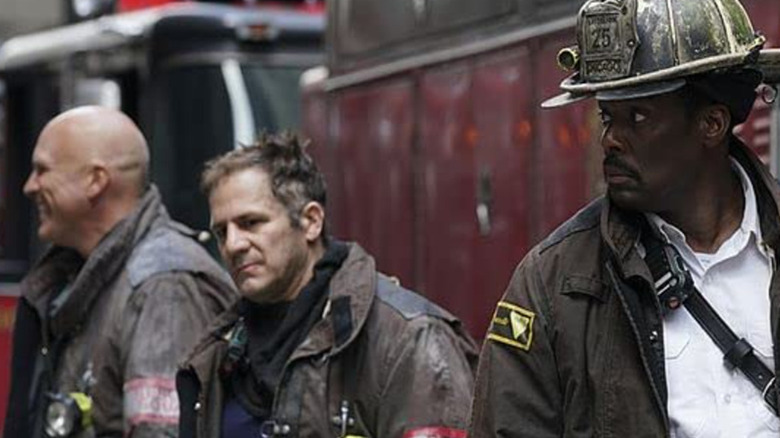 NBCUniversal Media
Beyond his appearances in some 160 episodes as an extra on "Chicago Fire," Ferraris has also contributed extensive first responder expertise to the show as a technical consultant. Working both in front of and behind the camera, Ferraris has helped provide the detailed realism that brings fans back to the series week in and week out. Interviewed by Wolf Entertainment, Ferraris responded to a question about his role giving technical advice, saying, "I talk with ['Chicago Fire' showrunners] Derek [Haas] and Michael [Brandt]. I tell them if we have a crazy call or things we say, but they ask me a lot too. In the beginning, Derek would come to the firehouse and ride with me when we were working." 
Ferraris recalled that the showrunners would turn to him for specific details regarding the action or equipment required to portray a real-life event a particular scene accurately. "They'll ask me things like, 'Hey, if you're forcing this door open, how would you do it?'" But when comparing on-screen drama to real life, Ferraris could only say, "our job, fighting fires, is stranger than fiction."
In the same discussion, Ferraris was queried about the extent to which "Chicago Fire" painted a realistic picture of an actual close-knit group of firefighters. Asked whether the show reflected true life in a firehouse, he replied that he felt it absolutely does, "because we are friends outside of work and with us (firefighters), like the police, unfortunately, any call we go on, bad things happen. We have a very dangerous job, and we're very tight when that bell rings. But when we're at the firehouse, we're busting on each other and giving each other a hard time — I think it translates onto the screen, and it's pretty realistic."
Fans want more Tony Ferraris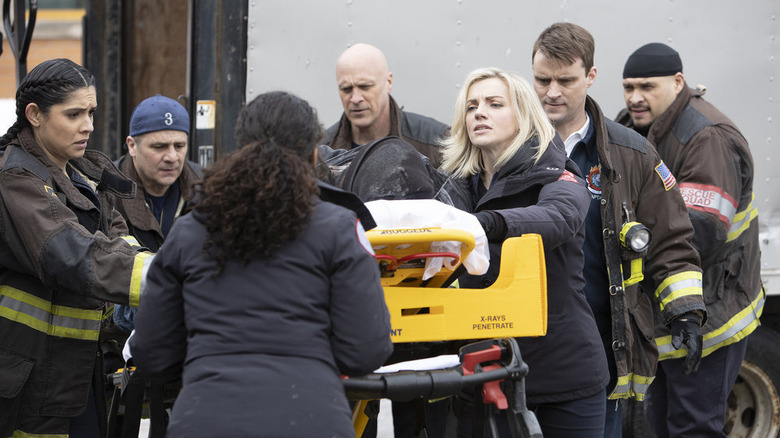 Tony Ferraris
From the moment he made his "Chicago Fire" debut as an extra in the Season 1 episode "Two Families" (per IMDb), Tony Ferraris forged an increasingly powerful connection with fans of the series. Indeed, some of those fans have strong sentiments about his role on "Chicago Fire," and they haven't been shy about insisting they'd like to see more of their favorite Station 51 extra on-screen.
Taking to r/ChicagoFireNBC on Reddit, one user had a clear message for "Chicago Fire" producers concerning Ferraris' future on the show. In a discussion aptly titled "Why is Tony just a background guy?" Redditor u/bebspeaks spoke up about the subject, firing off a series of pointed questions: "How come Tony is just background guy with a name? How come he only gets 1 line every 5-6 episodes? How come his only line is to guffaw and laugh...? How come he hasn't had any good saves? How come he hasn't been the lead in a fire or car wreck? How come he hasn't been the one lifting something heavy off of an injured person? How come he hasn't played 2nd fiddle?" 
In answer, u/Muted-Relationship67 replied, saying that, in fact, both Ferraris and another character, Randy Flagler's Harold Capp, were both receiving more substantial parts on the show, writing, "Currently... both Capp and Tony seem to be having more dialogue than previously." Fortunately for these and other Ferraris enthusiasts, if past trends continue, we may well be seeing more and more of this much-loved "Chicago Fire" personality in upcoming episodes.