The Series Donnie Wahlberg Wants To Crossover With Blue Bloods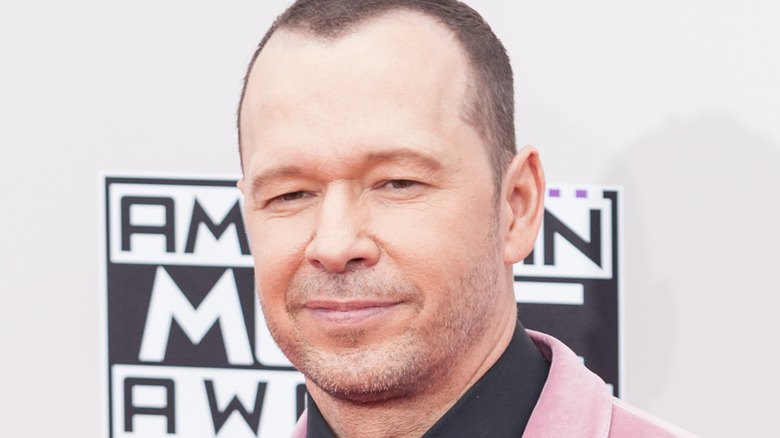 Jamie Lamor Thompson/Shutterstock
"Blue Bloods," the long-running police procedural show about the Reagan family of New York cops, shares a lot of similar themes with other shows of its kind. Fans often toss around names of various police procedurals like "Chicago P.D." and "FBI" as examples of shows that feel inherently connected to "Blue Bloods." However, while similar shows in the TV space have often crossed over with each other for special events — or even shared characters, such as Richard Belzer's "Homicide" character becoming a long-time supporting player on "Law & Order: Special Victims Unit" — "Blue Bloods" has remained firmly rooted in its own space. Over the course of its run, the show has given little to no indication that it could be part of a shared universe with other shows, or that it is in any way connected to other series.
However, the isolation of "Blue Bloods" in the TV space hasn't stopped actor Donnie Wahlberg, who stars as NYPD Detective Danny Reagan in the show, from being very vocal about his desire for the show to cross over with others of its kind. In fact, Wahlberg once explicitly stated the names of several series that he would specifically like to see link up with "Blue Bloods" in the future.
Donnie Wahlberg wants a crossover with "NCIS: Los Angeles"
In a 2013 video on the official "Blue Bloods" YouTube channel in which Wahlberg answered fan questions, the actor expressed his desire for the show to cross over with "NCIS: Los Angeles."
"I'd like Chris O'Donnell and LL Cool J to come on and do an 'NCIS: LA,' 'Blue Bloods' mashup, so we could shoot one in LA and I could have some warm weather right around February," Wahlberg said in the video. "They can come to New York and be cold for a week and we can go to L.A. and be warm for a week."
Wahlberg also mentioned "Hawaii Five-0" as another show he'd like "Blue Bloods" to cross over with. Both this show and "NCIS: Los Angeles" had their own two-part crossover special event with each other in 2012. Unfortunately, "Hawaii Five-0" ended its 10-year run in 2020, so it seems unlikely that "Blue Bloods" will get their chance to share a similar crossover.  However, "NCIS: Los Angeles" is still very much alive, with its 13th season having kicked off in October 2021. Thus, the potential for a crossover between these two shows still exists ... though any meaningful progress on this front has been minimal, at best, since Wahlberg expressed his interest in 2013. In the original interview, Wahlberg indicated that he didn't think it would happen unless the fan response was vocal enough.
"Start writing CBS and demand it, OK, guys?" Wahlberg said in the video.