A Fan-Favorite Character Is Returning To The Flash
A heavy storm is coming to "The Flash," but at least it's one that fans are familiar with. For over seven seasons, the CW superhero drama has presented viewers with all kinds of superpowered characters. Indeed, from Killer Frost to Kid Flash and Eobard Thawne, "The Flash" fans have become acquainted with a wide variety of both heroes and villains alike over the years. However, it looks like the series' eighth season is gearing up to reignite the flame of one fan-favorite superhero.
Although it has been quite a while since fans have seen this character in question on-screen, they likely remember him very fondly. As one of the main members of the central "Flash" crew in the show's first season, he did more than his fair share of heroic deeds. Unfortunately, he met his bitter end in the show's Season 2 premiere. 
Despite that latter fact, the character is now set to return to "The Flash," though, only for a few episodes.
The Flash is bringing back Robbie Amell's Firestorm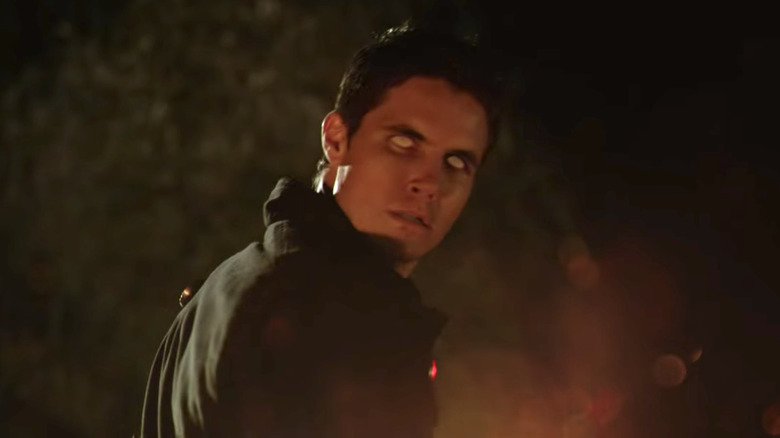 The CW
That's right, one-half of the original Firestorm is coming back to "The Flash," with actor Robbie Amell set to star in two episodes of the CW series' latest season (via Entertainment Weekly). 
Originally a normal human named Ronnie Raymond, the man who would become Firestorm gained his powers when he was caught in the blast of a particle accelerator explosion at S.T.A.R. Labs. His mind became fused with that of Professor Martin Stein (Victor Garber), and the two gained the abilities of a living nuclear reactor. Tragically, Ronnie died saving Central City from a wormhole. In the show's third season, he briefly reappeared when the Speed Force took his form while communicating with Barry Allen (Grant Gustin).
Although the circumstances of Ronnie Raymond's eventual return have not yet been revealed, EW does report that Amell will make his comeback as the character in Episodes 11 of "The Flash" Season 8. That means that Ronnie's return will happen after the series takes a brief hiatus in December, following the conclusion of its ongoing Armageddon arc. 
Until then, "The Flash" fans can spot Robbie Amell as Chris Redfield in the recently released film, "Resident Evil: Welcome to Raccoon City."