Why Chris Redfield From Resident Evil: Welcome To Raccoon City Looks So Familiar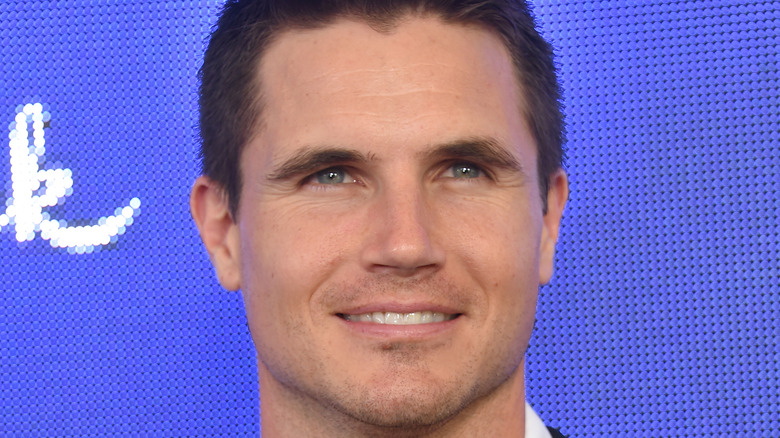 DFree/Shutterstock
As one of the mainline protagonists of the "Resident Evil" franchise, Chris Redfield is an important character for much of the fanbase. He has been present in the franchise since the very first "Resident Evil" game in 1992 and retains an important role in its story to this day. So, when it comes to the franchise's upcoming live-action adaptation, "Resident Evil: Welcome to Raccoon City," people are understandably curious about who the filmmakers chose to play this classic gaming character.
Actor Robbie Amell will portray Chris Redfield, and he certainly fits the part. If you don't know Amell by name, you may be wondering why he looks so familiar. Well, aside from being first-cousin to "Arrow" star Stephen Amell, Robbie Amell has been in a variety of noteworthy shows and movies over the years (via IMDb). Even if you didn't recognize him, the man behind Chris Redfield has likely been acting right under your nose.
Robbie Amell has been acting since he was a teenager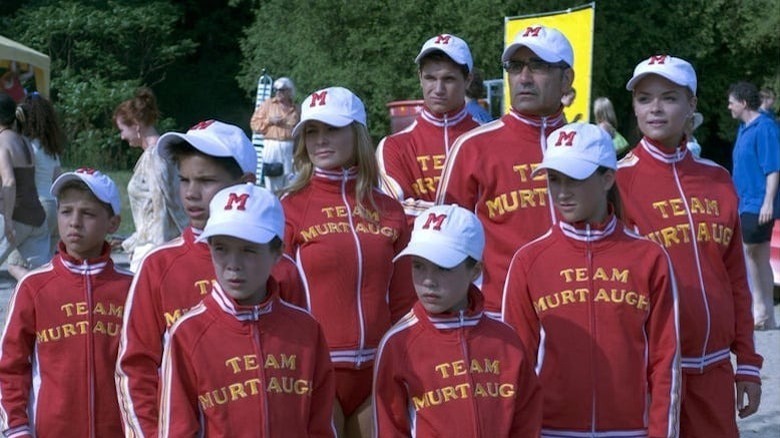 20th Century Fox
Even if you didn't know it, you've been watching the Canadian-born Robbie Amell on both the small and big screens for the better part of two decades. His first major role came in 2005 when he was 17-years-old. He played Daniel Murtagh, son of Sarina(Carmen Electra) and Jimmy Murtagh (Eugene Levy), in the Steve Martin comedy "Cheaper By the Dozen 2." Along with the aforementioned stars, the film allowed Amell the opportunity to act alongside other successful actors like Hilary Duff, Taylor Lautner, and Bonnie Hunt.
"It was supposed to be a non-speaking role," Amell told Entertainment Weekly in 2013. "I ended up getting a couple lines, but I was there for 80 percent of the shoot. It kinda jump-started [my whole career.]"
The next year, Amell would land his first regular role on a popular TV show, playing Max Miller in the Disney Channel sitcom, "Life With Derek." Amell's character appeared in 17 episodes of the series, during which he held a longstanding romance with one of its main characters, Casey. His time on the show would end with its final season in 2009.
Amell served alongside Scooby Doo as a member of Mystery Inc.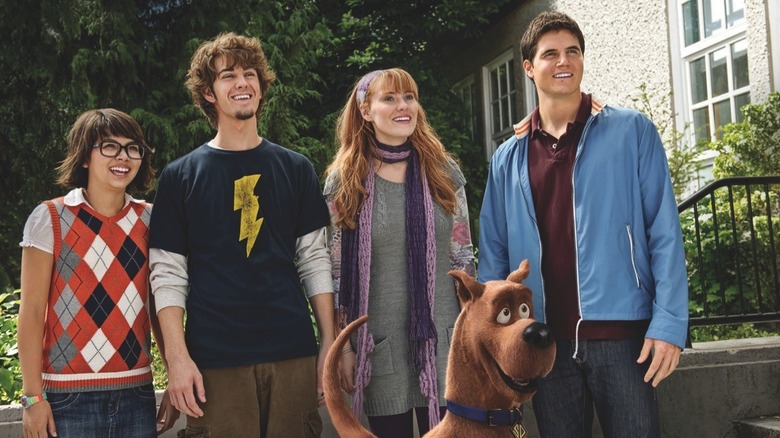 Warner Bros. Television Distribution
In 2009, shortly after "Life With Derek" came to a close, Amell got a chance to be part of cartoon history, starring in the second round of live-action "Scooby-Doo" adaptations as Fred Jones. Though they didn't dye Amell's hair blonde to complete the look as Mystery Inc's resident jock leader, Amell swerved spirits and solved mysteries for two made-for-TV movies before Warner Bros. decided to nix this iteration of "those meddling kids."
Both "Scooby-Doo! The Mystery Begins," and its sequel, "Scooby-Doo! Curse of the Lake Monster" received middling reviews from the public. Neither film holds above 50% on Rotten Tomatoes' audience score. However, at the time of its release, the first film scored record ratings for Cartoon Network (via Next TV). Unfortunately, these films are also often overlooked in favor of the first two live-action "Scooby-Doo!" films from the early 2000s, which had a theatrical release and starred higher-profile actors than the films that would follow it. Regardless, they stand as a unique entry in Amell's filmography.
Amell returned to TV for True Jackson VP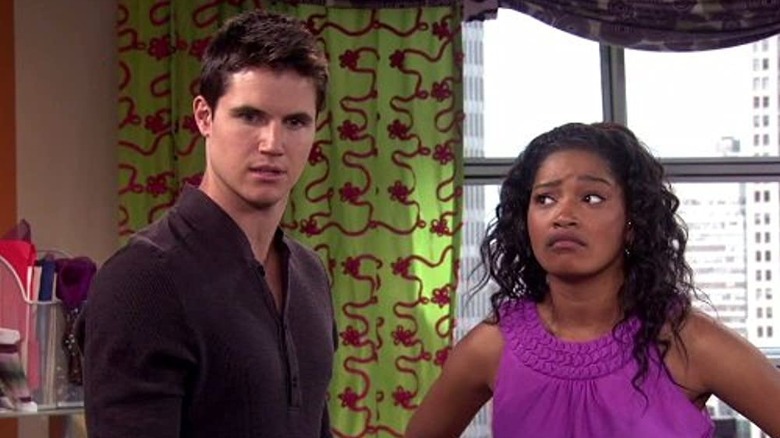 Nickelodeon
In the midst of making the "Scooby-Doo!" films, Amell returned to television. His first major job was a regular role in the Nickelodeon series, "True Jackson VP." He played the role of Jimmy Madigan, the love interest and coworker of protagonist True Jackson (Keke Palmer). Jimmy was also the nephew of MAD Clothing CEO Max Madigan. Over the course of the series' three seasons, Amell appeared in 40 episodes. During this time, he and Palmer's characters experienced a long-held "will-they-won't-they" relationship, eventually culminating in the two becoming certified boyfriend and girlfriend.
Amell portrayed Jimmy Madigan for three years before the show ended in 2011, during which time he won a Kids Choice Award from the Netherlands for his role (via Entertainment Tonight). In that time, he also made a few more minor appearances in other popular shows. In 2011, he appeared in two episodes of "How I Met Your Mother" as a character, funnily enough, named Scooby. He also appeared in a single episode of "CSI: NY."
Amell continued his TV streak in ABC's Revenge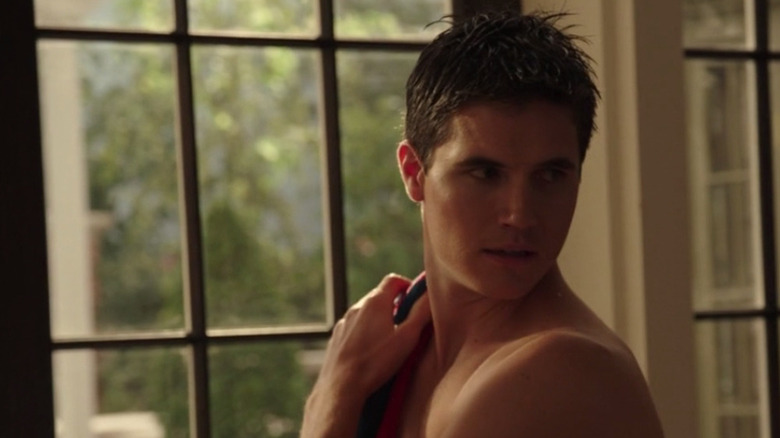 ABC
Following "True Jackson VP," Amell took very minor roles in a handful of TV series and movies, most notably the single-season Fox series, "Alcatraz." His next major role, however, would be in ABC's aptly-named revenge-drama, "Revenge." Amell played Adam Connor, the womanizing boyfriend (and later ex-boyfriend) of Charlotte Clarke (Christa B. Allen), the daughter of the villainous Grayson family.
Unfortunately, Adam only appeared in the first season of "Revenge," quickly being ousted after the episode "Absolution." He spent most of his time on the show trying to win Charlotte back, a plan which would inevitably fail as Charlotte moved on to dating Declan Porter (Connor Paolo). Immediately following his tenure on "Revenge," Amell could be found in episodes of "Pretty Little Liars," "Hot in Cleveland," and the 2010 "Hawaii Five-0" reboot.
Amell co-starred in two short-lived TV comedies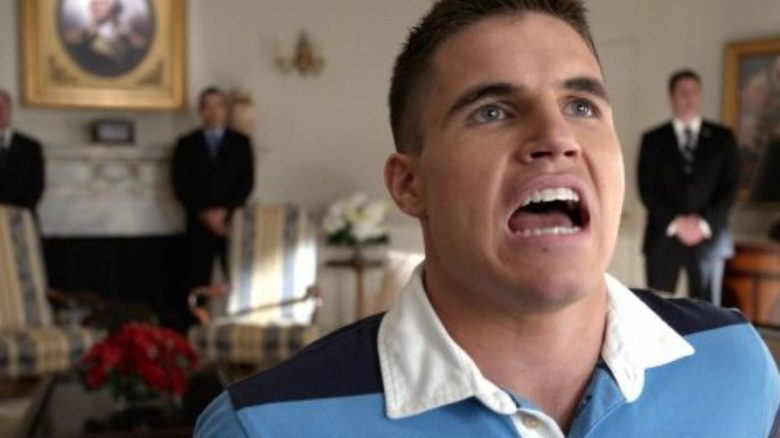 20th Television
Before 2013 came to a close, Amell earned himself two more major supporting roles in different TV shows. The first had Amell acting opposite of Josh Gad, Jenna Elfman, and Bill Pullman in the irreverent political sitcom "1600 Penn" about a laughably dysfunctional family living in the White House. Amell plays D.B., the father of Becca Gilchrist's (Martha MacIsaac) child. The show was, sadly, canceled after one season (via Variety).
Amell would play a more crucial role that same year in comedian Bo Burnham's mockumentary sitcom series, "Zach Stone Is Gonna Be Famous." He played Nick, Zach's (Bo Burnham) rival and the boyfriend of his crush, Amy. Zach and Nick go back and forth over the course of several episodes, warring over Amy (and also oddly facing each other in a cook-off in one episode). Unfortunately, their rivalry was not meant to be long-lived as MTV would cancel the show after its first season (via Hollywood Insider).
Amell joined The Tomorrow People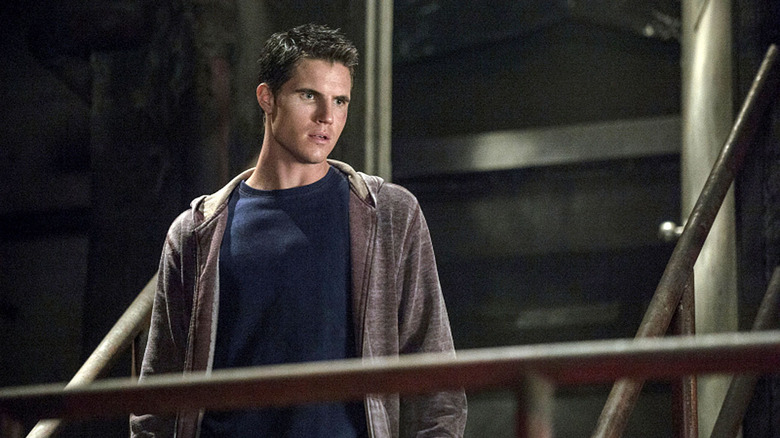 The CW
Shortly after "Zach Stone Is Gonna Be Famous," Amell landed his first role in a series that aired on The CW, something which would become a major boon to his career in the future. The series, an American remake of the British science-fiction thriller, "The Tomorrow People," was also Amell's first lead TV role. The series followed Amell as Stephen Jameson, a member of humanity's next evolutionary step called Homo Superior — also known as The Tomorrow People. With both psychic and temporal abilities, Stephen leads The Tomorrow People in a fight against the anti-telepath organization, Ultra.
Amell joined The CW at the same time his cousin Stephen Amell was starring on "Arrow." "It's really crazy when you think about it, but I've been pretty lucky," Robbie Amell said in an interview in 2013 (via Toronto Star). "What are the odds of landing a show like this, much less having two people from the same family in Toronto in shows that are not just on the same network but right after each other?" 
Unfortunately, the promising new series was also cut short after a single season, despite the success of its previous iteration across seas. However, Amell would soon find a new home in a different CW series.
Amell made it to the Arrowverse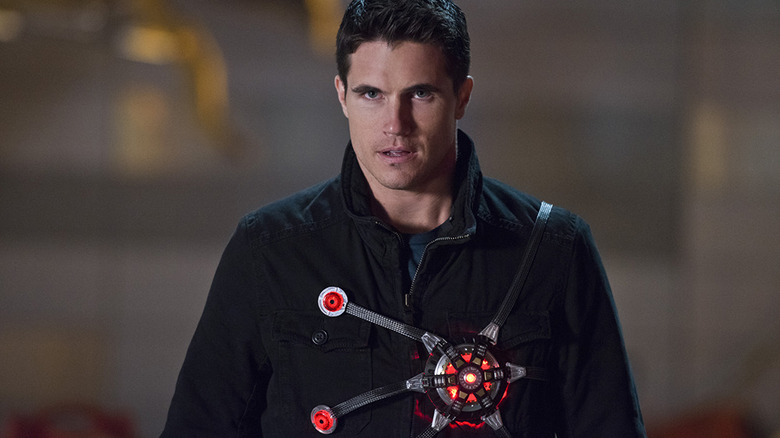 The CW
It almost seems destined that, as cousins, Robbie and Stephen Amell would end up working together on the same franchise. But while the latter made his living headlining The CW's "Arrow" series as the titular Oliver Quinn, Robbie Amell would join the Arrowverse through a different avenue. Rather than joining his cousin on the set of "Arrow," Amell found a new home in the ranks of "The Flash." As Robbie Raymond, Amell became one half of the fused meta-human Firestorm.
Unfortunately, even good things can't last forever, and Amell's character was killed off after the first season. In an interview with Bleeding Cool, Amell revealed that "the reason they had to kill me was because I couldn't be a part of "Legends of Tomorrow," and they needed to have Firestorm be one of the lead characters. So they had to kill me to introduce a new Firestorm and then [Producer Greg Berlanti], because he's so amazing, told me they would bring me back as Earth 2 Firestorm/Deathstorm."
However, the role of Deathstorm was far from a permanent position. As a result, Amell's time in the Arrowverse, though it was "non-contract" to begin with, only lasted for one season.
The Amell family teamed up for Code 8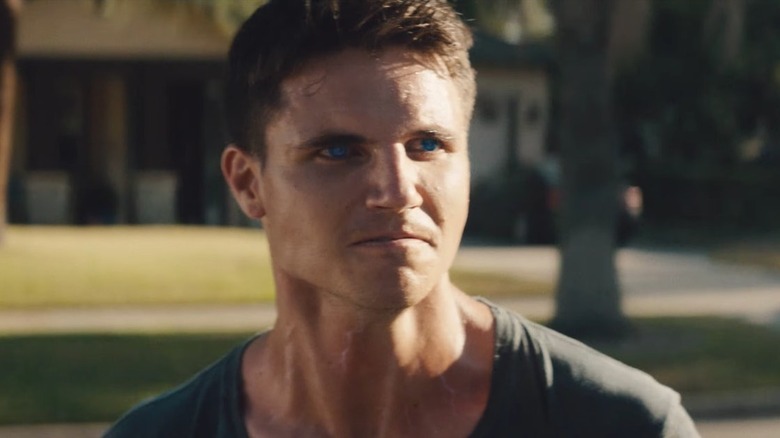 Elevation Pictures
Even after leaving the Arrowverse, however, Amell wasn't finished playing sci-fi superheroes. After appearing as Agent Miller in the "X-Files" reboot and ambidextrous carnival 'freak' Kevin in the TV adaptation of "A Series of Unfortunate Events," Amell teamed up with his cousin Stephen to work on a personal project called "Code 8." This 2019 sci-fi film stars Robbie as a superpowered individual who resorts to crime in order to pay for his mother's cancer treatment. Both Amell cousins served as stars and producers on the film.
The film was received modestly by both critics and audiences, scoring a 48 on Metacritic, with a favorable user score of 6.2/10. Despite the film's so-so reception, however, a sequel has been greenlit as of June 2021 and is currently in production (via Deadline). Both stars are set to reprise their roles in the film, which is to be released on Netflix.
Amell lives again in Upload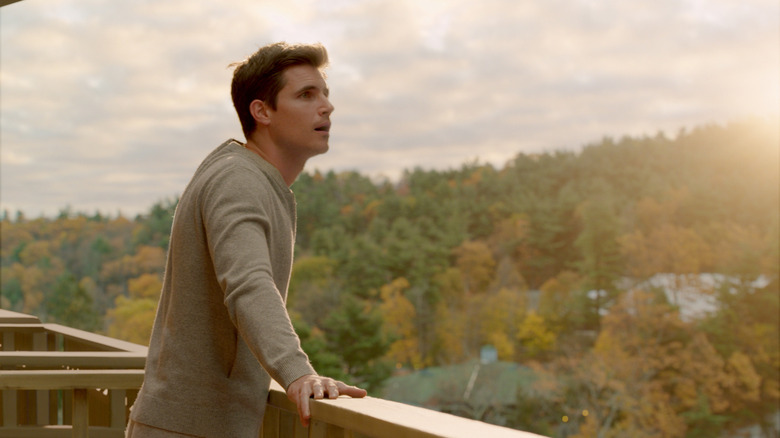 Amazon Prime Video
Amell's final notable credit comes in the form of Amazon Prime Video's 2020 sci-fi comedy series, "Upload." Set in a world where people can pay to have their consciousnesses uploaded into a virtual afterlife upon death, Robbie Amell stars as the series' protagonist, Nathan. Nathan is a recently-deceased computer programmer who finds that being dead only complicates his already hectic life and that maybe there is more to his death than meets the eye.
Like "Code 8," "Upload" has already been renewed for continuation (via DigitalSpy), meaning that fans will get to see him in the digital afterlife once Season 2 rolls around. In the meantime, fans can also catch his most recent appearances in the Netflix films "Desperados" and "The Babysitter: Killer Queen," as well as the Canadian-made comedy, "Eat Wheaties!" Of course, Robbie Amell fans also won't have to wait long for the actor's anticipated role as the legendary Chris Redfield in "Resident Evil: Welcome to Raccoon City," which is set to debut on November 24.