We Finally Know The 2022 Release Date For Netflix's Vikings: Valhalla
Fans of Michael Hirst's "Vikings," the History Channel's six-season saga that ended in 2020, just received some excellent news in the form of an official release date for the series' upcoming sequel show "Vikings: Valhalla." The Netflix show will pick up roughly a century from where "Vikings" leaves off. The first look at "Valhalla, released in September (via YouTube), reveals that it will touch on the clash and eventual conversion that took place when the pagan Vikings begin permanently settling — and (more importantly) trading with — Christian Europe and beyond.
"Valhalla" stars Sam Corlett ("Chilling Adventures of Sabrina") as the historical Viking explorer Leif Eriksson, who was instrumental in creating a Scandinavian settlement in Greenland. Eriksson is widely believed to have reached North America some time around 1000 A.D. (via NPR). Leo Suter will star as Harald Sigurdsson, aka King Harald of Norway, whose defeat at the Battle of Stamford Bridge during his vie for the English throne is largely viewed as the battle that brought the Viking age to end (via History). Additionally, Frida Gustavsson will take on the role of Freydis Eriksdotter, a legendary Viking and the daughter of Erik the Red. Freydis and Leif are siblings, though history knows a great deal more about the latter sibling than the former. Though her existence has been verified, Freydis' story has been mostly gleaned from her place in the Icelandic Sagas (via History Naked).
Vikings: Valhalla's Netflix release date can't come soon enough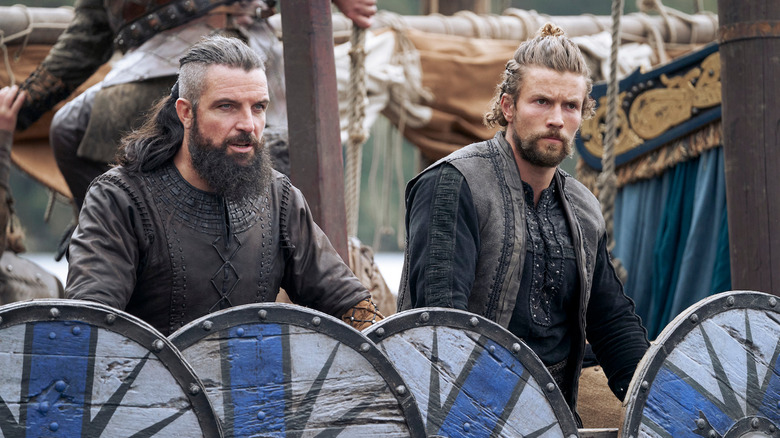 Bernard Walsh/Netflix
Now, after what feels like a century of waiting, the Jeb Stuart-directed "Vikings" spinoff has been given a release date. On Tuesday, Netflix fans learned "Vikings: Valhalla" will be released on February 25, 2022. On the official Netflix Geeked Twitter, the account shared the news in a post that contained a first look at four stunning images from the upcoming series and a brief synopsis of what fans can expect. The tweet reads, "'Valhalla' chronicles the journey of some of history's most famous Vikings — Leif Eriksson, Freydis Eriksdotter, and Harald Sigurdsson as they fight for survival and glory."
All of this is great news for fans of "The Last Kingdom," who are still waiting for Netflix to announce the series' Season 5 release date. Since the show — based on the books by Bernard Cornwell — was renewed with "the caveat" that its finale will conclude the series (via What's on Netflix), fans of productions concerned with the era will be hungrier than ever for fresh new sagas to follow.