Yellowstone's Piper Perabo Reveals Summer's Biggest Challenge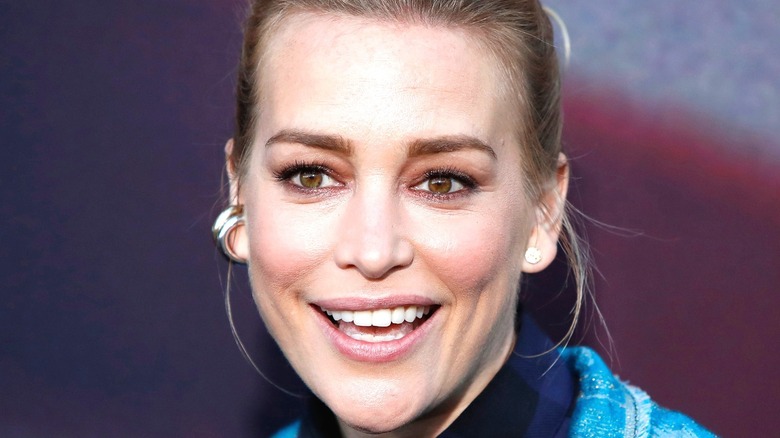 Kathy Hutchins/Shutterstock
After the Season 4 premiere of "Yellowstone" broke the show's previous viewership records, things have only continued to heat up on the popular TV drama. The show's latest episodes follow the Duttons as they work toward uncovering who placed a near-fatal hit on the family in the Season 3 finale. With the stakes higher than ever, the series' latest season sees several new characters arriving to make things even more complicated.
Among the show's newcomers is Piper Perabo (who viewers may recognize from "Coyote Ugly" as well as a number of other films and shows), who stars as environmental activist Summer Higgins in "Yellowstone" Season 4. The character arrives in Montana looking to take a stand against industrialized farming and ends up protesting the construction of an airport. Her beliefs put her at odds with the show's rugged ranchers, but after her arrest at an animal rights protest, John Dutton (Kevin Costner) bails her out and offers to teach her another perspective.
Although Perabo can't reveal too much about what lies in store for her environmentally-conscious "Yellowstone" character, she did open up a bit to TV Insider about Summer's biggest challenge this season, and teased how "dangerous" things may soon get.
Summer Higgins may be in over her head
Anyone familiar with "Yellowstone" knows that one of the worst things a person can do is get into a fight with the Dutton family. Their list of enemies is seemingly never-ending, and as history has shown, it usually doesn't end well for anyone on their bad side. Taking that into account, it doesn't come as much of a surprise to learn that, according to Piper Perabo, Summer's biggest challenge in "Yellowstone" Season 4 is her feud with the Duttons.
"Summer is used to being one of the big fish when she goes into conflict and she's never gone up against a force like the Duttons," Perabo recently told TV Insider. "They sort of work on so many levels. They're in local government. They're in state government. They're on the wrong side of the law. They're on the right side of the law. They're in the community. They're in the business community."
"They're so pervasive and she's never gone up against such a well-oiled machine as the Dutton family," the actor added. Notably, Perabo also went on to tease a major upcoming confrontation fans should look forward to between Summer and Beth Dutton (Kelly Reilly), calling it "more dangerous than any protest."
For now, "Yellowstone" fans will just have to wait and see if Summer can actually hold her own against the Duttons, or if she'll end up being forced to pack her bags and head home.