Annabelle Wallis Opens Up About A Possible Malignant Sequel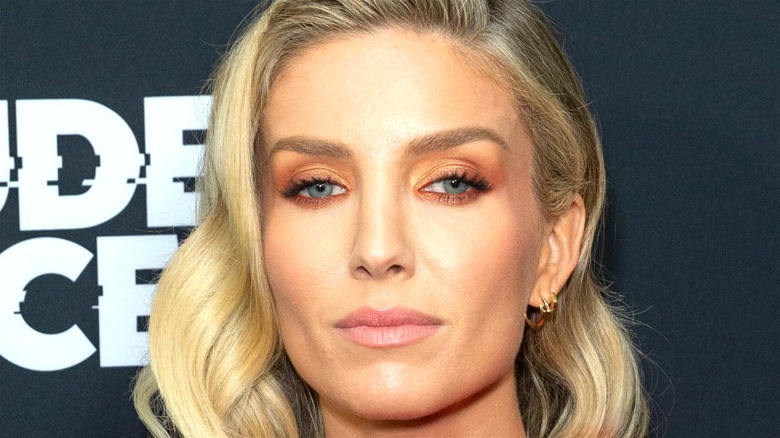 Lev Radin/Shutterstock
In September, director James Wan delivered yet another unique horror tale with "Malignant," which caught audiences off-guard with its unhinged premise and wacky finale. The story follows Madison (Annabelle Wallis), a young widow who starts seeing visions of innocent people being murdered before realizing that it's all happening in real life. The killer — an unnerving, almost supernatural being called Gabriel — can bring her into his point of view as he acts out these crimes. As it turns out, Gabriel has a unique connection to Madison that many fans didn't see coming.
The absurd third-act twist divided critics, with Fox 10 Phoenix writing, "Wan's final twist is so maniacal and so (and this is a compliment) deeply and thoroughly stupid that it more than makes up for the minor missteps along the way." However, Asheville Movies didn't enjoy it as much, saying, "The eventual full-tilt gonzo direction Wan takes is so jarring and removed from the rest of the film that it plays like a separate project altogether." It's just one of those movies where it has to be seen to be believed.
It's eventually revealed that Gabriel is Madison's twin, but he's an extremely advanced teratoma — a mass of muscle, hair and eyes who shares his twin's brain and body. Doctors were able to remove everything but his portion of the brain, but he takes over Madison's body at night and uses her body whenever his face emerges from the back of her skull. Yes, it's as bonkers as it sounds.
The ending of "Malignant" was stunning, but it also left the door open for the story to continue. Per Wallis, it sounds like Wan may already have an idea for a sequel.
Annabelle Wallis says there are ideas for a sequel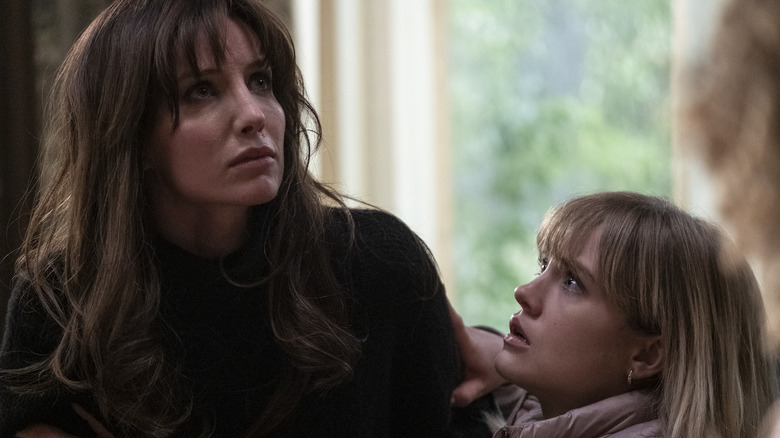 Matt Kennedy/Warner Bros. Pictures
Speaking to Screen Rant ahead of her apocalyptic Christmas movie "Silent Night," Annabelle Wallis touched on the possibility of "Malignant 2" since the 2021 Warner Bros. movie has been something of a financial success (per Box Office Mojo). The star explained she's spoken to director James Wan about a sequel and "there's plenty of ideas swirling around." 
The "Peaky Blinders" and "The Mummy" star also noted that the cast and crew were surprised how popular "Malignant" has been, saying, "We were very, very flattered by the reception and I think taken aback by the reception." She went on to comment, "So yeah, there's lots of conversations happening," although she didn't offer any idea of how the story could continue. 
This isn't the first time that the topic of a sequel has come up. Wan previously told Games Radar it's possible the film could become a franchise. He said, "It's kind of a tricky question. Ultimately anything can become a franchise. They will find a way. Look at 'Saw.'" He then pointed out how he and co-writer Leigh Whannell envision the 2004 movie to be a contained story, but went on to spawn numerous sequels following its strong box office gross (via Box Office Mojo). The director finally added, "So, yes, 'Malignant' could become a franchise. But I set out to just make this movie." 
It sure seems like Wan and Warner Bros. are exploring the possibility of more "Malignant" madness with Madison and Gabriel. Although, how the evil twin will return remains to be seen. Then again, who knows what other experiments took place in the research hospital Madison and Gabriel grew up in?