Former Gucci Designer Tom Ford's Critique Of Performances In House Of Gucci May Surprise You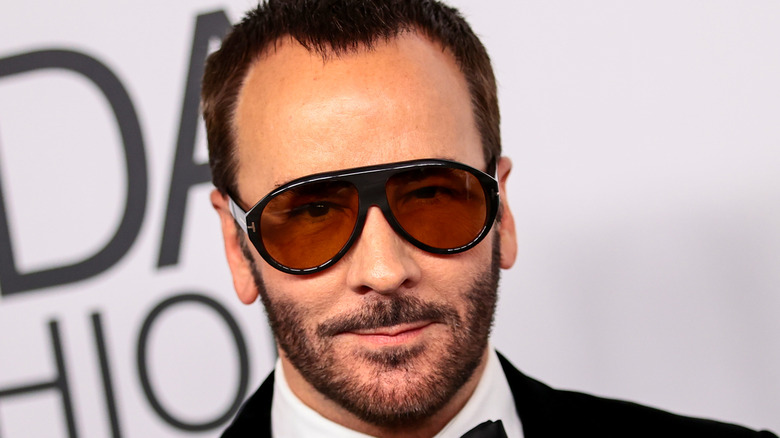 Dimitrios Kambouris/Getty Images
Spoilers ahead for "House of Gucci."
While the critical reception of director Ridley Scott's new fact-based crime drama "House of Gucci" is mixed — it earned a lukewarm score of 59 with major reviewers on Metacritic — audiences are bound to be interested in the thoughts of those who were an actual part of the Gucci story. One of those real-life players is legendary fashion designer Tom Ford, and now that the film is available to the masses, he's sharing some surprising opinions about it.
"House of Gucci," which opened in theaters November 24, chronicles the events leading to the tragic death of Maurizio Gucci (Adam Driver) in 1995, a murder plot masterminded by his vengeful ex-wife, Patrizia Reggiani (Lady Gaga) and her personal psychic Pina Auriemma (Salma Hayek). The film also features Maurizio's father — famed fashion designer Rodolpho Gucci (Jeremy Irons) — his brother and Gucci fashion house co-owner, Aldo Gucci (Al Pacino), and Aldo's hapless son, Paolo Gucci, played by an unrecognizable Jared Leto. Making a small supporting turn in "House of Gucci" is Reeve Carney ("Penny Dreadful") as Ford, brought on to be the fashion house's creative director after Maurizio sold the family brand. And while Ford didn't appear to have any issues with Carney's performance, he disputed the way he was celebrated in the movie's third act.
"Maurizio had been bought out of the company by the time I assumed the position of creative director of Gucci and had my first hit collection," Ford wrote in an Air Mail essay. "He certainly never toasted me after that show as he does in the film. Movies have a way of becoming truth in people's minds, an alternate reality that in time obliterates the reality of what was."
Ford was more direct about the performances by other members of cast.
Tom Ford likens Al Pacino's and Jared Leto's performances to an SNL skit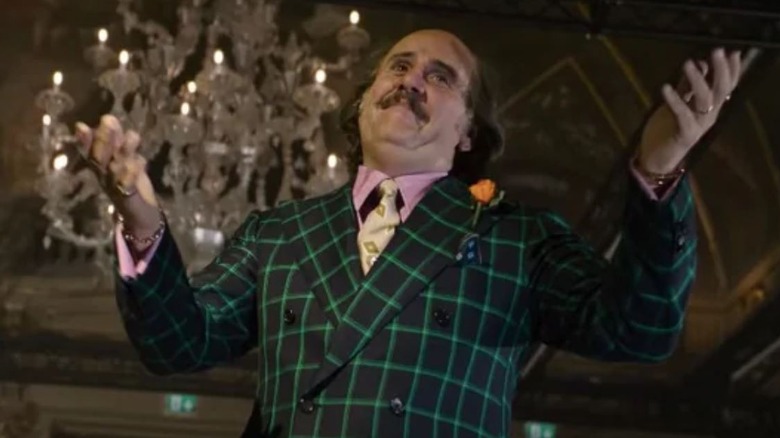 MGM/United Artists
Overall, Tom Ford appeared to be engaged by "House of Gucci," writing in the Air Mail essay that, "The shiny, ambitious, beautifully filmed and costumed tale of greed and murder is stunning by the sheer number of stars that have been cast. The movie rivals the nighttime soap 'Dynasty' for subtlety but does so with a much bigger budget." Ultimately, though, Ford admitted he was perplexed by what he'd seen, writing, "I felt as though I had lived through a hurricane when I left the theater. Was it a farce or a gripping tale of greed? I often laughed out loud, but was I supposed to?"
It was the performances of Al Pacino and Jared Leto which drew the most criticism from Ford, who likened their scenes to a parody skit. "At times, when Al Pacino, as Aldo Gucci, and Jared Leto, as Aldo's son Paolo Gucci, were on-screen, I was not completely sure that I wasn't watching a 'Saturday Night Live' version of the tale," Ford wrote. 
Still, Ford appeared complimentary of the actor's talents in his criticism of Leto, even though his portrayal of Paolo was not as the designer remembered him. "Leto's brilliance as an actor is literally buried under latex prosthetics. Both performers are given license to be absolute hams — and not of the prosciutto variety," Ford wrote. "They must have had fun. Paolo, whom I met on several occasions, was indeed eccentric and did some wacky things, but his overall demeanor was certainly not like the crazed and seemingly mentally challenged character of Leto's performance."
Ford sings high praises of Lady Gaga and the rest of the cast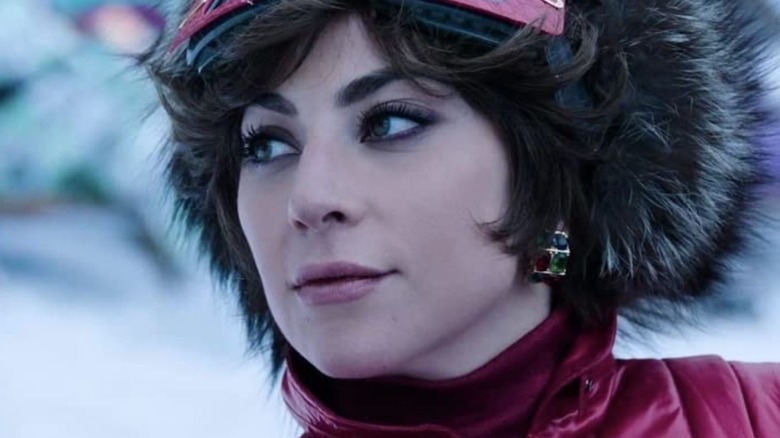 MGM/United Artists
While Leto and Pacino earned backhanded compliments from Ford — who was Gucci's creative director from 1994 to 2004 — there's no question in his Air Mail essay that he was impressed by Adam Driver for his "subtle and nuanced performance." He also noted Jeremy Irons "is terrific and gives a far more restrained and layered performance than his on-screen relatives," and Salma Hayek is "great, as always," though he also called her "under-utilized" in the film. Ford also noted that Scott's casting of Hayek "is particularly inspired given that her husband [François Pinault] is the current owner of Gucci, a fact which will be lost on the mainstream audience."
Ford clearly reserved his greatest accolades, though, for Lady Gaga, who he wrote was "the true star of the film."
"It is her film, and she steals the show," Ford gushed in the Air Mail essay. "In her often over-the-top portrayal of Patrizia Gucci, her accent migrates occasionally from Milan to Moscow. But who cares? Her performance is spot-on. Her face is the thing that one can't take one's eyes off of."
It's worth noting that while Ford earned most of his fame as a fashion mogul, he has also dabbled in film with great success. He directed the 2009 drama "A Single Man," which earned a Best Actor Oscar nomination for Colin Firth (via IMDb), and he also wrote and directed the 2017 crime thriller "Nocturnal Animals," which nabbed a Best Supporting Actor Oscar nomination for Michael Shannon (via IMDb).
"House of Gucci" is currently playing in theaters.