The Hardest Better Call Saul Scenes To Film According To Rhea Seehorn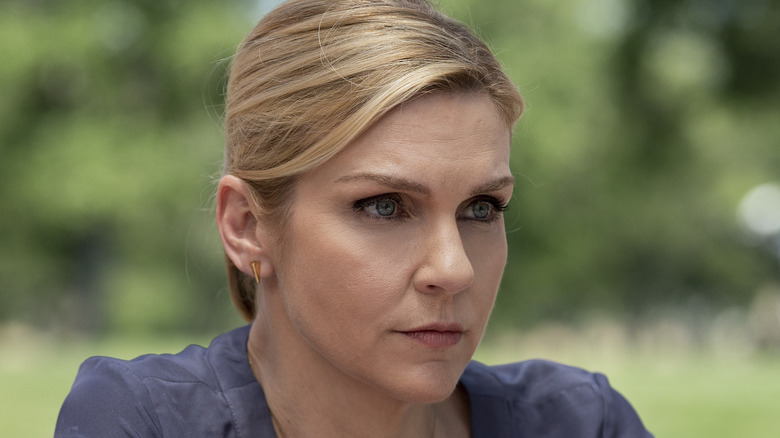 Greg Lewis/AMC/Sony Pictures Tel
The TV series "Breaking Bad" became a major critical and commercial hit for AMC over the course of its five-season run. The show, which was created by Vince Gilligan, who'd previously written for "The X-Files," followed the exploits of Walter White, played by Bryan Cranston, a high school chemistry teacher in Albuquerque who becomes a meth dealer to help pay for his medical bills.
Over the course of the show's run, a number of memorable characters were introduced including Saul Goodman, played by Bob Odenkirk. Fans of "Breaking Bad" were thus excited to hear that the end of the latter show wouldn't be the last time they'd see those characters, as Gilligan partnered with fellow "Breaking Bad" writer Peter Gould to create a spinoff series, called "Better Call Saul," with Odenkirk reprising his role. One of the most memorable characters on "Better Call Saul" is Kim Wexler, played by Rhea Seehorn. As a lawyer who ends up in the orbit of Jimmy McGill, (the other name of Odenkirk's Saul), Kim's story has been just as important to the series. 
Earlier this year, Seehorn opened up about shooting the AMC series, highlighting what the hardest scenes to shoot were in the process of creating Seasons 3 and 5.
Seehorn had to film under difficult circumstances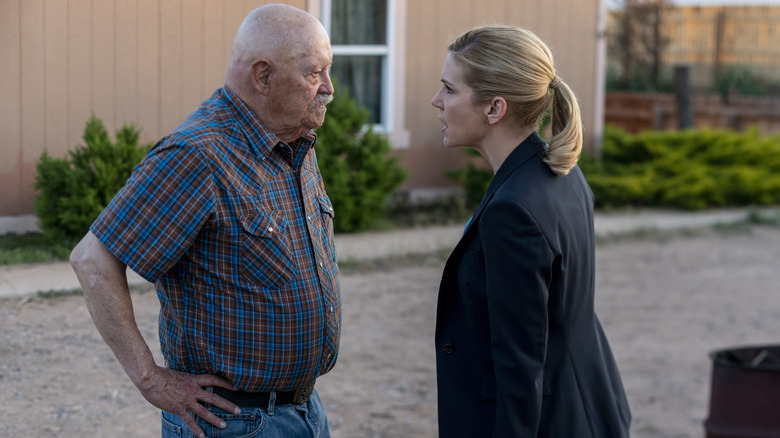 Greg Lewis/AMC/Sony Pictures Tel
Early in 2021, an Instagram Live session on the "Better Call Saul" Instagram account (via YouTube) featured Rhea Seehorn answering a few questions from social media about the show and her character, Kim Wexler. One of the questions, posed by @ayamandalton, was about the hardest moment while filming the show. Seehorn named a number of scenes, citing the sandstorm that was present during filming as a factor that made things difficult.
"Physically challenging would be where my car almost rolls into a pump jack in the desert. And also the scenes with Mr. Acker, played by the brilliant Barry Corbin, there were really bad sandstorms on both of those. Freezing cold and sand blades in your eyeballs," Seehorn said.
The first scene in question occurred in the ninth episode of Season 3, titled "Fall" (via IMDb). Her scenes with Corbin are shown in the Season 5 episode "The Guy for This" (via IMDb). Corbin plays Everett Acker, the lone holdout refusing to sell his home to allow Wexler's client Mesa Verde to build a call center. Wexler eventually asks Saul, with whom she's now in a relationship, to represent Acker against Mesa Verde.
The first four seasons of "Better Call Saul" are currently available on Netflix. The sixth season, which has been announced as the show's last, has yet to announce a release date.