New Spider-Man: No Way Home Spot Drops Major Multiverse Hints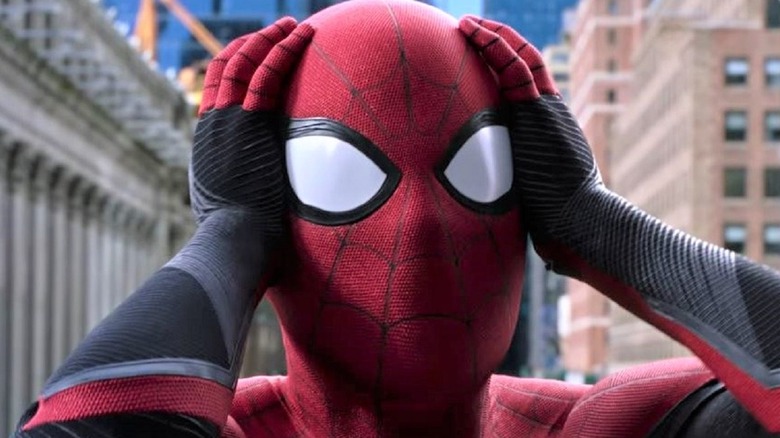 Marvel Studios/Disney/Sony Pictures
"Spider-Man: No Way Home" is almost here. Based on the teasers and announcements we've been treated to thus far, Peter Parker's next outing promises to be one of the Marvel Cinematic Universe's most ambitious projects to date, not to mention one of the most unpredictable. The Multiverse is in disarray, allowing "Spider-Man" characters from the Disney, Marvel, and Sony franchises to finally cross paths. It's strange to think that a silly feud almost stopped every superhero fan's dream from coming true.
That being said, it remains to be seen just how far "Spider-Man: No Way Home" will explore the Multiverse. While some characters have been confirmed already, Marvel isn't spilling all the beans quite yet. For instance, will Topher Grace return as Venom? More importantly, can audiences expect to see Tobey Maguire reprise his role as the friendly neighborhood superhero? 
These questions will be answered in the near future, but the latest teaser, which you can view on Sony Pictures UK's Twitter account, does drop some major hints.
A legendary Spider-Man is teased in the latest Spider-Man: No Way Home spot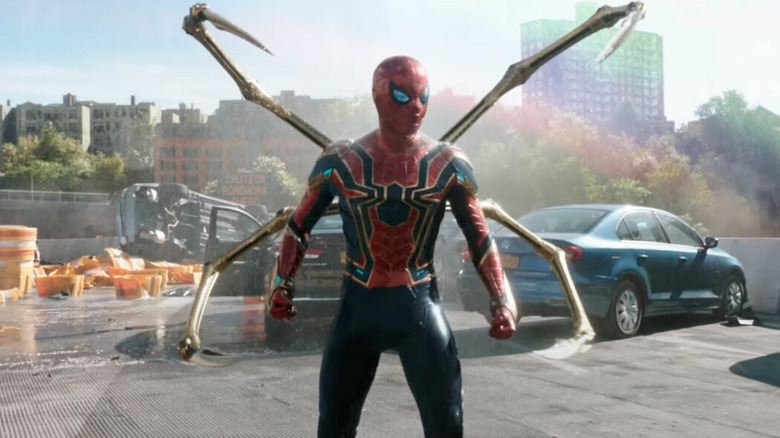 Marvel Studios/Disney/Sony Pictures
The latest "Spider-Man: Far from Home" teaser primarily centers around Tom Holland's Spider-Man and his friends interrogating Dr. Octopus (played once again by Alfred Molina). In one of the scenes, he reveals that the Peter Parker he's after looks nothing like Holland's iteration of the young superhero. Is this Marvel's sneaky way of teasing Tobey Maguire's return to spandex?
Elsewhere, the trailer further fuels the Maguire speculation by featuring other familiar villains he came up against, including Green Goblin and Sandman. They're on the loose, so Dr. Strange tasks Spidey and his friends with rounding them up before they destroy the "fabric of reality" — no pressure, right? Ned Leeds (Jacob Batalon) then remarks, "let's catch some Multiverse Men" as the clip draws to a close.
While the teaser does drop enough clues to suggest Maguire's grand comeback is possible, another popular "Spider-Man" actor has told fans to temper their expectations going into the new movie. In a recent interview with GQ, Andrew Garfield, who plays the titular web-slinger in Sony's "The Amazing Spider-Man" films, revealed that he won't be appearing in "Spider-Man: No Way Home." He isn't the only Spidey alumni to play the denial card, either.