The Adventure Time Scene That Had Fans In Tears
Similar to fellow Cartoon Network shows "The Amazing World of Gumball" and "The Regular Show," the fantasy cartoon "Adventure Time" boasts a cult following among teen and adult viewers.
The show follows Finn the Human (Jeremy Shada) and his magical best friend-slash-brother Jake the Dog (John DiMaggio) as they embark on adventures throughout the candy-colored, post-Mushroom War Land of Ooo. While the show centers on the dynamic duo's often-silly exploits, it employs a dark sense of humor and chronicles the tragedy that created their apocalyptic homeland. On the surface, it's a whimsical children's show, but deep down, it's a poignant exploration of mature themes.
The show has received praise for successfully portraying mental illness, queer identity, and complex emotions like grief, with Vox describing it as having a "melancholic, lovely emotional core."
Fans of "Adventure Time" could point to dozens of moments across the show's 10 seasons that tugged at their heartstrings. However, a recent scene from the world of "Adventure Time" left fans in tears.
Finn's search for Jake in Adventure Time: Distant Lands was heartbreaking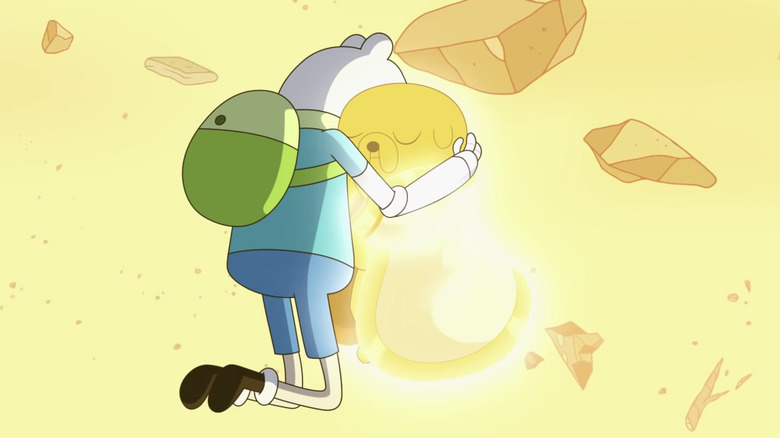 HBO Max
After the epic finale "Come Along With Me" ended the series in 2018, fans were delighted when HBO Max announced "Adventure Time: Distant Lands." The limited series "Adventure Time" revival checks in on the post-Gum War lives of BMO (Niki Yang), Princess Bubblegum (Hynden Walch), Marceline the Vampire Queen (Olivia Olson), Peppermint Butler (Steve Little), and, of course, Finn and Jake.
While fans were eager to get further closure with all of these characters, "Together Again," which reunited Finn and Jake, was arguably the most highly-anticipated episode. After being separated for years, the brothers find one another in the afterlife and embark on what the trailer describes as "their biggest adventure yet" (via YouTube).
Fans were particularly emotional over the clapping signal Finn does, which he and Jake use to find one another. On the "Adventure Time" subreddit, fans opened up about how intense the reunion episode was. "I instantly recognized the clapping signal when I saw it and started sobbing," wrote u/Lo-Dawg0617. "I don't know why but it just got to me."
While some fans called this callback "cute" and commended the "amazing attention to detail," most were devastated by Finn's initially-fruitless journey to find Jake. "The clapping signal got to me, then the rest of the episode ended up taking me on a ride. So much nostalgia and adventure in a 50 minute package," said u/Galokot. Like most fans, they called the episode a "beautiful send off."