Where Is In The Dark Actually Filmed?
The CW series "In the Dark" premiered in April 2019, and throughout its three seasons so far, its central character, a 20-something blind woman named Murphy Mason (Perry Mattfeld), continually finds herself in hot water. Season 1 of "In the Dark" follows Murphy as she investigates the death of her friend Tyson (Thamela Mpumlwana), soon expanding into Murphy's many forays into Chicago's seedy crime world. 
In the most recent season, Murphy and her friends are struggling after a toxic bachelorette's ex-boyfriend Josh (Theodore Bhat) attempts to frame them for murder. The ending of "In the Dark" Season 3 leaves Murphy behind bars and her future murkier than ever. Luckily for fans, The CW has renewed "In the Dark" for Season 4, so here's hoping Murphy can get herself out of this latest predicament.
Like so many TV series, the location acts as another character in "In the Dark." While other The CW shows take place in fictional towns such as Riverdale or Mystic Falls, allowing the writers to create a world that is its own microcosm, "In the Dark" is set in the real city of Chicago, one so often used in TV and movies that even those who have never been there recognize its distinctive skyline, rumbling aboveground trains, and serpentine river that runs past an assortment of architecturally memorable buildings.
However, fans may be shocked to learn where "In the Dark" is actually filmed.
In the Dark is filmed in Canada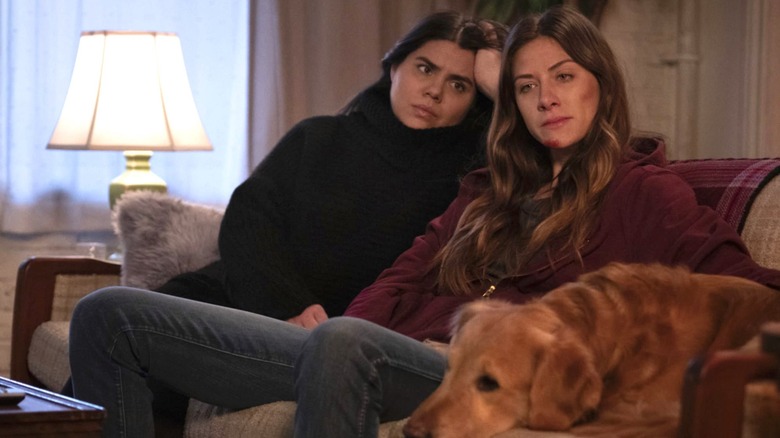 The CW
The mean streets of "In the Dark" aren't actually located in Chicago. Instead, the show is filmed in the city of Toronto in Ontario, Canada, according to the Chicago Tribune. The show's creator, Corinne Kingsbury, set the series in the Windy City because of her personal connection to the metropolis: Kingsbury's husband, John Francis Daley ("Bones"), is a Chicago native. "He took me there a few years ago, and I just absolutely just like fell in love with it. What's funny is, I thought (the series) was going to be shot in Chicago. One of the other reasons why I like to write places that I love is I think I'm going to be there a lot," Kingsbury told the Chicago Tribune.
The production designer of "In the Dark," Nazgol Goshtasbpour, did her research well, trying to make the series' setting look as authentic as possible. She read books on Chicago architecture, compared Chicago and Toronto neighborhoods — paying particular attention to "train stations, metal bridges, and alleys" — and drew inspiration from her personal visits to the city. Show creator Kingsbury told the Chicago Tribune that she believes they were successful, stating, "I think that they did a really good job making Toronto suburbs feel like Chicago suburbs. I feel like Murphy's apartment looks very much like downtown Chicago."