Why Bruno From Encanto Sounds So Familiar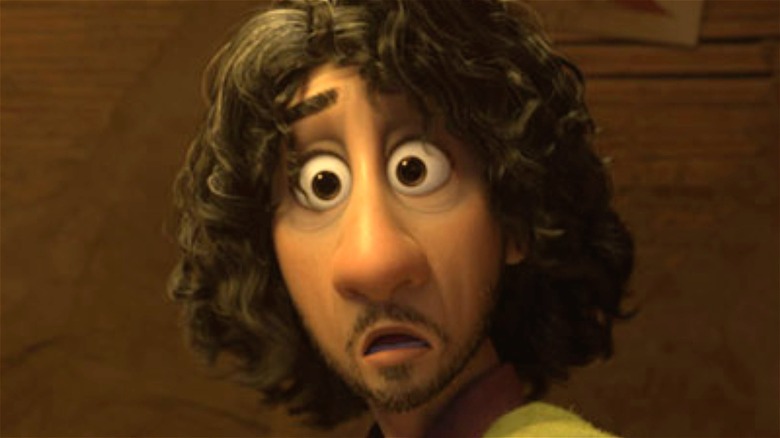 Disney/YouTube
"Encanto" is the newest film from Disney Animation Studios, which follows the story of the Madrigals that live in the Colombian mountains. They inhabit a magical house, which lies within Encanto, and every child in the town has a supernatural ability — except one. The magical hideout becomes in danger, and the only person capable of saving might just be that magic-less child, Mirabel.
The new movie has quite a list of voice actors, including Stephanie Beatriz, Mauro Castillo, and Angie Cepeda. Diane Guerrero, Jessica Darrow, and Rhenzy Feliz. However, there is one voice in "Encanto" that sounds so familiar, it will probably bug you during your viewing that you can't quite figure out who it is. The actor who voices Bruno has a very long history in Hollywood and has also voiced one of the animations world's most popular characters ever. The legendary Joshn Leguizamo voices Bruno. Here's why you might recognize his memorable voice.
John Leguizamo broke into Hollywood in the 90s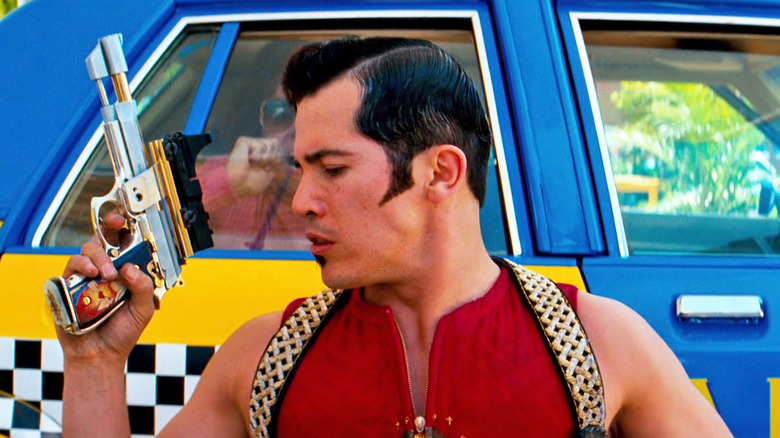 20th Century Fox
John Leguizamo was a busy man throughout the 90s. One of his breakout roles came in 1993's "Super Mario Bros." where he played Luigi opposite Bob Hoskins, who played his brother Mario. The film might not have been the biggest hit in its day, but it's definitely earned the label of a cult-classic film all these years later. That same year, he starred opposite Al Pacino in "Carlito's Way," which was a far cry from the silliness of the video game genre. Leguizamo played Benny Blanco, a gangster hellbent on taking over Carlito's business and serves as the film's antagonist.
One of Leguizamo's most famous roles to date came in 1996's "Romeo + Juliet," where he played Tybalt. He leads the Capulets in a firefight against the Montagues in one of the film's most famous scenes. Later in the movie, Tybalt kills Mercutio (Harold Perrineau), which causes Romeo (Leonardo DiCaprio) to seek vengeance, and he ends Tybalt's life on a beach.
In 1997, Leguizamo starred in "The Pest," a black comedy based on "The Most Dangerous Game." Leguizamo plays the Pest himself, a Miami con-man who becomes the target of Neo-Nazis. It's all an elaborate scheme to earn himself $50,000, but it all turns out to be a lot more than he bargained for. Later that year, Leguizamo joined the comic book adaptation of "Spawn" as Clown, aka Violator.
He dominated the 2000s with an iconic voice role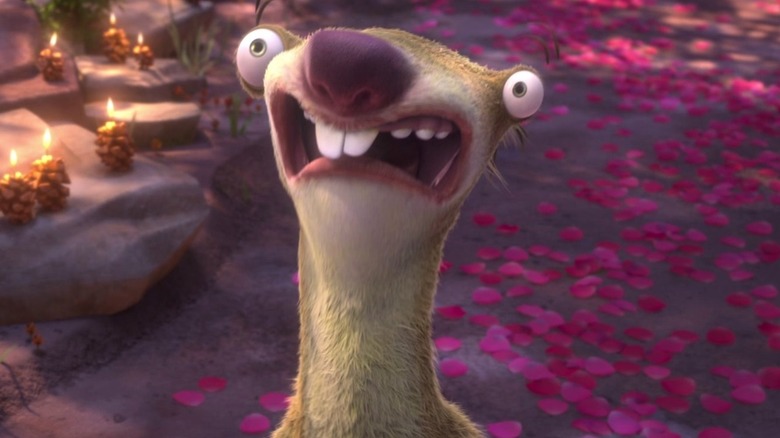 Blue Sky
If you're a fan of animation, then you might have recognized Bruno's voice from a top-rated franchise. John Leguizamo is the voice of Sid from the "Ice Age" films that kicked off in 2002, which currently have five movies in its catalog. Leguizamo puts a twist on Sid's accent, giving him somewhat of a lisp, so it's not exactly the same voice one might match Bruno, but there are very similar undertones.
In 2001, Leguizamo joined his second Baz Luhrman movie in "Moulin Rouge!" where he portrayed Henri de Toulouse-Lautrec. He leads a troupe of performers playing in the "Spectacular Spectacular" show, which he hopes o get in the Moulin Rouge.
While he continued to build up handfuls of movie credits, Leguizamo also dabbled in television. He played Dr. Victor Clemente on "ER" for 12 episodes and also went to star in "The Kill Point" for eight episodes as Jake Menendez.
Leguizamo also scored a role as Julian in M. Night Shyamalan's much-discussed "The Happening" in 2008. A friend and co-worker to Elliot (Mark Wahlberg), Julian eventually succumbs to the mysterious natural disaster that causes the infected to commit suicide. That same year he played Enrico in "The Miracle at St. Anna," a war film about Black soldiers stranded in Italy during WWII.
The 2010's saw John Leguizamo enter the thriller world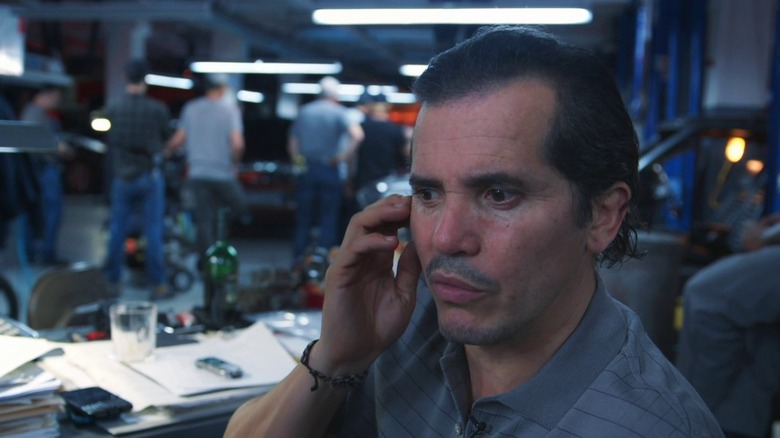 Lionsgate
The 2010s saw John Leguizamo really venture into the thriller/action genre as he scored roles in some of the biggest films and franchises of the decade. First up was "The Lincoln Lawyer," where he played Val Valenzuela, an untrustworthy bail bondsman. Action was the name of the game when Leguizamo joined "Kick-Ass 2" as Javier — one of The Motherf***er's bodyguards.
In 2014, Leguizamo joined Kevin Hart and Ice Cube in "Ride Along," where he played Santiago — a partner of Miggs (Bryan Callen), who serve as the film's antagonists. Leguizamo took a break from the thriller genre and joined the highly-praised "Chef," which starred Jon Favreau. He played Martin, one of the cooks on the food truck who travels across the country. In 2014, he joined the "John Wick" franchise as Aurelio — a chop shop owner and a provider for The Continental. He stuck around for "John Wick 2" but was not present for "Parabellum. Leguizamo would go on to star in "American Ultra" alongside Tom Cruise and "Waco" led by Taylor Kitsch.
However, the 2010s weren't all guns and bombs for Leguizamo, as he still took time for comedy. He played Dave opposite Amy Poehler and Tina Fey, a friend of the sister duo. While his role in the film wasn't major, it was definitely nice to see him back in a comedic part.
John Leguizamo voiced many characters in the 2010s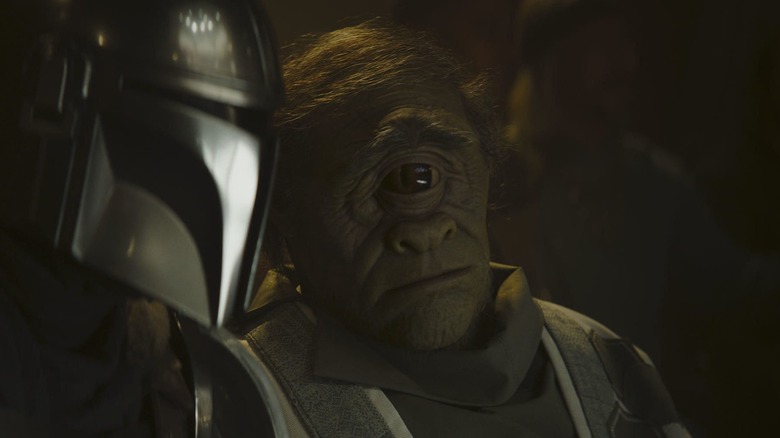 Disney+
John Leguizamo's voice acting career stretches well beyond the "Ice Age" franchise. In the 2010s, Leguizamo had more than a handful of voice roles, one of which was in "The Adventure of Puss in Boots." He voiced Jack Sprat in three episodes of the series, led by Eric Bauza. Leguizamo also did a one-off voice role in "BoJack Horseman" as Yolanda's father for the "Planned Obsolescence" episode in Season 5.
Additionally, Leguizamo voiced Tziloco in the Disney series "Elena of Avalor." Also working for the Mouse House, the actor voiced Gor Koresh (but did not do the live-action acting) in "The Mandalorian" for Season 2's premiere episode "Chapter 9: The Marshal" in 2020. In 2021, Leguizamo did an eight-episode voice role as Glenn the pigeon in "Fairfax," which landed on Amazon Prime Video. Also, in 2021, the actor lent his unique voice to "Santiago of the Seas," where he played Sir Butterscotch for two episodes.