Luke Skywalker Will Be 'Very Different' In The Last Jedi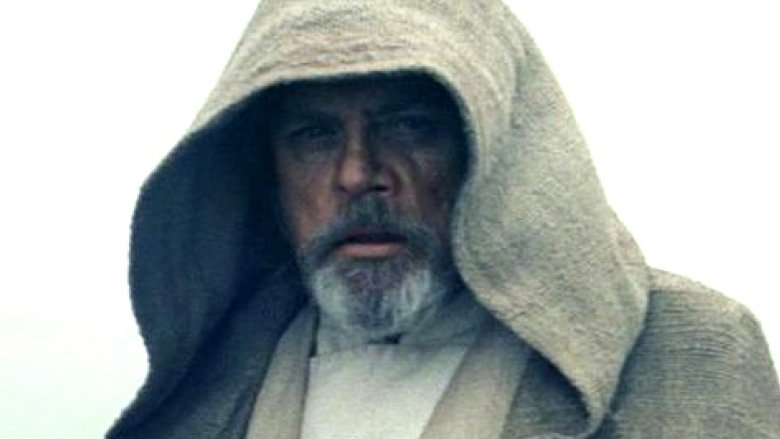 Luke Skywalker will be a new man when he finally speaks again in Star Wars: The Last Jedi. More details about the character's return were revealed in a recent Vanity Fair interview, with director Rian Johnson explaining where Luke was between the events of Return of the Jedi and The Force Awakens and promising that the The Last Jedi will show "a very different side of the Luke character." 
Han Solo suggested in The Force Awakens that Luke may have gone to find the first Jedi temple, something which Johnson confirmed is true. It's on the planet of this temple, Ahch-To, where Luke meets Rey at the end of The Force Awakens, a shooting location which Hamill didn't exactly love. Johnson says that Luke had been living there in "kind of a little Jedi village," among an indigenous group of caretaker creators who the director confirms are definitely not Ewoks. 
Although he wouldn't offer many more details, he did say that much of the movie comes down to the evolving relationship between Rey and Luke. While it is easy to draw parallels between the new trilogy and the original trilogy, Johnson says that people shouldn't expect to see a "one-to-one correlation" between Yoda mentoring Luke and Luke mentoring Rey. "There's a training element to it, but it's not exactly what you would expect," he teased. 
Finding out more details about Luke's whereabouts has been a big draw for the new trilogy, but just seeing Hamill back in character, even if it was only for a short time, was a sight to behold for long-time Star Wars fans. His co-star Oscar Isaac falls into that boat, saying that to be there for that moment was "bizarre and jaw-dropping." "It's like when you see an old band re-unite and go on the road, and they don't quite hit those high notes anymore— though in this situation it's completely the opposite," he said. "It's the fulfillment of where your imagination would take you when you imagine where Luke would go, or what he's become."
Luke Skywalker will finally speak in the new trilogy in The Last Jedi, due out Dec. 15. While we wait, see some Luke-related details that only true fans noticed in the Last Jedi teaser.