We Now Know Who Will Voice Superman In DC League Of Super-Pets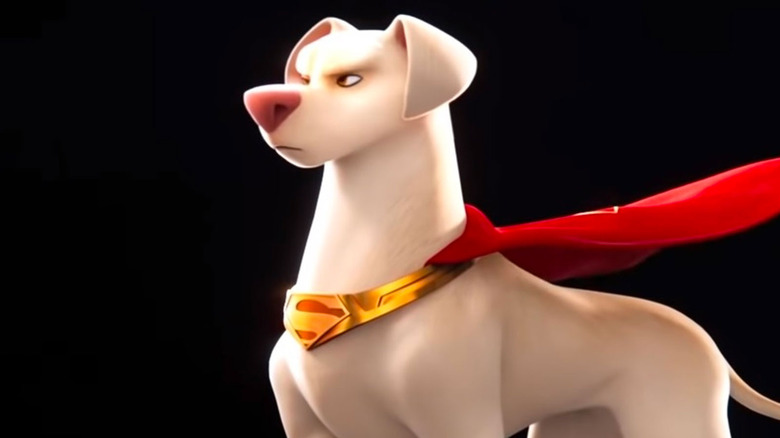 Warner Bros/YouTube
Besides promising to change the hierarchy of power in the DC Universe forever as Black Adam, there's another hero from the beloved comic book world Dwayne Johnson is bringing to life. He's nowhere near as ferocious but is considerably furrier than the ruler of Khandaq, and he goes by the name of Krypto.
Appearing in "DC League of Super-Pets," Johnson is set to voice the super-powered canine ally to Superman, who forms his own team of heroes. Joining him is his "Jumanji" co-star Kevin Hart as Batman's dog, Ace; Vanessa Bayer as Wonder Woman's pig, PB; Natasha Lyonne as The Flash's turtle, Merton; and Diego Luna as Green Lantern's squirrel, Chip. It's a cast list that we've been aware of since DC FanDome, but now another voice has chimed in (well, tweeted actually) to reveal he's set to breathe life into the Man of Steel. Ironically, it's one that's spent most of his recent big-screen efforts staying as silent as possible.
John Krasinski is Superman in DC League of Super-Pets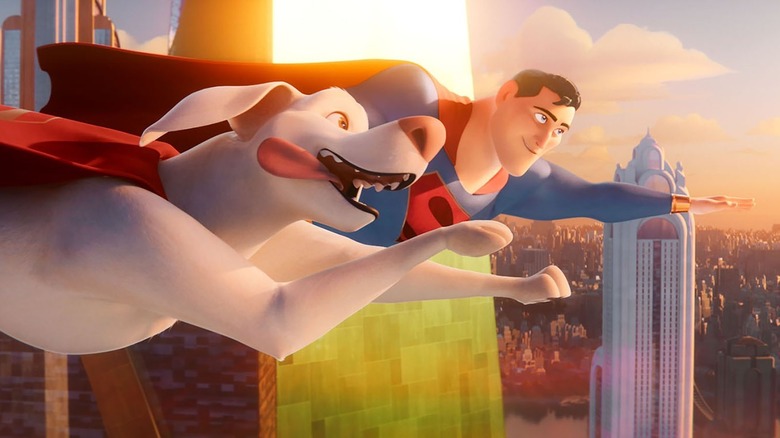 Warner Bros.
Accompanying a brand new look at the legendary hero (and his owner) on Twitter, former "Office" star, and "A Quiet Place" franchise helmer, John Krasinski made the big announcement that he'd be joining Dwayne Johnson in the animated adventure. "Always wanted to do a buddy movie with The Rock," said Krasinski. "Well, these are the roles we were born to play! (FYI... DJ's the one with the tongue)."
The new still shows Krypto in flight alongside the Supes soaring through Metropolis. It's worth noting that the particular iteration of Superman's iconic S-shield is black and red, rather than black and yellow, looking to take from the 1940 iteration, as well as the unmistakable Max Fleischer cartoons. It's a subtle tweak from the design that casual fans might notice and begs the question of if there will be any other changes to other of DC's finest in the film as well. We'll just have to SIT, STAY and WAIT for more before "DC League of Super-Pets" arrives in cinemas on May 20, 2022.