The Tracksuit Mafia Get Some Warm Holiday Returns In A New Hawkeye Clip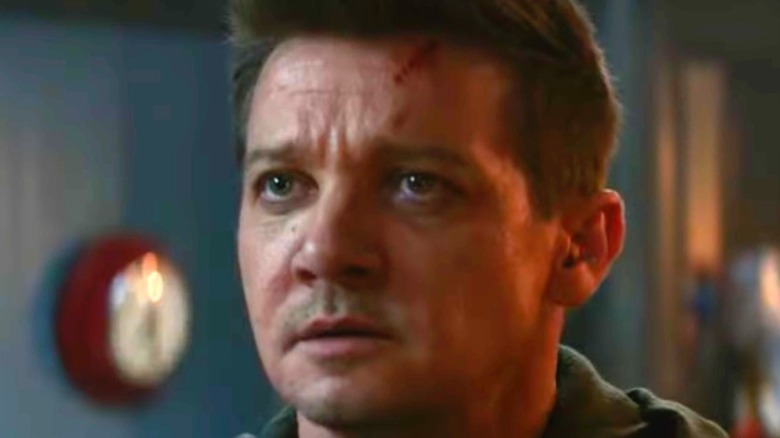 Marvel/YouTube
This week finally sees the arrival of Clint Barton's (Jeremy Renner) own TV show with Disney+'s "Hawkeye," which also stars Hailee Steinfeld as Kate Bishop. The series takes from the beloved comic run from Matt Fraction and David Aja, in all its purple-coated perfection. Debuting with two new episodes this week (that have already received a warm reception), the new clip released from Disney suggests that the transition from comic book to TV box looks pretty seamless, bro.
Following the recent snippet showing Clint and Kate in Times Square, this new clip finally gives us a good look at the iconic Tracksuit Mafia. This mob of goons is a major threat in Barton's latest adventure, keen to cause issues for our hero in their titular attire and determined to add "bro" on just about everything they say. Thankfully, Clint has a helping hand with apprentice archer Kate, even if this new preview suggests she might cause more damage than she or the Avenger would like to.
It's a not-so silent night for Clint and Kate
Showing more a tad action in this clip than we've seen so far, there's still a great sense of chemistry between Jeremy Renner and Hailee Steinfeld on full display, who look to be on the back foot against the aforementioned gang. Looking to be taking a lot of notes from the buddy movie book of Shane Black, this upcoming festive bit of fun has strong echoes of "Lethal Weapon," "The Long Kiss Goodnight," and other great movie gems from the '80s and early '90s.
Add in the talent of Vera Farmiga ("The Conjuring" franchise) as Kate's mother Ellen, along with anticipated appearances of Florence Pugh's Yelena Belova from "Black Widow" and Alaqua Cox as Echo (set to get her own spin-off show), and "Hawkeye" has every chance to be the gift that keeps on giving.
You can set your sights on the brand new show when the first two episodes debut on Disney+ this Wednesday.