Where Is The Curse Of Oak Island Really Filmed?
The History Channel's most beloved treasure hunt, "The Curse of Oak Island," kicked off its 9th (yes, 9th) season on November 2, and the series' devoted fans are eagerly awaiting the premiere of its fourth episode, "Spoils Alert," on Tuesday, November 23. The determined brothers at the heart of the reality series — Rick and Marty Lagina — have repeatedly defied the cancellation gods and odds, proving that one needn't actually find a treasure (or even, really, a hint of one) to make the hunt for such items a thrilling narrative to which viewers will return again and again. What began as passion sparked by younger brother Rick happening upon a Reader's Digest article about the island and its rumored treasure's curse back in 1965 (via Sky) has evolved into a top-rated series that draws in just under 3 million viewers every week (via The Hollywood Reporter).
The brothers' hunt to resolve a 226-year-old mystery has brought them to a number of memorable locations on a storied island off the coast of Nova Scotia, and although fans, the Laginas, and their team of experts and excavators are frequently left with more questions than answers, there's at least one audience inquiry whose answer is both definitive and tangible. That is, where exactly is this exquisitely frustrating treasure hunt filmed?  
Sometimes, the team does leave Oak Island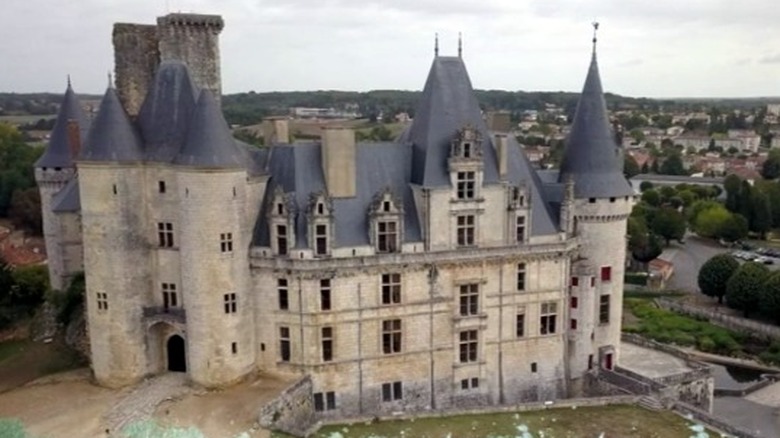 History
Believe it or not (and despite its title), "The Curse of Oak Island" isn't without at least a little location diversity. A treasure hunt, after all, must typically involve the often long and convoluted rumored history of the treasure itself. Season 2 and Season 5 took the team across the pond, where some filming took place in both France and Scotland since the treasure is believed to have been moved from the former to the latter prior to landing in Canada. 
"The Curse of Oak Island" shot on location in Saltcoats (on the West coast of North Ayrshire, Scotland), and a few miles inland at Kilwinning Abbey before heading to just southeast of Edinburgh proper to film at Rosslyn Chapel (via Republic World). In Season 5, Episode 9 ("The French Connection"), the team headed to Paris before catching a train to Chateau de la Rochefoucauld in Charente, France, located in the upper southwestern portion of the country (via Mysteries of Canada). 
For the most part though, (and as you might expect) "The Curse of Oak Island" is filmed on Oak Island itself. The 140-acre, privately owned island is one of just 300 that punctuate Mahone Bay, Nova Scotia, on the Canadian province's Atlantic coast (via History). The infamous "Money Pit" location around which much of the series' exploration and narrative revolves is located on the southeastern portion of the island, also home to several other of the series' most visited landmarks, including Isaac's Point, Smiths Cove, Stone Triangle, and The Cave-In Pit.