Dustin Hurt Teases The Memorable Moments Of Gold Rush: White Water Season 5 - Exclusive
When Looper got Dustin Hurt on the phone recently, the star of the Discovery Channel hit "Gold Rush: White Water" made a somewhat startling admission. "I'm at a disadvantage, because I've never watched the show ever," he told us in an exclusive interview, "and I don't know that I ever will." As the fifth season of "White Water" kicks off, Hurt might be just like an actor who doesn't watch his own films: He's too busy with the work in front of him to dwell on what's behind him. This time around, the stakes are higher for Hurt, his father and fellow "Dakota Boys" partner Fred Hurt, and their dedicated crew of miners. The gold goals are bigger, and the danger to life and limb? Well, that's just another component in what Hurt calls a workday.
As the miners of "Gold Rush: White Water" return to the icy, rushing waters of Alaska's Chilkat Mountains for Season 5, Dustin Hurt shared with Looper his thoughts on how the teams are shaking out, the challenges he faces as his group's top decision maker, and how his leadership style informs each moment of every dangerous day in the race to get their gold.
Fighting a battle against Mother Nature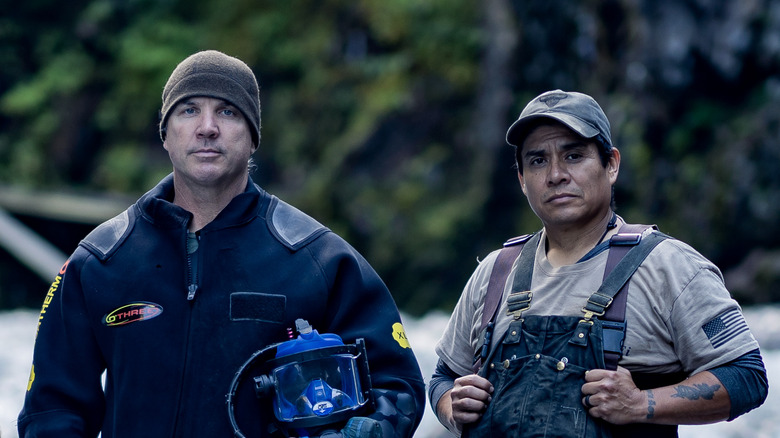 Discovery
Dustin Hurt has a succinct summation of the environmental challenges he and his team face day in and day out on "Gold Rush: White Water." "Everything out there's basically trying to take us down," Hurt told Looper in an exclusive interview. "It feels almost like a small war. I have a crew and Mother Nature has its crew, and we just battle." As Season 5 of the Discovery Channel hit ramps up, Hurt is taking the battlefield with a mix of tested veterans like Carlos Minor and Wes Richardson as well as new recruits.
What about the crustiest mining veteran of them all, Fred Hurt? "I could tell you that Fred's starting to get — he's almost 80 years old, and I don't think he's gonna be as full time as he usually is," Hurt said. "Getting up there in age just like anybody would." While the "White Water" miners have worked two sites for a few seasons now, and that setup remains, the elder Hurt has moved into a background role. "Yeah, Fred didn't want to run a crew this year," Hurt said. "And it was a good benefit for me to have two groups out there. I think I made the right choice on that. We had some good people, and I don't know how much I can tell you about that. But we did get some good people. And I think it worked out just fine, the way the way we made it happen."
"Gold Rush: White Water" airs Fridays on Discovery and is available to stream on Discovery+.