Star Wars: The Last Jedi Cast Graces Cover Of Vanity Fair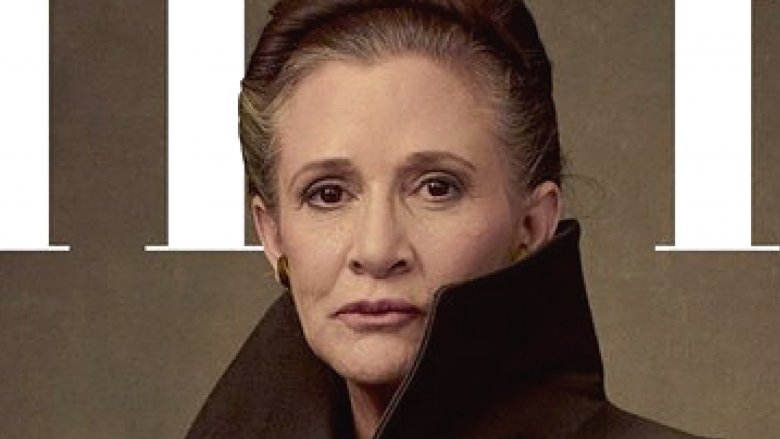 The Star Wars: The Last Jedi cast are glammed up for four separate Vanity Fair covers featuring the film's characters. Like the original The Phantom Menace spread highlighting the series' return to the big screen in 1999, the Last Jedi photos were taken by legendary photographer Annie Leibovitz, who captured Daisy Ridley, Mark Hamill, Carrie Fisher, and more in costume. While the magazine's full story on the film won't be released until Wednesday, Vanity Fair did include some hints as to what readers can expect from the profile in the captions under their covers. 
The first cover shows Ridley's Rey alongside Hamill's Luke. The picture was taken on location in Ireland, on the cliff which stands in for Ahch-To, where Rey finds Luke at the end of The Force Awakens. "The first cover features at least one Jedi– who may or may not be the last," the outlet wrote.
Next up is the film's more villainous characters, with the cover highlighting Adam Driver's Kylo Ren, Gwendoline Christie's Captain Phasma, and Domhnall Gleeson's General Hux, all looking "a little worse for wear" following the events at the end of The Force Awakens. The portraits give the first glimpse at Christie's character without her helmet, but the real draw is the information they may offer about Kylo's condition. Driver says that, in addition to his new (moving) scar, his pain also goes much deeper– something which is sure to have ramifications throughout the film.
Up next is the plucky Resistance, featuring Oscar Isaac's Poe Dameron, Kelly Marie Tran's Rose Tico (a Resistance maintenance worker and the new character with the most screen time in the film, the profile notes), BB-8, and a very not comatose Finn (John Boyega). Vanity Fair teases that there are a few hints eagle eyed viewers can find about Finn's Last Jedi storyline in the picture.
The last cover shows a somber Fisher, photographed before her death in December. "No reflection on the franchise's four decades would be complete without a tribute to Carrie Fisher," the outlet wrote. "This final cover features only her character, Leia— the general, princess, and rebel who has been a figure central to the Star Wars universe from the very outset."
You can view the covers below. The Last Jedi is due out in theaters on Dec. 15; for now, see why the movie will blow you away.
Leading up to @StarWars's 40th anniversary, Vanity Fair introduces the next chapter in its saga: #TheLastJedi https://t.co/jLLif1n8L4 pic.twitter.com/41Yb5GVMES

— VANITY FAIR (@VanityFair) May 23, 2017