Why The MJ Scene In The New Spider-Man: No Way Home Trailer Means More Than You Think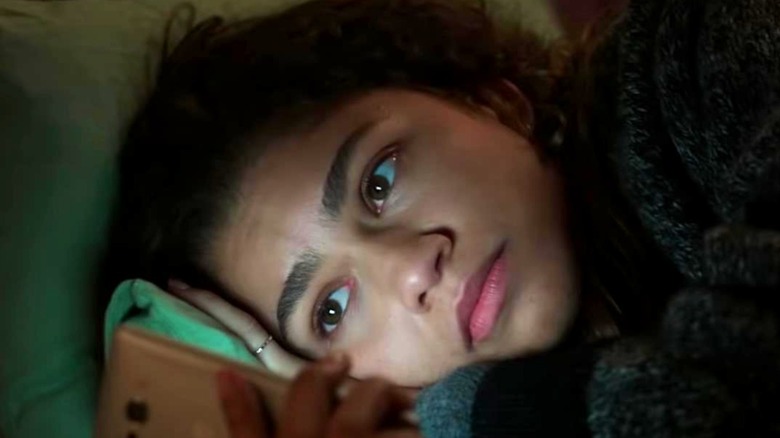 Sony
"Spider-Man: No Way Home" buzz was taken to the next level when a teaser trailer was released in August. The trailer revealed the return Doc Ock (Alfred Molina) and hinted at the appearance of Green Goblin (Willem Dafoe). Fans have also been clamoring for news on if any of the previous Spider-Man portrayers would return. Andrew Garfield, in particular, has been vehemently denying his return. The actor did not appear in the new trailer that dropped on Tuesday, nor did Tobey Maguire who is also rumored to return.
But there were several aspects of the new "Spider-Man" trailer that fans may have missed. Some include the return of J. Jonah Jameson (J.K. Simmons), who appeared in a brief cameo in "Spider-Man: Far From Home." He is returning along with Electro (Jamie Foxx) and Sandman, among many others. MCU fans may want to direct their attention to more familiar faces, however. MJ (Zendaya) and Ned (Jacob Batalon) are with Peter as he encounters characters from other universes coming to confront him. MJ, in particular, has a moment that is important to the Spider-Man universe.
Does Andrew Garfield's Spider-Man return?
Peter Paker has an unfortunate track record of watching his girlfriends fall from great heights. MJ is the next character on this list as she's seen falling the new trailer. Some fans have noticed something strange regarding her fall, though. Andrew Garfield has been adamant about not being involved in this film, but some think MJ's fall scene confirms it. His face does not appear in the trailer, but some fans are theorizing his hand may have made an appearance. While MJ drops, a gloved hand reaches for her. Some fans have noticed that the hand does not match Peter Parker's MCU Spider-Man suits. One Reddit user noted, "This hand does not look like the black and red integrated suit that Tom Holland wears in the shot." There is disagreement on the forums in regards to the color scheme, so this has not been substantiated.
What is substantial is the underlying theme of MJ's danger. Fans will all remember that not all of Peter's girlfriends have been saved. Her fall is too reminiscent of the tragic death of Gwen Stacy (Emma Stone) in "The Amazing Spider-Man 2." "No Way Home" will be devastating if the fall yields the same results. Viewers will have to wait to see MJ's fate (and if Andrew's Spidey truly saves her) when "Spider-Man: No Way Home" premieres on December 17th.