The Line In The Spider-Man: No Way Home Trailer Giving MCU Fans The Chills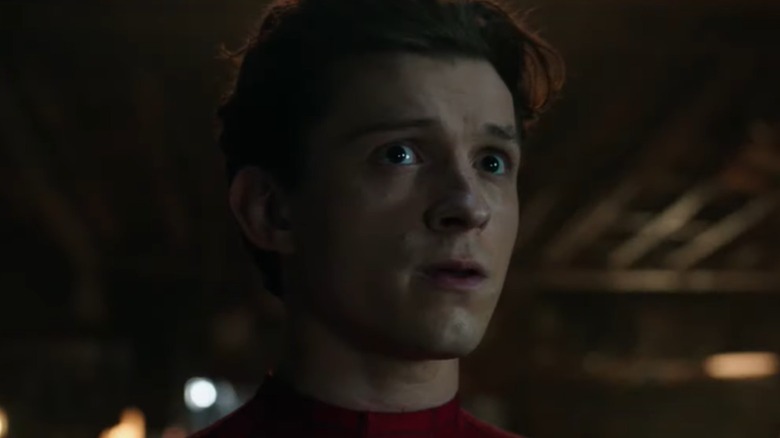 Marvel Studios/YouTube
Tom Holland's Spider-Man arrived in the Marvel Cinematic Universe as a part of 2016's "Captain America: Civil War," and in the years since, he has found himself on some incredible adventures. He toppled Adrian "Vulture" Toomes' (Michael Keaton) criminal enterprise, teamed up with the likes of Iron Man (Robert Downey Jr.) and Captain America (Chris Evans) to defeat Thanos (Josh Brolin), and even prevented the devious Quentin Beck, aka Mysterio (Jake Gyllenhaal) from slithering his way to the top of the superhero food chain. And yet, Peter Parker's biggest challenge is still ahead of him.
"Spider-Man: No Way Home" is all about his long, dangerous road to clearing his name. After being outed as Spider-Man. and framed for the death of Mysterio in "Spider-Man: Far From Home," Peter Parker is in the middle of a personal and legal maelstrom — something he feels only magic can fix. Enter Doctor Strange (Benedict Cumberbatch), whose spell to wipe the world's collective memory goes awry and opens up the entire multiverse. One after the other, villains from across time and space converge on this version of Earth, making Spidey's problems even worse.
In response to endless waves of fan outcry, now two trailers for "Spider-Man: No Way Home" have hit the internet. While the first sent everyone into a frenzy, there's a specific moment from the equally internet-breaking second that has given many fans chills.
"You're not Peter Parker"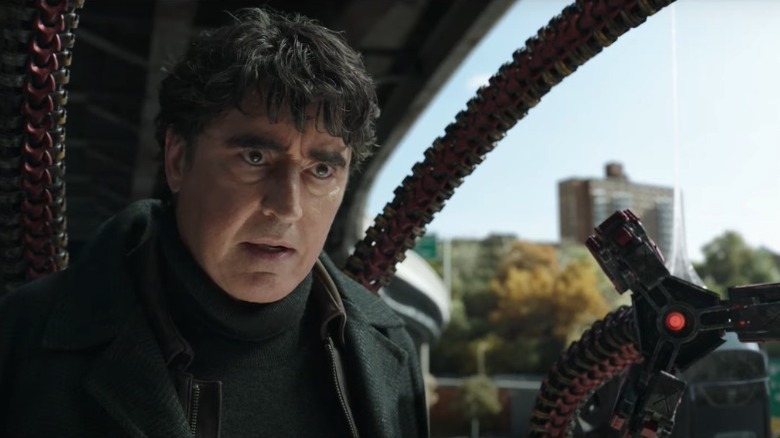 Marvel Studios/YouTube
As shown in the second "Spider-Man: No Way Home" trailer, Alfred Molina's Dr. Otto Octavius is back, 17 years after his demise in 2004's "Spider-Man 2." Although, unlike the version from that universe that redeems himself and makes a heroic sacrifice, the one we see in the MCU seems all kinds of bad. In fact, he even takes the fight to Spider-Man and manages to pin down the wall-crawler with his mechanical arms. Instead of delivering the killing blow, though, he's taken aback for a moment when he sees the human face underneath, exclaiming, "You're not Peter Parker."
The editing of this scene in the "No Way Home" teaser leads us to believe this is simply Doc Ock's reaction to seeing a Spider-Man with a different face than the one he knows. However, some MCU fans believe this is a subtle hint that the actor behind Spidey in "Spider-Man 2" — Tobey Maguire — is actually going to appear in "No Way Home." Even though neither Sony nor Marvel Studios have lent any credence to such ideas, rumors of both Maguire and Andrew Garfield returning as their respective incarnations of Spider-Man persist online, fueling such interpretations of promotional material.
At the end of the day, there's no strong evidence that Tobey Maguire is in "Spider-Man: No Way Home." Therefore, until proof of the contrary arises, Doc Ock's intriguing line sounds like nothing more than a nod to his famed rival.