How John Krasinski Saved Jim From Being Ruined On The Office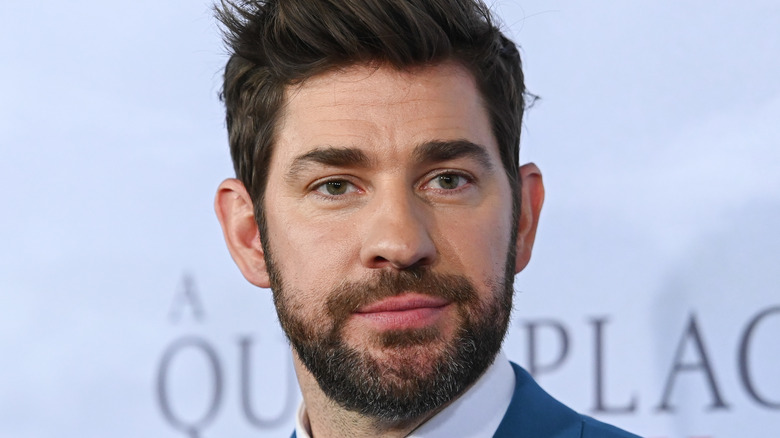 Mike Coppola/Getty Images
John Krasinski and his wife, Emily Blunt, make up one of modern Hollywood's best-known couples. Each has an extensive and impressive resume; Blunt has starred in massive films with iconic co-stars, including the likes of Matt Damon in "The Adjustment Bureau" and Tom Cruise in "Edge of Tomorrow." She also took over the mantle of Mary Poppins from Julie Andrews in "Mary Poppins Returns" in 2018. Krasinski is nearly just as accredited, landing roles such as that of Jack Ryan in the Amazon original "Tom Clancy's Jack Ryan," starring in "13 Hours: The Secret Soldiers of Benghazi," and directing and starring in his own hit horror film series with "A Quiet Place" and "A Quiet Place II" alongside his wife.
However, Krasinski, whether he wants to be or not, will very likely be recognized first and foremost as Jim Halpert from "The Office" for a significant number of people throughout his entire career. The character of Jim is beloved universally by most fans of "The Office," essentially providing the sensible character in the show that serves as the person who the audience relates to the most amidst all the craziness that occurs at Dunder Mifflin. His relationship with fellow employee Pam Beesly (Jenna Fischer) is also beloved by fans, but in a recent book released on the show called "Welcome to Dunder Mifflin: The Ultimate Oral History of The Office," that relationship was almost thwarted by showrunners.
Jim Halpert almost had an affair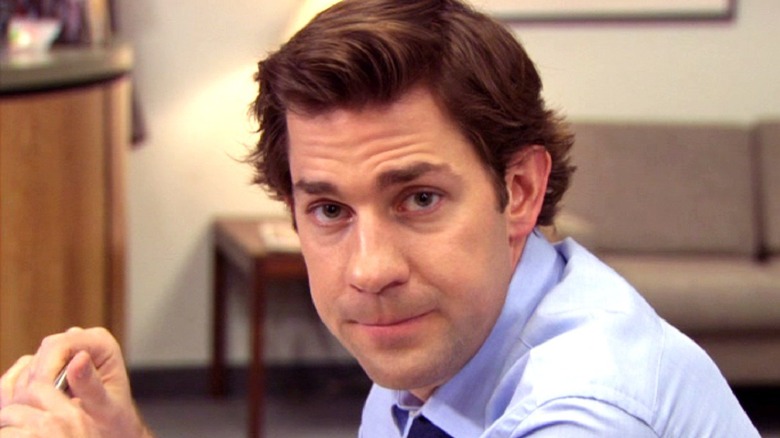 NBC
As revealed in the book by Krasinski (via People), he and "The Office" executive producer Greg Daniels had an interesting conversation while brainstorming ideas for the Season 8 episode titled "After Hours," where a temporary Dunder Mifflin receptionist named Cathy Simms (Lindsey Broad) attempts to seduce Halpert on a business trip in Florida, albeit unsuccessfully. The idea stemmed from Krasinski, who felt that the show needed to come up with a "good Pam-Jim storyline" at the time. Krasinski suggested to Daniels that Jim and Pam should get borderline separated but come back to one another.
However, when the day arose to shoot the episode, Daniels suggested that Krasinski go further in a specific scene and allow Jim to make out with Cathy during the business trip. Krasinski was not having it, as he recalls it was one of the only times that he put his foot down on the show against producers' wishes. He even went as far to refuse to shoot the scene despite the demand of both Daniels and co-showrunner Paul Lieberstein who told him that he would shoot the scene, as they saw benefit in the audience witnessing Jim do this.
Krasinski felt the scene would push fans too far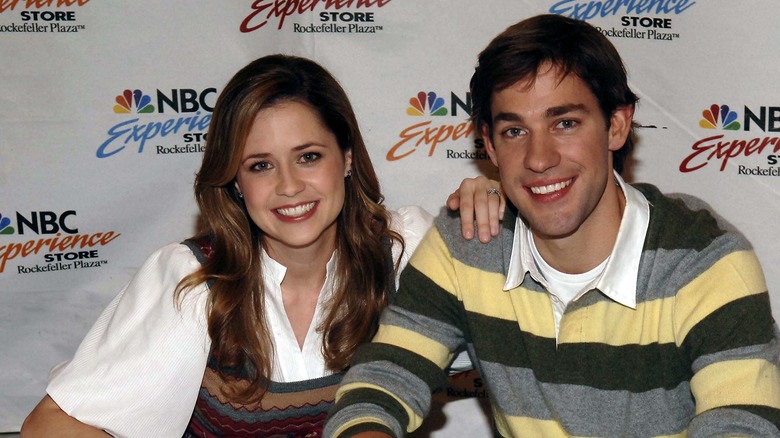 Gustavo Caballero/Getty Images
John Krasinski was quoted in "Welcome to Dunder Mifflin: The Ultimate Oral History of The Office" talking about his discussion on the makeout scene with Daniels. "I remember saying to Greg, 'My feeling is there is a threshold with which you can push our audience," he said in the book, via People. "They are so dedicated. We have shown such great respect to them. But there's a moment where if you push them too far, they'll never come back. And I think that if you show Jim cheating, they'll never come back.'" Krasinski felt that this would ultimately turn the audience's admiration for Jim Halpert on its head, as most could probably not forgive him for actually going through with cheating on his wife and ultimately betraying Pam like that.
Ultimately, Krasinski's attempts to convince Daniels were successful, as that scene was never known prior to the release of "Welcome to Dunder Mifflin: The Ultimate Oral History of The Office," and did not end up happening in the episode "After Hours." Jim, as we know, continued enjoying a happy relationship with Pam – with some minor hiccups — until the end of the show in 2013.