How Hailee Steinfeld Really Feels About Playing Gwen Stacy And Hawkeye's Kate Bishop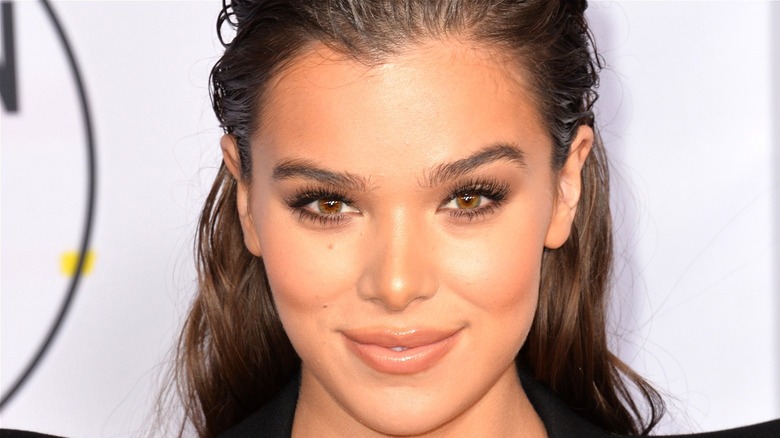 Featureflash Photo Agency/Shutterstock
Hailee Steinfeld is one of Hollywood's fastest growing stars. At only 24 years old, the singer and actress has already led an accomplished career in the field of entertainment. For her appearance as Mattie Ross in the Jeff Bridges-led 2010 "True Grit" remake, she was nominated for Best Actress in a Supporting Role at the 2011 Academy Awards (the same year that her future "Hawkeye" co-star Jeremy Renner was also nominated for his supporting role in "The Town"). In her work as a musician, Steinfeld has also released a variety of singles, music videos, and extended plays (via Discogs).
In the last few years, Steinfeld has made a number of appearances in beloved superhero franchises, as well. These include her role as Charlie in the 2018 "Transformers" spin-off "Bumblebee" and as the voice of Gwen Stacy aka Spider-Woman (also known in the comics as Ghost-Spider) in 2018's "Spider-Man: Into the Spider-Verse." At the end of November, the talented young actress will take her biggest step into franchise history yet, when she joins the Marvel Cinematic Universe as the archer Kate Bishop in "Hawkeye." 
So, how does Steinfeld feel about playing such important superheroes? In a recent press conference to promote the upcoming November 24 premiere of the first two episodes of "Hawkeye," Steinfeld expressed her thoughts.
Steinfeld says she is honored to play both roles
During the press conference, which Looper attended, Steinfeld was asked what it's like to play two popular Marvel superhero characters. In response, Steinfeld described it as being "incredibly cool."
She added that she's honored to play both roles, and elaborated that, "They're characters that have similarities, but they're very different [...] and two completely different worlds. But I always love that I do find that the characters I have played in the past do have this sort of consistency in being these young women who are strong-minded, have a point of view, have an idea of who they are in this world, and they really stop at nothing to get what they want — to achieve what they want to achieve. And I think that both Gwen Stacy and Kate Bishop are proof that if you set your mind to something, you can really achieve great things."
Indeed, from Steinfeld's breakout role in "True Grit" to her newest role "Hawkeye," her characters do have a commonality in their tenacity, drive, and outspoken natures. In addition to her roles in "True Grit," "Bumblebee," "Spider-Man: Into the Spider-Verse," and "Hawkeye," Steinfeld has notably appeared in "Pitch Perfect 2," "Pitch Perfect 3," "The Edge of Seventeen," and all three seasons of Apple TV+ series "Dickinson," in which she plays the famous poet (via IMDb).
"Hawkeye" will premiere on Disney+ on November 24.