Here's Where You Can Watch Riverdale Season 6 Online
It's finally here. Season 6 of "Riverdale" is kicking off a little over a month and a half since Season 5 concluded at the beginning of October. Season 5 went out with a bang — literally — and fans are left wondering what's become of Archie (KJ Apa) and Betty (Lili Reinhart ) after the former's house was blown up by Hiram (Mark Consuelos). It's quite the blow — again, literally — for Betty after being promoted to the rank of Special Agent at the FBI and puts Archies future of reincorporating Riverdale up in smoke (sorry, had to).
As always, fans of the soapy teen drama can catch new episodes when they air live on The CW. However, for those without cable, there are other options for catching the Season 6 premiere and all subsequent episodes online. Eager to see if Archie and Betty made it out of the house alive but don't have cable? Here's how you can watch "Riverdale" Season 6 online.
There's several ways to watch Season 6 of Riverdale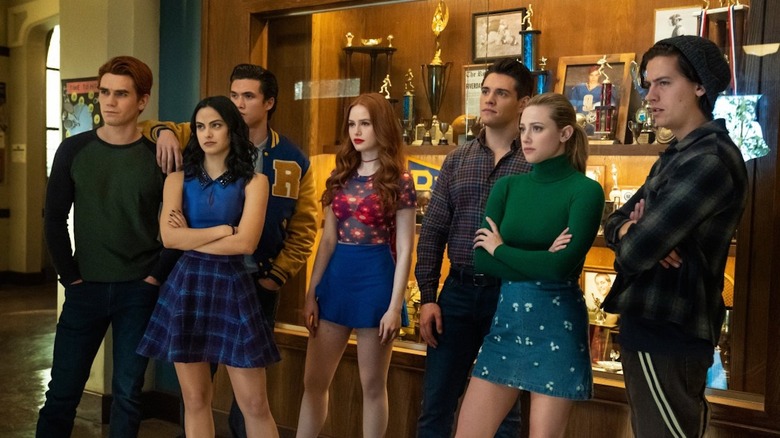 The CW
If tuning in to Season 6 on The CW is not possible for you, there are several different streaming apps that will be your new best friend. "Riverdale" can be streamed via Fubo TV, Hulu With Live TV, YouTube TV, and AT&T TV.
Of course, there is always the option of watching "Riverdale" on The CW App or CWTV.com. The best thing about these two options? They're totally free. However, the episode will have periodic ads while you watch, which is usually par-for-the-course when something is free to view online. If you're looking to watch Season 6 this way, the episodes will not be available to watch until the following day in the morning. Watching live on The CW App or CWTV.com is not an option.
Don't miss Sabrina's (Kiernan Shipka) big debut on the series when "Riverdale" Season 6 debuts on November 15 at 9 p.m. EST. It's up to you how to watch.