Did We Already Get Our First Werewolf By Night Tease In That Moon Knight Footage?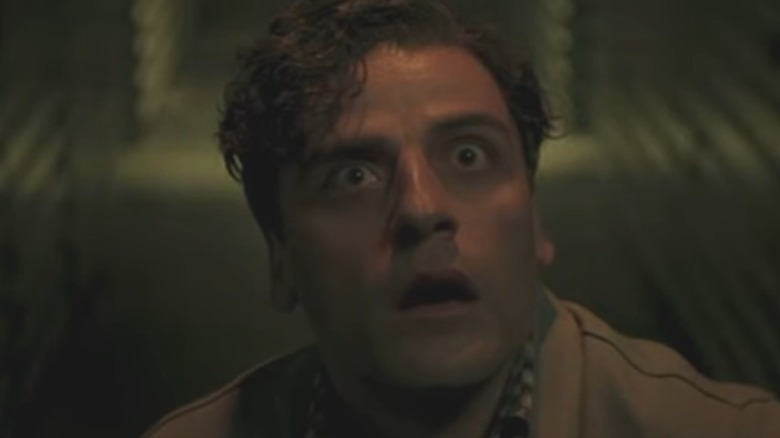 Disney+
As the Marvel Cinematic Universe, or MCU, has expanded since its introduction in 2008 with "Iron Man," fans of the comics have had an opportunity to see a number of characters who wouldn't have been expected to make the jump to live-action. This has included Rocket Raccoon and Groot, first seen in "Guardians of the Galaxy," Vision, first seen in "Avengers: Age of Ultron," and Ant-Man, first seen in the film of the same name.
The expansion of the universe into television has afforded further opportunities to introduce such characters, with Ms. Marvel, She-Hulk, and Ironheart all currently confirmed to be getting their own shows. Marvel has also taken the opportunity of the TV shows to introduce characters ahead of their expected debut. An adult Monica Rambeau, played by Teyonah Parris, plays a key role in "WandaVision," and Jonathan Majors, who is announced to be playing Kang the Conquerer in "Ant-Man and The Wasp: Quantumania" (via Deadline), makes an appearance in the TV series "Loki."
Now it seems another character, Werewolf By Night, may join those ranks. Here's where the character may have already appeared in the "Moon Knight" footage that was shown on Disney+ Day.
Who is the mysterious figure Spector is hiding from?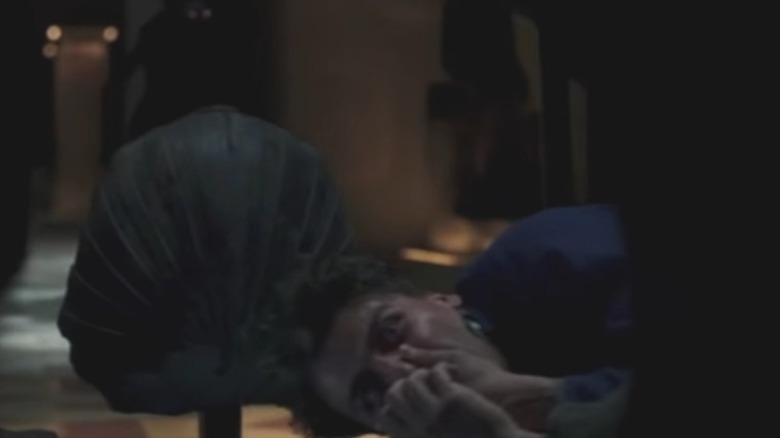 Disney+
In the "Moon Knight" sizzle reel shown by Disney during Disney+ Day, one of the quick shots is of Marc Spector, played by Oscar Isaac, hiding from someone or something, his hands over his mouth to prevent any noise. The figure itself, though shrouded in shadow, appears to not be human, as it's hunched over and has glowing eyes, and could very easily be a werewolf.
Marvel had previously announced a "Werewolf by Night" Halloween special for 2022, with Gael Garcia Bernal in the titular role. In the comics, the character was the alter-ego of Jack Russell, whose werewolf identity is the result of a family curse. Russell and Spector are intertwined, as it was in the pages of "Werewolf by Night" that the character of Moon Knight was first introduced, as a mercenary who was brought on board to capture Russell, only to let him go when he realized Russell was human.
The two subsequently crossed paths more times during the comics run of "Werewolf by Night," giving them a shared history that makes the character's appearance in the "Moon Knight" series plausible. It also allows for a certain symmetry to have "Moon Knight" be the TV series that first introduces a live-action Werewolf by Night when the latter's comics run marked the first introduction of Moon Knight.
"Moon Knight" will be released on Disney+ in 2022.