We Now Know What Drew Lauren Ridloff To The Walking Dead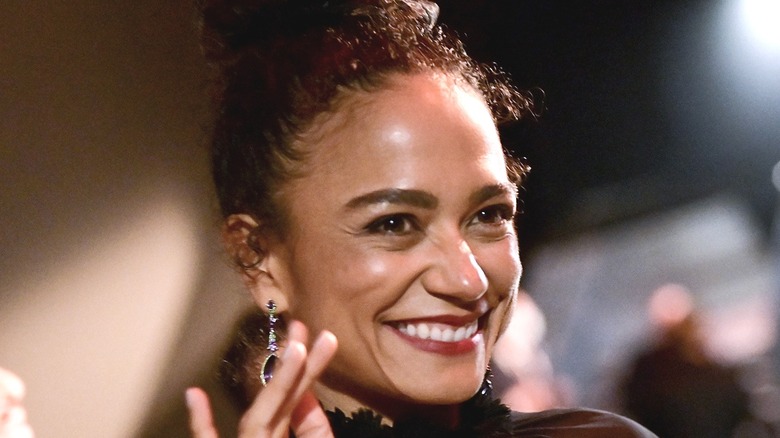 Gareth Cattermole/Getty
Lauren Ridloff's most recent role as Makkari in Marvel Studios' "Eternals" is somewhat of a breakthrough role for the actress. Not only does Ridloff excel as a superhero, but her character is especially notable for being the first deaf superhero in the MCU played by a deaf actor.
But "Eternals" is not the first time Ridloff has gotten the opportunity to play a deaf character for a major project. In 2018, she took on the role of Connie in the AMC drama "The Walking Dead." Much like with Makkari, Connie is the first deaf character to be introduced into the world of "The Walking Dead." She comes into the mix in the Season 9 episode "What Comes After" (via IMDb) when she survives an attack by the undead. 
"The Walking Dead" remains popular with fans and is currently airing its 11th and final season. As such, seeing a deaf lead character still battling it out rather than getting killed off is a big deal. So, how did Ridloff decide to take on the role? In a recent interview, she revealed what initially drew her to the part of Connie on "The Walking Dead."
Ridloff was drawn in by one particular TWD actor
Lauren Ridloff was recently interviewed by Who What Wear to promote "Eternals." During the chat, the topic of conversation eventually drifted to her time on "The Walking Dead." Who What Wear told Ridloff they had read that the actor was already a big fan of "The Walking Dead" when she auditioned and proceeded to ask what Ridloff loved most about the show. The "Eternals" actor gave an honest answer, revealing that there was one actor in particular that she enjoyed most about the series.
Ridloff told the outlet, "I don't know why I'm being so honest right now, but I think maybe it's because this is the last interview and I'm just letting it all flow. Okay, really what I think I liked most about the series, in the beginning, was Norman [Reedus and] his character Daryl. I mean, come on!"
As she continued to watch "The Walking Dead," Ridloff explained that she found there was another element she really loved about the series. She remarked, "I really love how they represent the real world and the diversity. It's there, and it's a part of the story, but it's not pushing. It's not driving the story," and went on to speculate that this element likely contributes to the AMC show's success and impact on fans.
Ridloff also noted that she appreciated that they didn't stop with her as the only deaf character and brought in another besides Connie — Kelly, played by Angel Theory. She told Who What Wear, "I love the fact that they just didn't stop with one deaf character. They brought in two. And I think it's a really good opportunity to show the spectrum of the deaf community."