The Walking Dead Season 11 Episode 8 Scene Fans Thought Went Too Far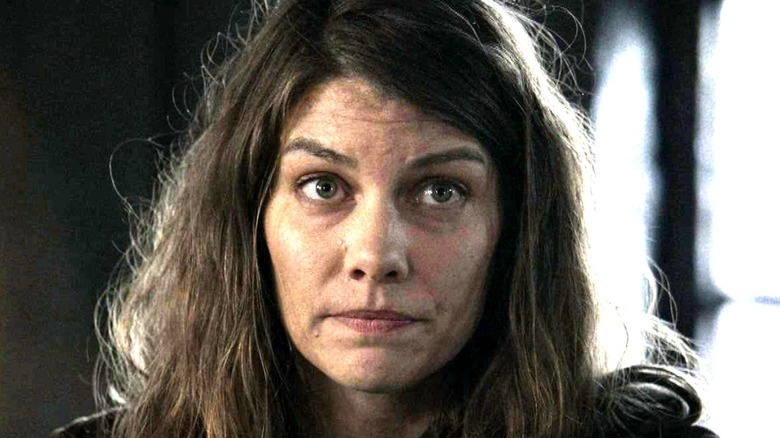 AMC
Contains spoilers for "The Walking Dead" Season 11, Episode 8 — "For Blood"
On October 10, AMC aired the eighth episode of the 11th season of "The Walking Dead," titled "For Blood." However, despite the fact that a third of the final season of the series has now been released, "The Walking Dead" will not actually conclude until mid-to-late 2022, due to the fact that rather than releasing it all at once, AMC is instead opting to release the last batch of "Walking Dead" episodes in eight-episode sections (via Deadline). Therefore, while "For Blood" isn't a proper season finale, it's the last new episode of the series that fans will get to see for a while.
Although "For Blood" ends with a number of cliffhangers too, which were included in a bid to build more anticipation for the next block of "Walking Dead" episodes, some fans thought AMC mishandled the episode's broadcast. In specific, "Walking Dead" fans weren't happy with the network's decision to debut a Season 11B preview during the episode's broadcast, which resolves the tension that viewers might otherwise have been left to wrestle with while they wait for the next episode's eventual release.
Walking Dead fans were unhappy with the release of a preview for Season 11B
"For Blood" alternates its focus between two groups: the survivors at the Alexandria compound, and a team that includes Daryl (Norman Reedus), Maggie (Lauren Cohan), Gabriel (Seth Gilliam), and Negan (Jeffrey Dean Morgan). At the episode's conclusion, two young survivors in Alexandria are trapped between rising floodwaters and a pack of walkers. Meanwhile, new de facto Reaper leader Leah (Lynn Collins) points the group's ultimate weapon — a hwacha that is set to fire a large number of arrows with fireworks attached to them — at Daryl and his allies.
In a discussion thread on Reddit about "For Blood," u/palabear commented, "They went a whole ten seconds before spoiling the cliffhanger." The comment was made in reference to the fact that, following the episode's cliffhanger ending, AMC aired a preview for the next section of "The Walking Dead" Season 11 that shows some of the characters who are in danger at the end of "For Blood" still alive in new situations, thus revealing that they survive their encounter at the end of the show's most recent episode.
In response, u/Bornstellar67 wrote, "Did anyone even really care about this cliffhanger though? We all know Maggie, Negan and Daryl are gonna make it anyway." u/palabear subsequently replied by writing, "Oh I stopped caring a while ago. Just funny to me," which suggests that the user doesn't necessarily view AMC's decision as egregious so much as hilariously oblivious to the show's own storytelling format.
As was announced in that same, poorly timed trailer, "The Walking Dead" Season 11B will premiere on February 20, 2022.