What You Should Watch After Netflix's Red Notice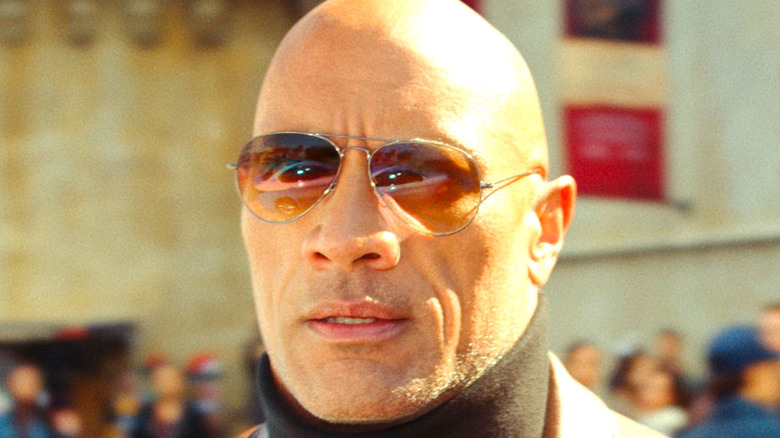 Netflix
Dwayne "The Rock" Johnson, Ryan Reynolds, and Gal Gadot have finally landed on Netflix this week in their explosive new globe-trotting adventure film, "Red Notice." The newest directorial effort from "Dodgeball" helmer Rawson Marshall Thurber, "Red Notice" sees Johnson as an Interpol agent named John Hartley, who teams up with Nolan Booth (Reynold's smart-mouthed con-man) to track down the world's most elusive criminal, The Bishop, played by Gadot.
As one would hope with a film starring Black Adam, Deadpool, and Wonder Woman, explosions were made, fights were fought, and laughs were had. But perhaps above all, "Red Notice" provides the team-up of Johnson and Reynolds that just might make it to the top of your best film friends list. With that said, though, if your buddy movie quota hasn't been filled just yet, then you're in luck. We've scoured through the best team-ups that the movies have to offer to compile a list of the films that fit the bill. After all, what are friends for?
Hot Fuzz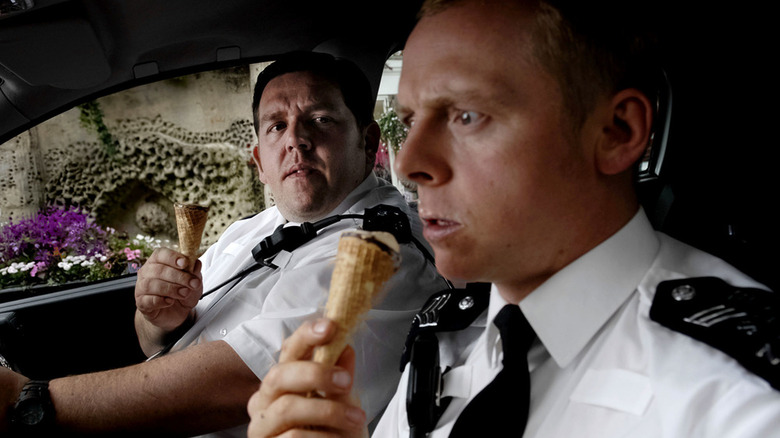 Universal
Hosting one of the best shootouts this side of Sanford, Gloucestershire, "Hot Fuzz" wouldn't be firing on nearly as many cylinders without the police pairing at the center of it. Teaming up once more are Simon Pegg and Nick Frost, the comic duo that leads director Edgar Wright's Cornetto Trilogy. "Hot Fuzz" marks the second (and arguably best) installment of the series, with the funnymen delivering pitch-perfect performances alongside a truly stellar cast of supporting characters. Pegg playing it by the book makes for the perfect collision with Nick Frost's cop-movie obsessed local lawman. The two bounce off one another just as well as they did in Wright's first Cornetto outing, "Shaun of the Dead." 
Channelling every '80s and early '90s armed-to-the-teeth action movie that had a dysfunctional duo at its core, "Hot Fuzz" sees Pegg and Frost following in the footsteps of the finest filmic friendships of days gone by, while adding an extra dose of humor only they can deliver. Sure there are laughs, but seeing these two go to work in the final explosive act never gets old. 
Planes, Trains, and Automobiles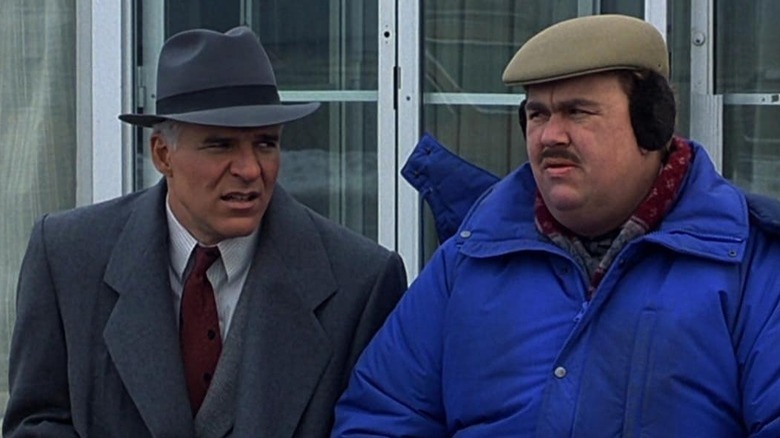 Paramount Pictures
Chalk and cheese has never been so hilarious and heartwarming in the film that's as essential to Thanksgiving, as "Home Alone" is to Christmas. "Planes, Trains and Automobiles" sees Neal Page (Steve Martin), a businessman desperate to get home to his family, halted at every turn by Del Griffith (John Candy), a loveable oaf of a shower curtain ring salesman.
The film's leading pair absolutely master the essential elements of a buddy movie, with Del being totally oblivious to the issues he's causing, and Neal Page etching closer to his last nerve with every second he fails to escape from the moustached thorn in his side. From rides with the devil to an F-bombardment for the ages, "Planes, Trains and Automobiles" handles the humor as well as the heartfelt moments. Hear Del stumble into "I like me. My wife likes me..." and try not to well up. We dare you.
Thelma & Louise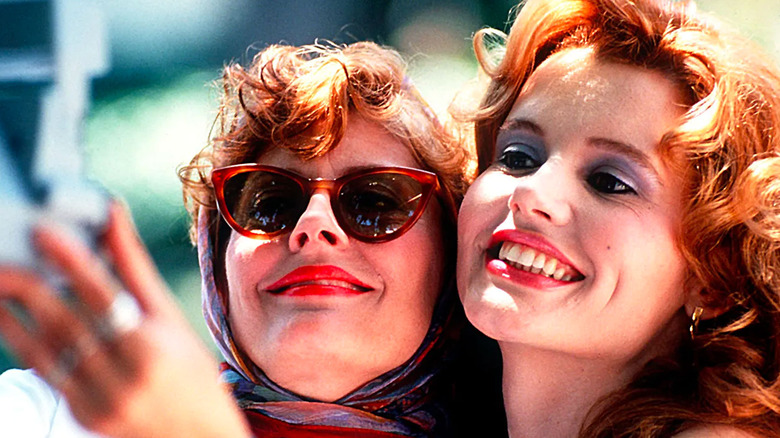 MGM
Susan Sarandon and Geena Davis are best of filmic friends in Ridley Scott's "Thelma & Louise," the classic tale of two legendary girls on an ill-fated getaway. Louise (Sarandon) is the waitress who is apparently a "bad influence" on the under-the-thumb housewife Thelma (Davis) has become but is desperate to stop being. It's only after a traumatic attack on a night out that leads them to make their own way onto the open road, across stunning sun-soaked highways with the law hot on their trail.
Unlike the rest on this list, and a lot of buddy movies in general, "Thelma & Louise" is at its best when the title characters are not bickering with one another — mainly because they never do. Regardless of the issues they encounter, whether it be being hustled by young men in the form of Brad Pitt, or killing in defense, these two stick by one another until the very end. Truly a beautiful buddy movie inside and out.
The Nice Guys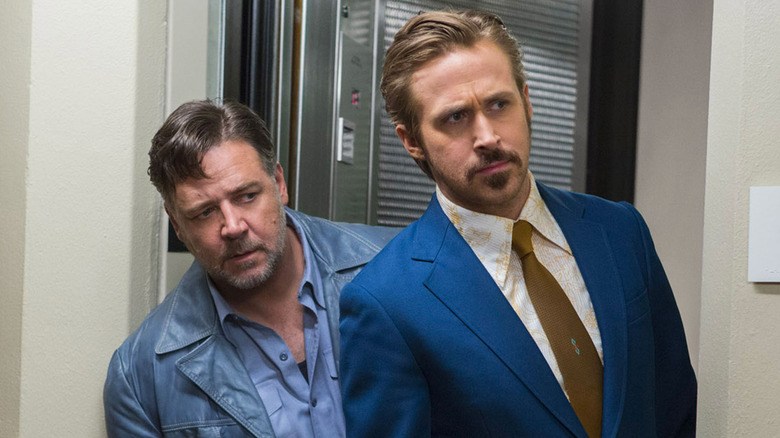 Warner Bros.
If there's anyone that knows how to construct a good team-up, it's Shane Black. Penning what many deem the quintessential buddy movie in the form of "Lethal Weapon," the screenwriter kept churning out classics in the genre, including "The Last Boy Scout," "Last Action Hero," and "Kiss Kiss Bang Bang." He also directed the latter, reprising his dual role 29 years later with "The Nice Guys," starring Ryan Gosling and Russell Crowe. The now cult classic lets two stars who rarely dabble in comedy cut loose and jab at one another like two cinematic sparring partners and every hit lands effortlessly. 
Crowe is the no-nonsense muscle, Jackson Healy, caught up in the mix with Gosling's Holland March being the down-and-out private investigator who will take any job if there's money in it. Echoing that sort of chemistry that Black brought to life in "Lethal Weapon" with Mel Gibson and Danny Glover, this new pair deserves just as many sequels — and if nothing else, hearing Gosling scream at a pitch that only dogs can hear is worth an encore alone.
Toy Story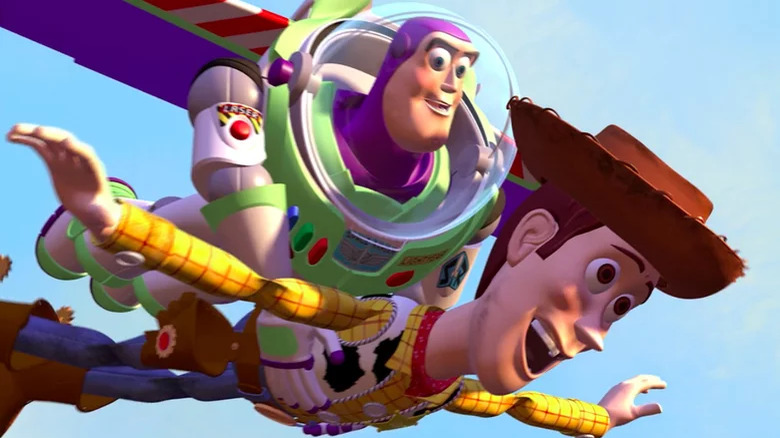 Disney/Pixar
Long before Buzz Lightyear had a voice like Captain America, he crash landed into a kids room and turned a cowboy's world upside down. "Toy Story" utilized the winning formula of focusing on a very odd couple who reluctantly join forces only to discover they're more alike than they realize. The dynamic proved so successful, Pixar replicated it in some of its best work in the years that followed. Every forgetful fish and furry monster had Woody and Buzz to thank for their life-changing story that went as far as Pizza Planet and back again. 
Of course this onscreen pairing would just be child's play if it weren't for the perfect voices bringing them to life. Tom Hanks as the irate sheriff baffled by the brand-spanking new space ranger (Tim Allen), who believes he's from beyond the stars is an absolute classic, and one of the few movies on this list that's safe for all the family.
Spawning three sequels and a friendship that spanned almost 30 years, "Toy Story" isn't just a great buddy movie, it may just be one of the best animated films ever made.