The Surprising Story Behind This Marilyn Monroe Poem On Pawn Stars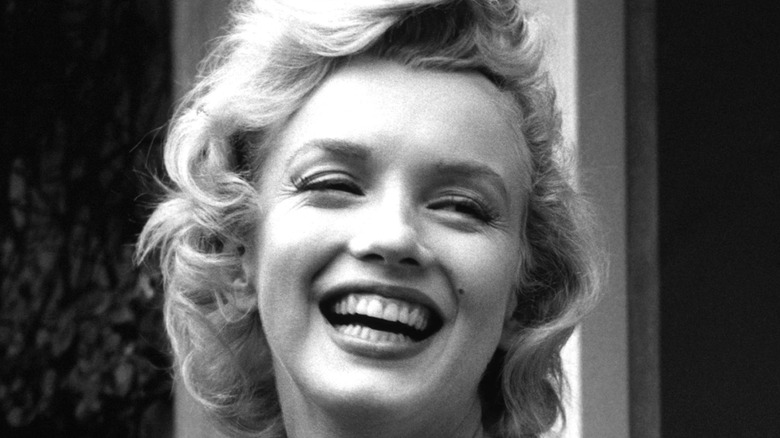 Evening Standard/Getty Images
Screen icon Marilyn Monroe's life shockingly came to an end on August 5, 1962, at age 36 in Los Angeles, and she left behind a rich film legacy including such classics as "Some Like it Hot," "The Seven-Year Itch," "Gentlemen Prefer Blondes," and "The Prince and the Showgirl." Monroe's career was so legendary, in fact, that she's been the subject of several documentaries and biopics over the years, including "My Week with Marilyn," "Norma Jean & Marilyn" — which refers, of course, to Monroe's real name, Norma Jeane Mortenson — and the upcoming film "Blonde," starring Ana de Armas as the doomed star.
Naturally, with the public fascination of Monroe existing to this day, the secondary market is bustling with memorabilia directly connected to her. Since Monroe died so young, signed photos of her are extremely rare (via Intelligent Collector), and as such, they can sometimes fetch thousands of dollars at auction (via Christie's). Even the actor's "cut" autographs — signatures taken from a check, for example — can cost a collector four figures, according to Cardboard Connection.
So, when an autographed photo of Monroe and a poem that the seller claimed was written in the star's hand were presented to Corey Harrison on "Pawn Stars," expectations were high. The end result, however, might surprise you.
Corey Harrison saw red flags with the Monroe items
On a Season 9 episode of "Pawn Stars," the potential seller, Jason, brought his set of Monroe items into Rick Harrison's Gold & Silver Pawn Shop in Las Vegas to see if he was interested in buying it. Jason even went so far as to include personal effects of the recipient of the poem and photo to prove the collection's authenticity. Included with the items were the dog tags of Herbert S. French, the soldier Monroe purportedly wrote the poem for, as well as a copy of his obituary.
Jason told Corey Harrison that his father purchased items at an estate sale 15 years prior, and Corey, knowing Monroe's history, at first thought the items could be legitimate. He said since Monroe "came from a pretty humble background before she was famous" and worked in a munitions factory during World War II, she responded to soldiers' letters because she felt a connection to them.
Jason told Corey that he had four people appraisers the items 10 years prior, and the collection was valued at $48,000. Naturally, that's a big purchase for the pawn shop to make, and since Jason didn't have any paperwork to prove the appraisal, Corey called in his buddy, autograph authenticator Steve Grad to help him make final determination.
"Having no paperwork is a massive red flag," Corey said. "But if it's real, the money he's talking about isn't that far off."
Steve Grad's analysis of his Monroe collection left Jason disappointed
Saying he's seen handwritten letters by Monroe before, Grad said it was "very rare" to see something like a handwritten poem: "A Marilyn Monroe autograph could go for upwards of $3,500, but an unpublished poem by Marilyn Monroe, written by her, could go for $40,000 or $50,000 — and that's the stuff collectors just dream about," Grad said.
Still, since the combination of a handwritten poem and autograph felt "too good to be true" to Corey Harrison, Grad pulled up some examples of Monroe's signature on his computer pad. Noting how Monroe's secretary used to sign a lot of the correspondence, Grad showed Jason an example to prove that his autographed photo was just that. Jason, naturally, was disappointed with the analysis.
As for the poem, Grad compared it to a verified handwritten letter by Monroe and said, "It's two different worlds." Corey added, "They absolutely look nothing alike."
"This, unfortunately, was penned in someone else's hand and not Marilyn Monroe's," Grad added. Corey was likewise disappointed that no sale would be going through, remarking, "Too bad this isn't the real deal. It could have made the shop a lot of money."