The Superhero Movie That Saved Michael Keaton's Failing Career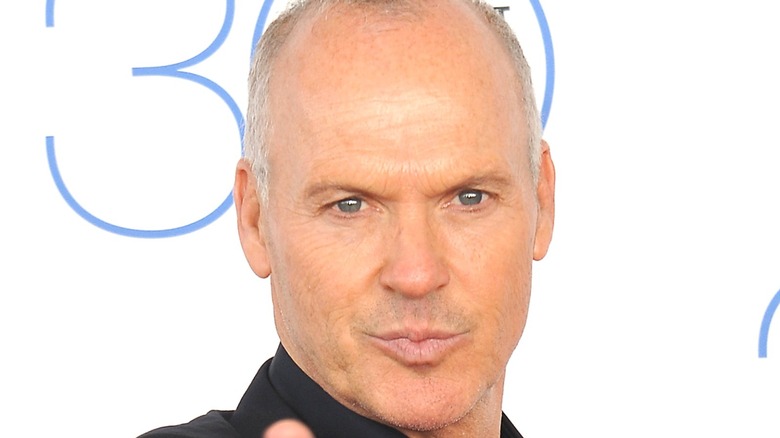 Featureflash Photo Agency/Shutterstock
Michael Keaton first got started as more of a comic actor, including taking on the over the top title roles of "Beetlejuice" and "Mr. Mom." Things changed a bit when he starred as a self-sabotaging addict in the 1988 drama "Clean and Sober." Then they really changed when he became the Dark Knight for director Tim Burton in two pivotal blockbusters: "Batman" and "Batman Returns."
There was significant controversy among comics fans when Burton cast Keaton as Batman (via Bold Entrance), but he gave a stoic, brooding performance that shocked audiences with his sheer commitment to a realistic character. Keaton embraced Burton's gothic version of the comic book icon, commenting to The Guardian that "the first Batman was a risk for everybody. Tim didn't just change that whole genre — he made it." 
The actor left the Batman role after "Returns," becoming known as a risky and versatile performer with his turns in "White Noise" and "Much Ado About Nothing." Still, Keaton never achieved the same visibility and success as a lead actor outside of his superhero franchise. This changed in 2014, however, when he agreed to star in a groundbreaking film that not only pushed cinematic boundaries, but was also clearly an autobiographical nod to Keaton's real-life career.
Michael Keaton wasn't sure if Birdman was mocking him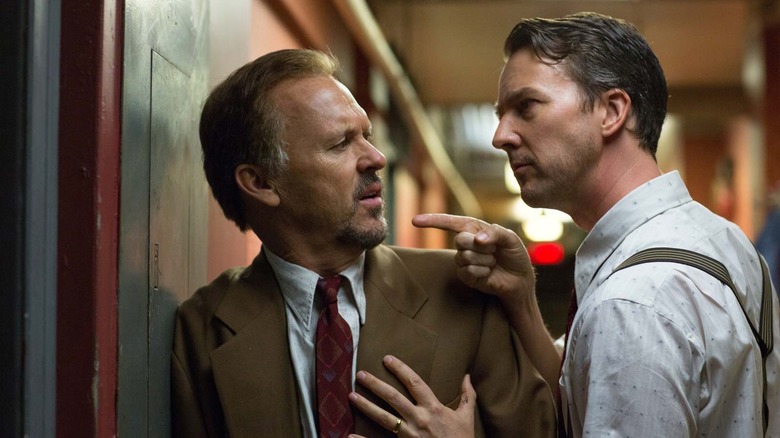 Fox Searchlight
Director Alejandro G. Iñárritu naturally thought of Michael Keaton for the lead role of "Birdman" early on. As he told Variety, Keaton "was the right man for all the reasons: He can do comedy, he can do drama, and he has worn a cape." For Keaton, the role represented the opportunity for him to step outside his somewhat dismal career comfort zone, to which he'd been clinging "half out of fear and half out of safety."
Keaton and Inarritu met for dinner, where the actor understandably asked if the director was "making fun of [him]." When the "Babel" and "21 Grams" director explained the role, however, it supposedly only took "27 seconds" for Keaton to agree to play Riggan Thomson (via Business Insider). It also fit Keaton's renewed professional motivations: "That's what I've been doing for the last couple of years. Looking. Making a few manoeuvres. Some adjustments," he told The Guardian in 2014. 
The main character of "Birdman," Riggan Thomson, does resemble the real Michael Keaton as an actor best known for playing a movie superhero who left the role in 1992. Riggan is attempting an artistic comeback years after his stardom ended by mounting a prestigious Broadway production. The play becomes extremely fraught, however, as Riggan fights with extreme method actor Mike (Edward Norton), tries to reconnect with his estranged daughter Sam (Emma Stone), and all the while struggles with the Birdman voice continually speaking to him inside his head. 
Birdman helped Keaton's career once again take flight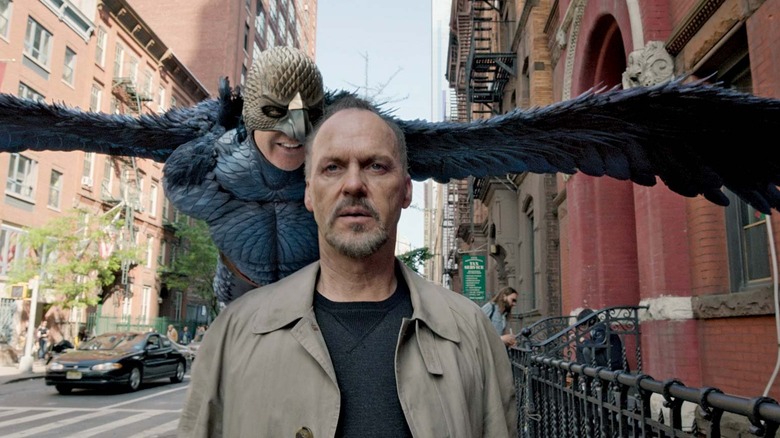 Fox Searchlight
"Birdman" broke the mold with both its presentation as one seemingly continuous shot, and its effective stunt-casting of Keaton, who's unhinged performance earned praise from critics. A reviewer for Roger Ebert commented that Keaton "can still be amusing and lacerating in his delivery, but there's a wry wistfulness and even a desperation in the mix now that's achingly poignant." The Times-Picayune agreed that the actor brought "every ounce of that tightly coiled, gum-chomping Chihuahua energy that defines so much of his work." Arizona Central even called Riggan Thomson "one of [Keaton's] best performances, ever." 
Keaton's career gambits had again paid off. At the 2015 Academy Awards, "Birdman" received several statues, including Best Picture, while Keaton was nominated for Best Actor. Ironically, "Birdman" helped Keaton start his own real-life comeback. The actor began scoring major roles again after the movie, appearing in "Spotlight," "Spider-Man: Homecoming," and "The Founder." Keaton is even reprising his Batman performance for the first time in decades with DC's standalone film for "The Flash." 
So, is Keaton's penchant for taking risks with eclectic roles — like his decision to join "Birdman" — borne of career desperation or personal bemusement?  The answer seems to be both. "I have this thing like, 'I wonder if I can pull that off? How much longer can I fool people?'" Keaton told The Hollywood Reporter. Regardless of his motivations, taking chances on daring characters like Batman and Riggan Thomson in "Birdman" has truly paid off for the veteran actor.