This Orange Is The New Black/Black Mirror Mash-Up Is Amazing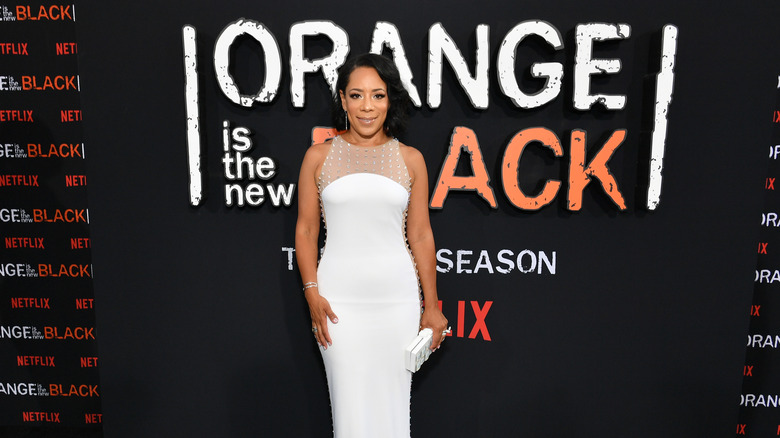 Dia Dipasupil/Getty Images
Warning: This post contains spoilers for Orange Is the New Black and Black Mirror. 
Here's a reunion that has us believing heaven truly is a place on Earth.  
In preparation for the quickly approaching fifth season of Orange Is the New Black, Netflix has released a mash-up video of epic proportions. Entitled "Orange Is the New Black Mirror," the clip brings together OITNB fan favorites Poussey Washington (Samira Wiley) and Taystee (Danielle Brooks) and drops them into a scene from Black Mirror. 
Shown decked out in their best '80s gear, the pair talk like it's old times and dance to Belinda Carlisle's "Heaven Is a Place on Earth." This picturesque scene is, of course, a parody of the heart-wrenching "San Junipero" episode of Black Mirror, which explores themes of sexuality, death, the afterlife, and the importance of extra-hold hairspray. Poussey and Taystee's dreamy meet-up is, unfortunately, fleeting, and Taystee wakes up in the Litchfield Penitentiary like usual.
Black Mirror loyals widely consider "San Junipero" as one of the show's best episodes (via iO9), and many were hoping for a return to the coastal town of party clubs and glowing neon lights. And with fans still broken up over Poussey's untimely death at the hands of a corrections officer in the fourth season of Orange Is the New Black, Netflix satisfied both sides with "Orange Is the New Black Mirror."
Take a look at the full mash-up above. 
Orange Is the New Black will return to Netflix for its fifth season on June 9. Until then, pass the time by checking out some of the best Netflix-exclusive shows.