Was Vin Diesel Secretly Forced To Make Up With Dwayne Johnson?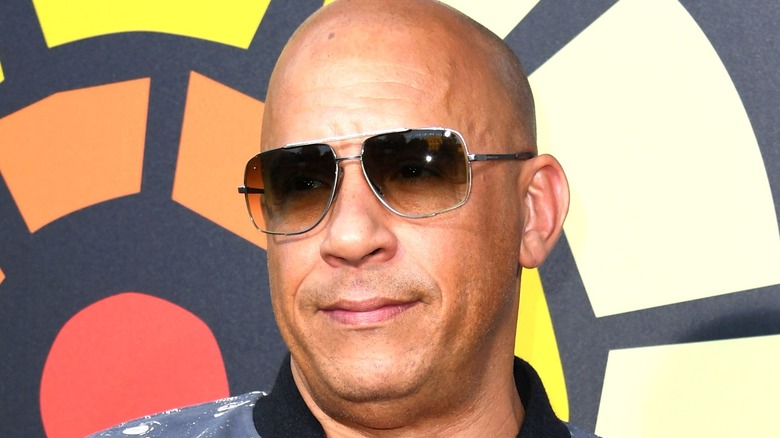 Jon Kopaloff/Getty
The "Fast and Furious" franchise currently boasts nine movies and is quite simple to follow. Throw in the spin-offs, prequels, and an animated series, and things start to get a little more complicated. Complicated like, going from pre-school to kindergarten. The "Fast" saga is easy, mindless fun with more subpar movies than great ones, but it's still a cinematic adventure.
What's not easy to follow is the never-ending, yet always entertaining, feud between "Fast" pioneer Vin Diesel and fashionably late to the franchise, Dwayne Johnson. The "Red Notice" star famously joined the "Fast and Furious" saga for its fifth installment ("Fast Five") and fit in as well as a 6'5", 260 lb. monstrosity can. Johnson portrays Luke Hobbs in the universe, a foe-turned-friend of Dominic Toretto (Diesel) and his gaggle of friends family.
All seemed great between the actors until 2016 when Johnson posted a lengthy caption on Instagram calling some male co-stars "candy asses" (via People). In the now-deleted post, Johnson made it clear he did not see eye to eye with one of his colleagues, and it was rather evident he was talking about Diesel. This was just after the production of "Fate of the Furious," and Johnson did not return for "F9" amidst the drama.
For the last five years, Diesel and Johnson have gone back and forth on social media and in interviews giving their sides of the story, which never seem to match up. The most recent update came in the form of an olive branch from Diesel to Johnson through yet another Instagram post, with the former begging his old friend to return to the franchise for the next film. It got us thinking, is this all out of the good of Diesel's heart, or has this all been carefully orchestrated?
Was this really all Vin Diesel's idea?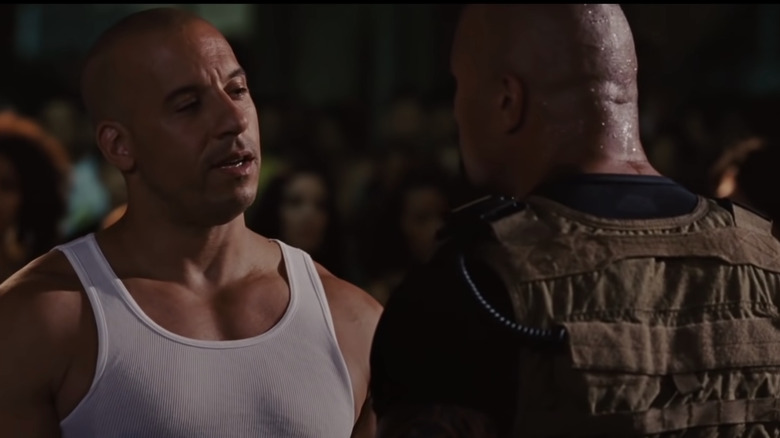 Universal Pictures
The last we heard of the feud before Vin Diesel's recent Instagram plea was from Dwayne Johnson while he was promoting "Jungle Cruise" in July. The actor upset "Fast" fans worldwide when he revealed he would not be joining any more films in the franchise but wished those involved in the next two projects well.
With Diesel confirming in an interview with Regal that filming for "Fast 10" and "Fast 11" would begin in January 2022, it seems like his recent stunt is a little too... perfect? Reaching out to someone who just put a nail in the coffin on their participation seems like a waste of time — or a very bold and hopeful strategy. Something about all of this just feels staged, like Diesel might be setting up the comeback no one saw coming, but in reality, we are all seeing it clear as day.
With just a few months to go before filming begins, now would be the time to solidify Johnson's appearance in the upcoming films, which are supposed to be a two-part finale to one hell of a 20+ year ride. "F9" definitely didn't feel quite the same without Johnson, and there's no doubt "F10" and "F11" would feel much more complete with him.
The Fast reunion always seemed like it was coming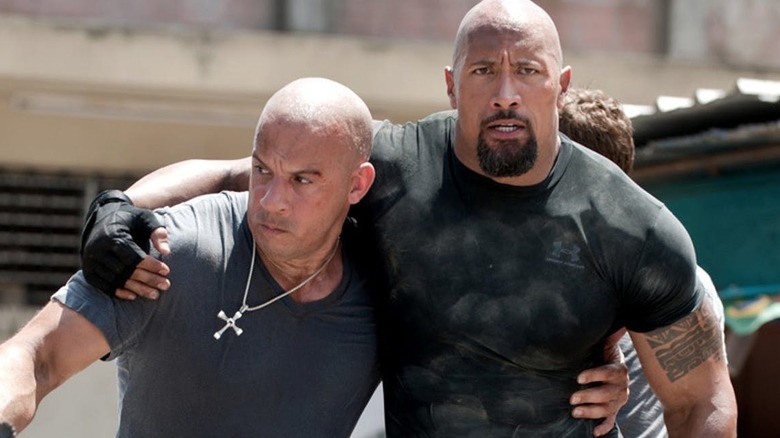 Universal Pictures
Did Vin Diesel do this out of the kindness of his own heart? It's hard to say, but we're guessing there are several cooks in this kitchen, and multiple people likely have encouraged Diesel to make amends with his former pal. There's a lot of money to be made with these final two "Fast" films, and the more star power, the better.
Diesel's post seems a little bit over the top and especially dramatic as he keeps suggesting it's Johnson's "destiny" to play Hobbs in these final films. While the silly wording definitely seems to fall in line with other posts shared by the "Riddick" actor, we're not quite sure he's the only one who felt this kind of public plea was necessary. Somebody might be forcing him to do so.
In 2019, Johnson shared a video to Instagram where he thanked Diesel for his support of "Hobbs & Shaw" and said, "I'll be seeing you soon, Toretto," with a wink. Fans thought this was the end of their feud, and it might as well have been. 
This makes Diesel's new post all the more confusing. It looked like the men were always primed to reunite, so this all seems like some weird "Fast 10" foreplay. We won't be surprised to hear the official confirmation that Johnson will return as Hobbs in the next movie and possibly "Fast 11." With the former wrestler as active on social media as he is, it's somewhat surprising he hasn't responded just yet. This only further suggests this is all being carefully orchestrated by others behind the scenes so Johnson can react adequately. We'll suspect we'll get the official confirmation the duo has reunited to film the finale hopefully in the next month.
Look, we're not mad about this. We're just wise to the game. Your move, Johnson.