Grown-Ish Season 5 - What We Know So Far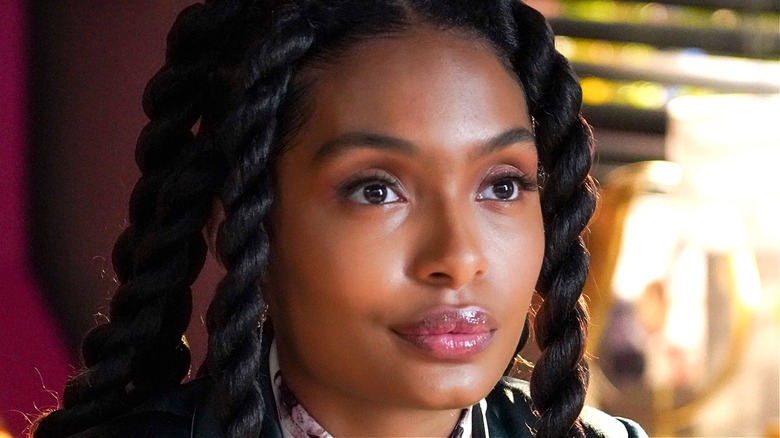 Freeform/Tiffany Roohani
Since premiering in 2014, Kenya Barris' hit ABC sitcom "Black-ish" has spawned several spin-offs, including the Freeform series "Grown-ish." The "Liberal Arts" episode of "Black-ish" actually served as a backdoor pilot for the latter show, with the official series first airing on Freeform in 2018.
"Grown-ish" is co-created by Barris and comedian Larry Wilmore. So far, the series has aired four seasons on Freeform, with Season 4 debuting on July 8, 2021 (via Entertainment Weekly). Barris spoke to The Hollywood Reporter before about how strongly he feels about "Grown-ish": "Because this is new and it's my baby, I'm super protective of it. And I feel like the network has given me a lot of faith in getting this together. I want to see it be a success. I want people to see what we see in this show. It's really important to me." Luckily for Barris, the show has been extremely successful so far, with a fifth season highly likely.
As "Black-ish" is now ending with its eighth season next year and spin-off "Mixed-ish" was cancelled earlier in 2021 (via Deadline), fans of the franchise are probably curious about whether or not Season 5 of "Grown-ish" is happening. Here's everything we know so far about the release date, cast, and plot of "Grown-ish" Season 5.
What's the release date for Grown-ish Season 5?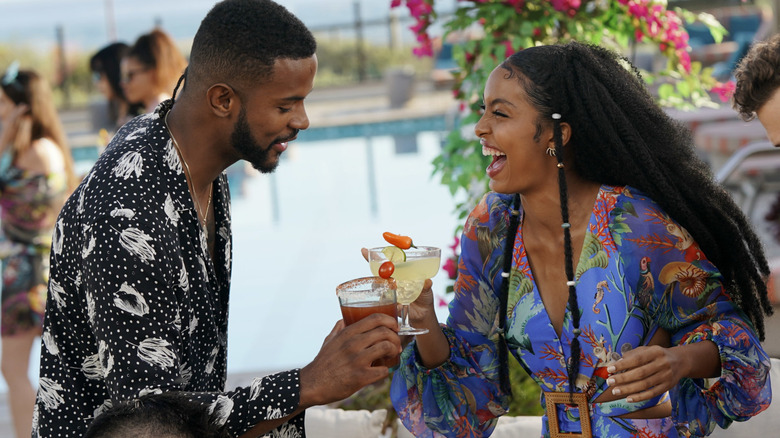 Freeform
Unfortunately, "Grown-ish" still hasn't been officially renewed for a fifth season by Freeform. It's possible that the network may choose not to continue the series, as it's recently cancelled other youth-oriented shows like "Everything's Gonna Be Okay" (via Deadline), or it may decide "Grown-ish" is worth continuing.
At this point, it will still take some time for Season 5 to come back to Freeform screens if the show is renewed, as the second half of Season 4 hasn't even premiered yet. It takes about a year or so for a show like "Grown-ish" to go through pre-production and rehearsals, shoot all the episodes, and complete post-production, followed by the marketing and release of the new episodes. "Grown-ish" Season 4 premiered in July 2021, with the second half of Season 4 likely to air sometime in early 2022, so Season 5 would probably premiere in fall 2022 or later.
Season 5 also may have to change the release date of episodes depending on the status of COVID-19. Freeform had to release the last half of Season 3 episodes in early 2021 instead of 2020 as planned, thanks to the pandemic (via TVLine), so COVID-19 could impact production again, resulting in similar changes in dates.
Who's in the cast of Grown-ish Season 5?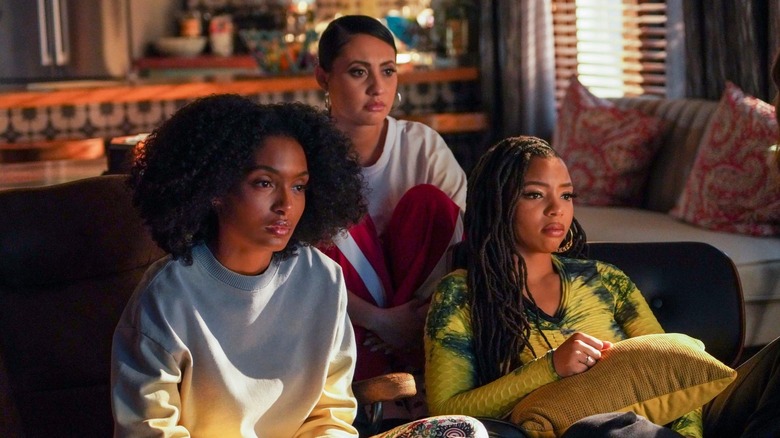 Freeform
It seems fairly certain that the current cast of "Grown-ish" Season 4 would return for another season of the show, though some characters have recently graduated from Cal U, the fictional college that they all attend.
The returning cast would likely include series lead Yara Shahidi as Zoey Johnson, who is also the narrator of the series; Trevor Jackson as Aaron Jackson; Francia Raisa as Ana Torres; Emily Arlook as Nomi Segal; Jordan Buhat as Vivek Shah; Chloe Bailey as Jazz Forster; Luka Sabbat as Luca Hall; and Diggy Simmons as Doug Edwards. It doesn't appear that the character of Sky Forster, who was previously a main character in the series, will appear again except possibly as a recurring character, as actress Halle Bailey left "Grown-ish" before Season 4 (via Yahoo). 
Only the first half of Season 4 has aired so far, so it's also possible that more actors may leave the show by the end of the season, while new characters might be added if the show is renewed. We'll find out more once "Grown-ish" Season 4 ends and writing for Season 5 can get started.
What's the plot of Grown-ish Season 5?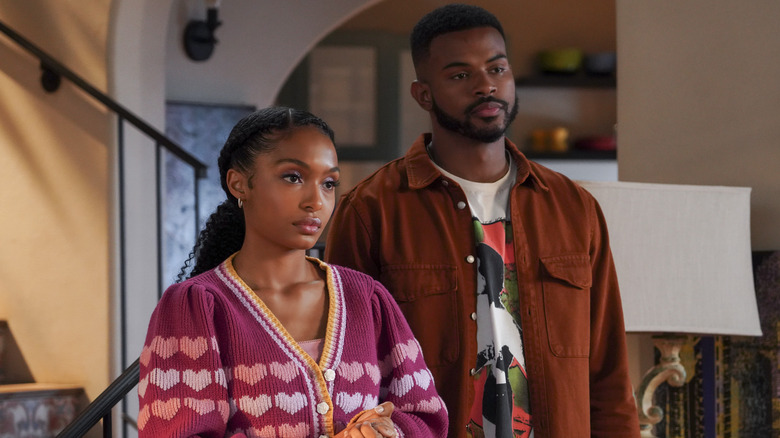 Freeform
"Grown-ish" focuses on Zoey, originally featured in "Black-ish," after she goes to college at Cal U and semi-successfully begins her adult life apart from her family. At Cal U, Zoey develops a core friend group, including Ana and Nomi, while dating other students like Aaron.
The first half of Season 4 ends on a cliffhanger, with Zoey and Aaron seemingly on the rocks. At a party, Aaron punches Zoey's ex Luca after finding out that he's offered her a job, before storming off. Zoey then goes to his place to find him and discovers that Aaron successfully got her an internship completion certificate, which would mean that she doesn't need the job from Luca. Meanwhile, Ana sleeps with Vivek, and Kiela (Daniella Perkins) and Doug continue to encounter problems in their relationship.
It looks like Season 4B and Season 5 could focus mainly on Zoey's attempts to graduate college alongside her friends as she also tries to figure things out with Aaron, but the story will become clearer when Season 4B and Season 5 finally air, hopefully in 2022.