Who Is Caroline Warner On Yellowstone?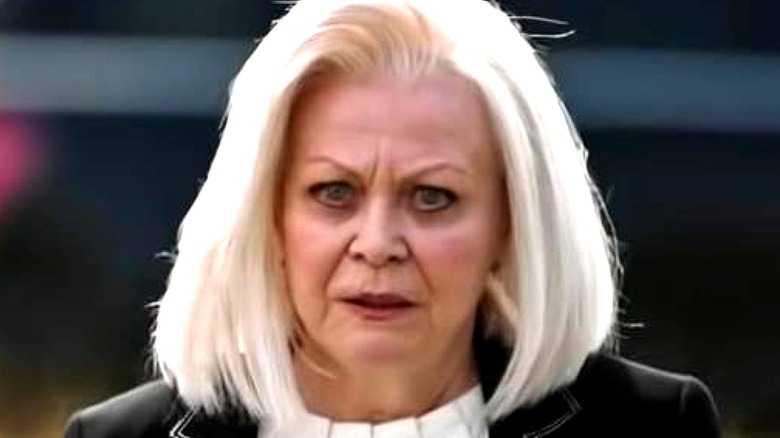 Paramount Network/You Tube
Like any television series invested in keeping viewers interested, "Yellowstone" Season 4 will bring with it a handful of new faces. Some of these characters exist to further flesh out the narrative and backstory of existing characters, such as Season 3's introduction of Jamie Dutton's real father, played by Will Patton. Elsewhere, others are a means of introducing fresh challenges, tensions, or (literal) blood to the overarching plot. Such is the case for the character of Market Equities CEO Caroline Warner, who's portrayed by none other than the inimitable Jacki Weaver ("Animal Kingdom," "Silver Linings Playbook"). 
In Paramount Network's "Meet the New Faces of Yellowstone," Weaver describes her role as CEO of "the biggest investment company in the world." She is the first competitive force with pockets deep enough to pose a lasting threat to both the Duttons' and Chairman Rainwater's (Gil Birmingham) plans for the land that comprises and surrounds the Yellowstone Ranch. As Weaver puts it, her character has "come to town to straighten things out," and as Birmingham puts it, she has "the resources to really undermine anything that we have tried to do." So, what does her presence mean with regard to the plot of Season 4?
Jacki Weaver plays a new force to be reckoned with on Yellowstone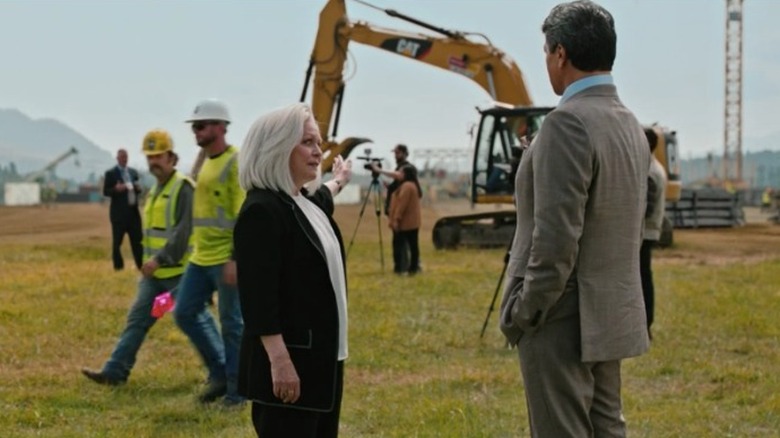 Paramount Network/Amazon Prime
In addition to being what John Emmet Tracy (who plays Ellis Steele) calls "a force of nature," Caroline Warner makes for a formidable opponent to the Duttons. More specifically, she combines the business and financial savvy of Beth Dutton (Kelly Reilly) with the ruthless tenacity of John Dutton (Kevin Costner), all while managing to demonstrate the softer skills necessary to get into her opponents' heads and manipulate their course of action. Despite Beth's boardroom skills and John's determination to win at costs, no one would ever accuse the Duttons (with the possible exception of Luke Grimes' Kayce, who's ruled by his father anyway) of having "people skills," much less the ability to tackle problems while keeping everything above board. 
Warner's ability to do this comes from her company's seemingly infinite and easily accessible wealth — a resource neither the Duttons nor Chief Rainwater have at their disposal. In terms of what this means for Season 4, it might just mean that (for once) John Dutton is going to bump up against a truly worthy opponent. "She's gonna shake them up," Jacki Weaver says of her character, adding that they're "going to have some fireworks soon."