Will There Be An American Rust Season 2?
Warning: spoilers for "American Rust" ahead
If you're a fan of shows like "Mare of Easttown," which stars Kate Winslet as a detective in a declining Rust Belt town who gets sucked into a murder investigation, chances are you'll probably also like the Showtime series "American Rust." It debuted on Sept. 12, 2021 and stars Jeff Daniels as police chief Del Harris, another investigator in another fading industrial town dealing with another murder. 
Season 1 deals with Del's investigation of the killing of a police officer-turned-drug dealer Steve Novick. Supposedly, the killer is Billy Poe (Alex Neustaedter), who's also the son of the woman Del's in love with, Grace (Maura Tierney). Season 1 is an adaptation of Philip Meyers' novel of the same name. But even though it covered all the material from the book, the show ended on so many cliffhangers that there's plenty of room for a second season.
Briefly, when Season 1 ends, Del finds out that Billy is innocent. But in the course of his investigation, Del is forced to kill two drug dealers and their 87-year-old cousin in self-defense, then cover it up to hide his involvement. That leaves his deputy, Steve Park (Rob Yang) suspicious that he might have something to do with it. Meanwhile, Del learns that the real killer is Billy's friend Isaac (David Alvarez). Since Isaac killed Novick to protect Billy, Del decides to cover up Isaac's involvement. Finally, Billy, who's still in prison, endures a brutal beatdown that leaves him in a coma. Oh, and Grace might have burned down her own house, too.
But just because a show ends on multiple cliffhangers, that's no guarantee it will actually get to finish the story. Here's everything we know so far about whether "American Rust" will get a Season 2.
The jury is still out on whether American Rust gets a second season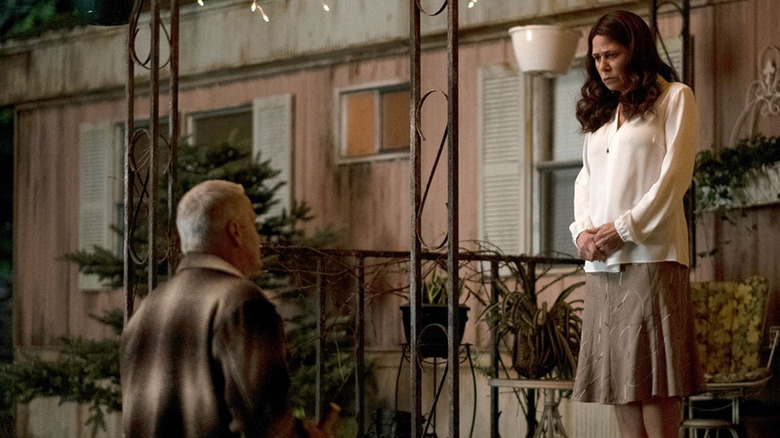 Showtime
"American Rust" showrunner David Futterman spoke with the Pittsburgh Post-Gazette on Nov. 8 and offered an update on the status of the show. While Futterman has assembled a writers' room to develop ideas for a second season, as of now Showtime hasn't decided whether to renew the show. 
"While Showtime doesn't understandably lay all the money on the table and say, 'We're making this, 100%,' the plan is that hopefully the scripts and story turn out in a way that make all of us happy, Jeff and Maura are happy, and hopefully we get to make a second season," Futterman told the paper.
Showtime's decision might partly depend on the scripts, but critical reception and ratings are also important factors — and unfortunately for "American Rust" fans, neither indicator is very robust. On Rotten Tomatoes, "American Rust" stands at just 35% Fresh among critics, although it does have a much better 71% Fresh rating among fans.
As for ratings, according to TV Series Finale, "American Rust" averaged just 304,000 viewers during its first season. It ranked sixth among all current or recent primetime Showtime series in terms of total viewership, and seventh in the 18-49 demographic. Among the 18-49 demographic, "American Rust" managed a score of just 0.02. By comparison, another recent Showtime crime series, 2020's "Penny Dreadful: City," had slightly better numbers across the board than "American Rust," but it was still cancelled after just one season (via TV Series Finale). 
Obviously, nothing's official until Showtime makes an announcement, but at this point a renewal would be somewhat surprising.