The Real Reason Ken Jennings Hosted Jeopardy! On November 8, 2021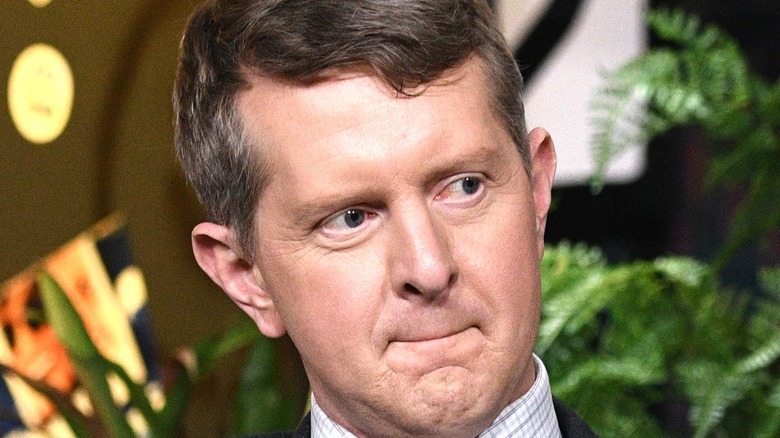 Gary Gershoff/Getty
Tragedy struck on November 8, 2020, for fans of the popular game show "Jeopardy!" The show's longtime host, Alex Trebek, passed away at the age of 80 after a long battle with pancreatic cancer. After Trebek's 37-seasons-long tenure on the show, it's hard to imagine what the series would look like without the iconic host at the helm — he certainly left big shoes to fill. As reported by Sporting News, 15 celebrities of varying levels of fame filled in as guest hosts in the months after Trebek's passing.
One such host was none other than Ken Jennings, who is known as one of the greatest contestants on "Jeopardy!" after winning 74 games. The champion was the first in line to guest host the show, and having done so well the first time around, was asked to return as host on November 8th for a special reason.
Ken Jennings returned to host Jeopardy! in honor of Alex Trebek
On November 8, "Jeopardy!" champion-turned-host Ken Jennings returned to host the game show to coincide with the anniversary of Alex Trebek's death. Jennings rose to fame after his 74-game winning streak earned him an impressive $2,520,700 (via AP News). He previously hosted a number of "Jeopardy!" games amid a series of guest spots following Trebek's death in 2020. Following "Jeopardy!" executive producer Mike Richards' controversial exit from the show, Jennings is set to split hosting duties with Mayim Bialik, who had been consistently hosting the show for seven weeks until Jennings stepped in (via Decider).
In a nod to the late host, Jennings wore a pair of Trebek's cuff links, which were gifted to him by Trebek's wife after his passing (per the "Jeopardy!" Twitter account). Jennings said that the gifted cuff links were a "great gesture" by Trebek's wife, Jean, and that they are "a kind of good luck charm." In the Twitter clip, Jennings also said, "I miss Alex a lot. When I'm in here, I feel like he's probably in the building somewhere. It's hard not to talk about him in the present tense." Thankfully, Trebek's legacy lives on through Jenning's homage to him and fans of "Jeopardy!"