Why AHS Fans Want To See More Of Roanoke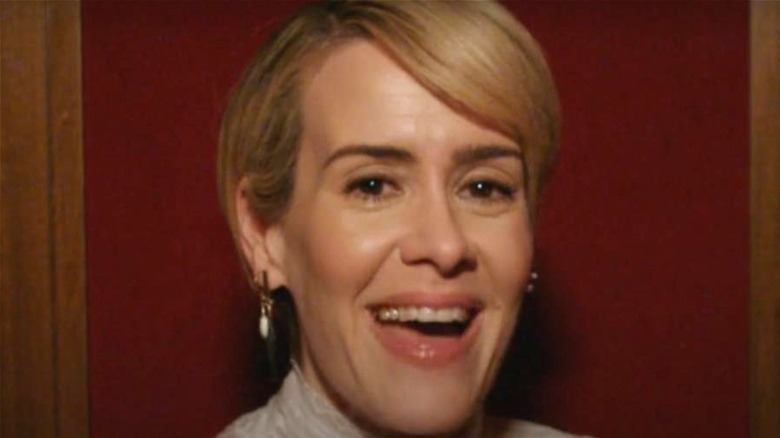 FX/Hulu
"American Horror Story" is a sprawling horror-camp series forged by Ryan Murphy and Brad Falchuk. Each season of "AHS" follows an anthology format, meaning that actors, themes, and time frames can change throughout. The series has featured massively talented performers such as Evan Peters, Sarah Paulson, Kathy Bates, Lady Gaga, and Angela Bassett. The show has also enjoyed changing venues, with seasons spending time at a haunted house, an insane asylum, a hotel filled with ghostly murderers, and even the end of the world!
"American Horror Story: Roanoke" was the 6th season of the popular franchise, and it was based on a family leaving Los Angeles to escape violence and moving to the area around Roanoke Island, North Carolina. Unfortunately for the family, their new home is populated by vengeful phantoms and surrounded by hostile neighbors. The cast of "Roanoke" consisted of Sarah Paulson, Lily Rabe, Cuba Gooding Jr., Denis O'Hare, Kathy Bates, and Evan Peters. Recently, fans took to Reddit to discuss the season and why they want to see more of "AHS: Roanoke."
Why do fans want to see more of American Horror Story: Roanoke?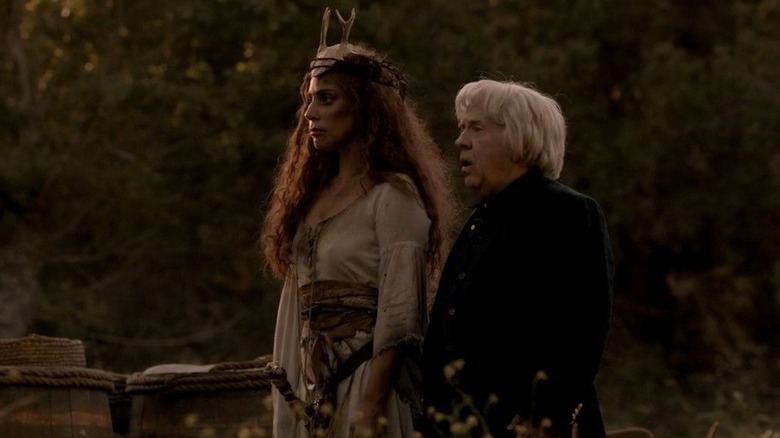 FX/Hulu
Original poster u/EmergencySyrup7605 started the conversation by postulating, "I had so many questions left unanswered after that season. I would have loved to see the interpersonal relationships in detail between the ghosts, and more details about the Old God's, etc." Others agreed, and believed that there were several unanswered questions from "Roanoke." One user, u/telekineticeleven011, wanted to see far more flashbacks and flash-forwards to cover the passage of time from the 1500s and on.
A comment from u/TheLokiDokiOG established that showrunner Ryan Murphy has confirmed that Lady Gaga's character in "Roanoke," Scathach, was indeed the very first "Supreme," which was the official title given to the current most powerful witch. This sets up a direct connection between "Roanoke" and "American Horror Story: Coven," the 3rd season of "AHS." The OP also enjoyed this connection and thought it would be absolutely perfect if Mallory (Billie Lourd) was a direct descendant of the Lady Gaga character.
u/viridiusdynamus interjected, "I'd watch a season set in the Roanoke world. It was scary as hell." Even though "American Horror Story: Roanoke" was divisive, with a 74% critical score and a 57% audience score on Rotten Tomatoes, it seems that there are fans who would love to see that season revisited.