Why The New Spider-Man: No Way Home Poster Has Fans Looking Twice For Faces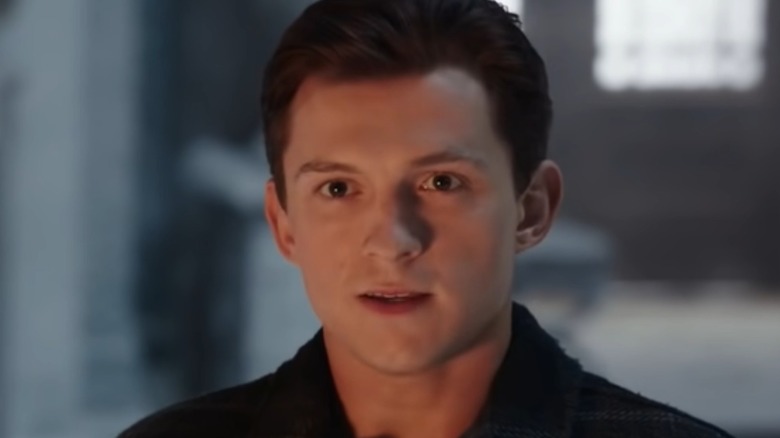 Marvel Studios/Sony Pictures
Marvel Studios is firing on all cylinders as 2021 approaches its end, supplying fans with new Marvel Cinematic Universe entries left and right. Following in the footsteps of July's "Black Widow" and September's "Shang-Chi and the Legend of the Ten Rings," "Eternals" made its cinematic debut on November 5 and has had the world talking — for better or worse. Though it would be a strong wrap to the year's theatrical MCU offerings, it's not the last big-screen venture on the docket before 2022 arrives. That honor belongs to "Spider-Man: No Way Home," which will premiere on December 17.
The hype around the most recent MCU projects has been strong, but none can hold a candle to "No Way Home." Rumors of a crossover between Tom Holland, Andrew Garfield, and Tobey Maguire's respective "Spider-Man" universes, as well as the supposed involvement of some fan-favorite villains from those three franchises, fueled online discussions for months. It all came to a head once the first trailer leaked, then officially dropped in August, confirming some of the most prevalent fan theories while piling even more questions onto our plates.
As the internet continues to speculate about what "No Way Home" has in store, a brand new poster for the threequel surfaced online. As one could imagine, webheads have already thoroughly picked it apart, and they had to do a double-take over what could be a hidden, evil face.
Is the devil in the details?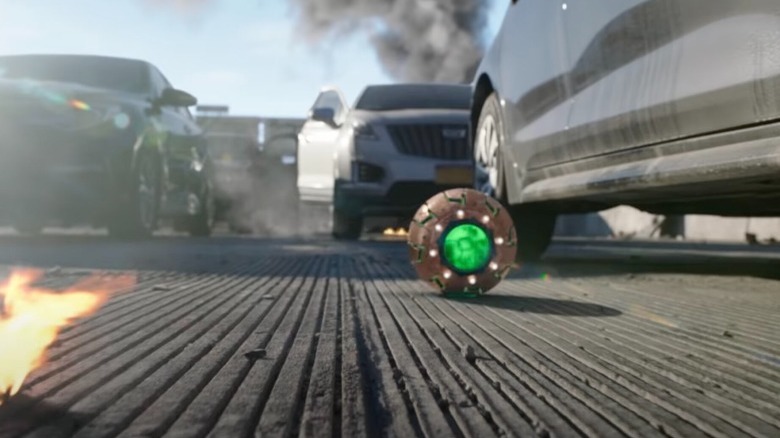 Marvel Studios/Sony Pictures
The latest "Spider-Man: No Way Home" poster is all about the bad guys. Peter Parker (Holland) is ready for action in his Iron Spider suit as Doc Ock (Alfred Molina) prepares for an attack with his mechanical arms, with an armored-up Willem Dafoe Green Goblin soaring in the background on his signature glider. Additionally, the sand clouds and lightning bolts obviously point to the presence of Sandman (Thomas Haden Church) and Electro (Jamie Foxx). However, fans think another Marvel villain who's not connected to the previous Spider-Man movies is lurking in the shadows: Mephisto.
Yup, we're doing this again. 
Both "WandaVision" and "Loki" led fans to believe that Mephisto was coming to the MCU, yet neither delivered. Now the consensus is that he'll make his introduction in "No Way Home." In the bottom left corner of the recent poster, just below Doc Ock's arm, there appears to be a pointy, red face with sunken and elongated features. This matches Mephisto's physical description, as pointed out by Redditor MursalMir, and Nerdist notes that the character plays a key role in the Marvel Comics stories "No Way Home" takes inspiration from — "One More Day," "One Moment in Time," and "Brand New Day" — so his inclusion would be fitting.
So, is Mephisto going to appear in "Spider-Man: No Way Home"? It's certainly a possibility, but there's no way to know until the movie hits the silver screen. MCU fans have allowed their hopes to get the better of them before when it comes to the devious character, so surely it's for the best that we all temper our expectations and enjoy the ride.