When Will There Be A Bad Santa 3?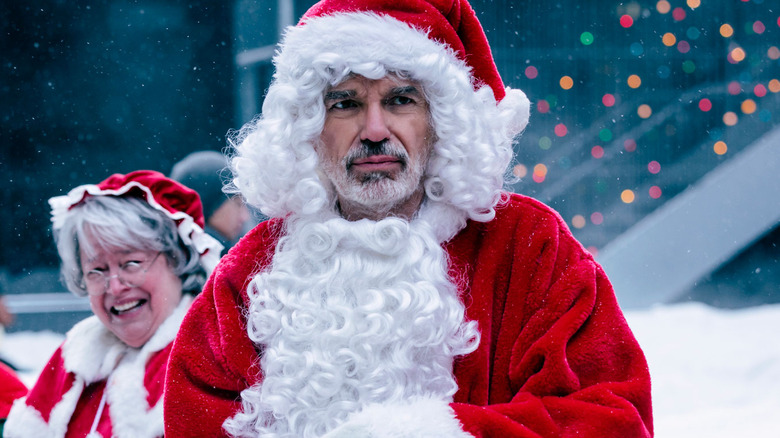 Broad Green Pictures
In between George Bailey realizing "It's A Wonderful Life" and Will Ferrell believing that he's an "Elf," there's a sack full of festive films that audiences always make sure to return to around the holiday season. One of them, in particular, stands apart from the rest — thanks to a hard-swearing (and constantly inebriated) Father Christmas. Released in 2003, "Bad Santa" was the offensive and massively uncouth Christmas movie that raised Billy Bob Thorton's chances of being on the naughty list astronomically. Directed by Terry Zwigoff, the film was a massive success on its initial release, drawing in $76.35 million from a production budget of only $23 million (via Box Office Mojo).
The popularity of the original "Bad Santa" led to Thornton returning to the role 13 years later in "Bad Santa 2," which drew fans back to the offensive antics of Willie T. Soke, the pro thief whose heists were always set up around the holidays, with the Santa get-up acting as the perfect disguise. Now, while a single sequel is always expected and often embraced, three is the magic number if you want a trilogy, begging the question — where is "Bad Santa 3," anyway?
Billy Bob Thornton would return for Bad Santa 3 on one condition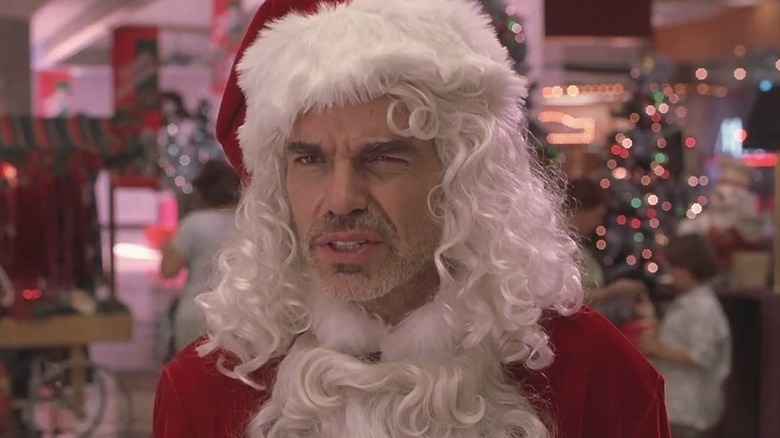 Broad Green Pictures
Speaking to Entertainment Weekly in 2016 following the release of "Bad Santa 2," Billy Bob Thornton expressed his consistent love for the character he brought to screens, and the respective films he was a part of. "I love both of them, I really do," he said, "and if people go see this, then maybe we'll make another one." 
At the time, the actor hoped there wouldn't be such a long gap as between the initial two, "otherwise it'll be 'Bad Nursing Home.'"
Unfortunately, as much as he hoped people would see the film, that wasn't the case. Failing to break even from its $26 million budget, "Bad Santa 2" hauled in a disappointing $24.1 million worldwide (via Box Office Mojo) and a meager score of 23% on Rotten Tomatoes. "Bad Santa 2" clearly paled in comparison to the original's shocking success, and as Rolling Stone said, "We have long hoped that there might one day be a sequel. We need to be careful what we wish for."
Given the dip in critical reception and overall success, it seemingly killed any potential prospect of a threequel happening. As with many comedy franchises, though, the laughter has got to stop sometimes. It's just a shame it had to end on such a sour note for the "Bad Santa" series.