Check Out The First Teaser For Yellowstone 1883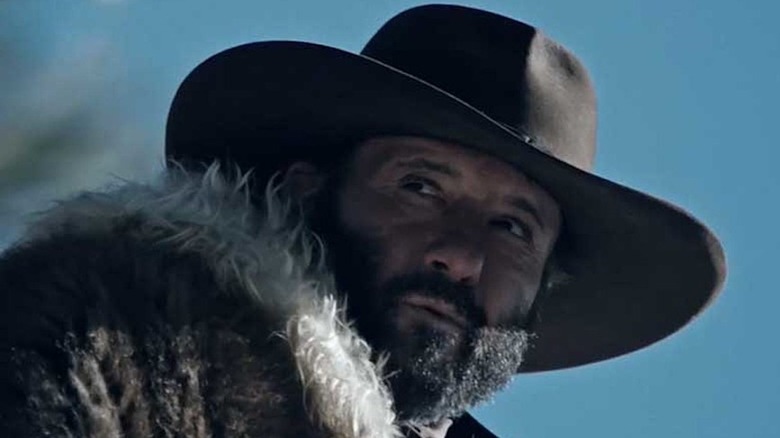 Paramount+
"Yellowstone" continues to be a hugely popular show for the Paramount Network, boasting an 80% critics rating and an 82% audience score on Rotten Tomatoes. The neo-Western from "Sicario" scribe Taylor Sheridan has captured the imaginations of a broad audience, which isn't surprising with stars like Kevin Costner, Wes Bentley, Luke Grimes, and Kelly Reilly onboard. But the "Yellowstone" universe is about to get much bigger, as Paramount's prequel series is set to explore the history of the Dutton family in, you guessed it, the year 1883. It'll specifically reveal how the dramatic family winds up owning a sprawling piece of land in Montana.
The network's brief description of the series teases "a stark retelling of Western expansion, and an intense study of one family fleeing poverty to seek a better future in America's promised land — Montana" (via Esquire). "Yellowstone: 1883" is set to arrive on Paramount+ in December later this year, and the streaming service recently revealed a brand new teaser to coincide with the Season 4 premiere of the flagship series, and it takes fans back over a century.
The Dutton family journeys west
The new teaser shows off the Dutton family's intense journey from Texas to Montana with a huge herd of cattle. It also gives fans a better look at Tim McGraw and Faith Hill as James and Margaret Dutton. They'll be joined by newcomer Isabel May as their daughter — who narrates the series, and Audie Rick as their son. Creator Taylor Sheriden has also wrangled other impressive stars into the prequel, and the teaser briefly reveals Billy Bob Thornton as U.S. Marshal Jim Courtright, alongside Sam Elliott as the Dutton's Wagonmaster, Shea Brennan.
Elliott told Entertainment Weekly that his character struggles with a loss when "Yellowstone 1883" starts, "It haunts him throughout, along with the responsibility of moving these emigrants north." The new teaser shows Brennan fighting in the Civil War, so he's clearly going to be dealing with a lot of trauma in the series. The Academy award-winner went on to say that the spin-off is its own story, and not a simple backstory setting the stage for the flagship series. "You can call this a spin-off or a prequel to Yellowstone or whatever you want, but for my money, it stands on its own."
"1883" arrives on Paramount+ on December 19, 2021.