The Latest Stranger Things Season 4 Trailer Teases A Spring Break To Remember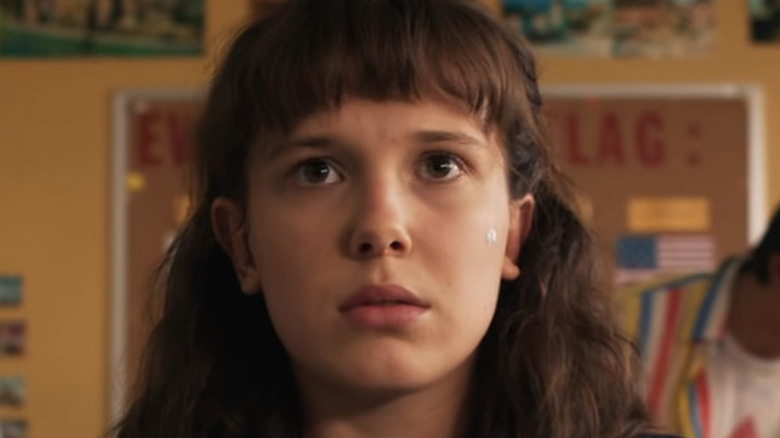 Netflix/Youtube
While Netflix is known for a number of original films and TV series, one of its biggest hits has been the nostalgic sci-fi series "Stranger Things." Making its debut in 2016, the show focuses on a group of children in the 1980s growing up in Hawkins, Indiana, as they battle supernatural entities and shadowy government figures. "Stranger Things" stars David Harbour, Millie Bobby Brown, Finn Wolfhard, and actual '80s screen legend Winona Ryder. The show is created by Matt Duffer and Ross Duffer, aka the Duffer Brothers, who had previously worked on the Fox series "Wayward Pines" (via IMDb).
Following the end of "Stranger Things" Season 3 in 2019, fans have been eagerly awaiting news of the show's fourth season. The Duffer Brothers haven't said much about the season's storyline, but previous trailers have revealed that Harbour's character, Jim Hopper, is still alive and that a mysterious house named the Creel House will play a key role. In June, a tweet from the writers' room indicated that the season is nine episodes long, which was confirmed further on November 6 when the "Stranger Things" Instagram account announced the Season 4 episode titles.
Also released on November 6 — known to fans as "Stranger Things Day" — was a brand new Season 4 trailer that promises to deliver viewers a spring break to remember.
Eleven appears to be in danger once again
The new "Stranger Things" Season 4 trailer was posted to the show's Twitter page. The clip begins with a few establishing shots before settling on Eleven (Millie Bobby Brown) painting a miniature as her voiceover addresses Mike, telling him that this is Day 185. We get glimpses of her new life before she gets into a pizza delivery van belonging to Surfer Boy Pizza, whose driver ("Booksmart" alum Eduardo Franco) advises, "Hold on to your butts, brochachos," before speeding away.
The trailer continues, revealing that Eleven's painting a much rosier picture of her time in California to Mike (Finn Wolfhard) than it is in reality. While she declares she's enjoying her new school and is making friends, she's actually being ignored in hallways and targeted by spitballs. As we see Mike reading a letter (presumably from Eleven, although this could be an editing trick), she expresses her excitement for spring break, which is a week away. She closes her note by telling Mike, "We will have the best spring break ever."
This is when chaos breaks loose. Amidst a rapid series of cuts, we see people at a roller rink, Joyce (Winona Ryder) looking at a doll, people with guns invading a home, Murray (Brett Gelman) taking off a pair of headphones, and a woman in high heels getting out of a car. What's most worrying is a shot of Eleven, who appears to be held back by men in suits. There are also shots of soldiers attacking an underground facility, a group of cars and a helicopter driving in a desert, and an explosion.
A release date for the fourth season of "Stranger Things" has yet to be announced, but the trailer's emphasis on spring break could be a clue.