HBO Has Dropped The First Trailer For The Righteous Gemstones Season 2
HBO has finally released a trailer for "The Righteous Gemstones" Season 2, and it looks like the Gemstone family is as venal, corrupt, and hilarious as ever.
A lot happened in the first season of Danny McBride's satire about the behind-the-scenes squabbles of a televangelist family. Early on, Jesse (McBride) was blackmailed with a video of his past drug use, and one of the blackmailers turned out to be his long-lost son, Gideon (Skyler Gisondo). When Gideon later tried to steal from the family, his uncle, Baby Billy (Walton Goggins), accidentally shot one of Gideon's partners in crime, then covered up the killing. The Gemstone family went to war with a rival church and its pastor, Johnny Seasons (Dermot Mulroney), for parishioners, before deciding to work together. Baby Billy had a near-death experience. Kelvin (Adam Devine) thought he was Jesus reincarnated. And that's just a sampling of the craziness.
Heading into Season 2, the Gemstones' drama is far from over. Here's a full breakdown of the new trailer, which also included the Season 2 release date: January 9, 2022. 
Season 2 will see the Gemstone family fighting over their empire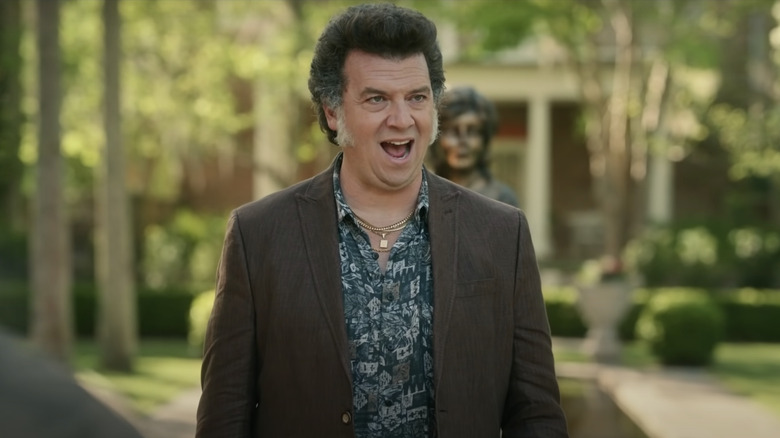 HBO
The trailer kicks off with Dr. Eli (John Goodman), Jesse, Kelvin, and Judy (Edi Patterson) all preaching to their mega-church together — but as we'll see, they're still not getting along. Then, in a nod to the ongoing COVID-19 pandemic, Dr. Eli references a passage from the Gospel of Matthew about pestilence and the need for faith. Finally, the family launches their new streaming service: Gemstones On Digital Demand (G.O.D.D.), an online platform that's meant to counteract the anti-religious "filth" that Hollywood cranks out.
Next, the trailer sets up another big storyline for Season 2: the arrival of the Lissons. They're a rival televangelist family who controls most of the Western United States, but their leader Lyle (Eric Andre), proposes that the Lissons and the Gemstones join forces.
But the Gemstones can barely even work with each other. After the arrival of the Lissons, the trailer shifts to the ongoing struggle over who will take over the family church/business once Eli retires. Jesse and his wife Amber (Cassidy Freeman) are obvious candidates, but Judy and Kelvin are gunning for the top job themselves.
That's already a ton of potential storylines, but the trailer only scratches the surface of what's in store for Season 2 this January.