How Rick Really Chooses Which Items Appear On Pawn Stars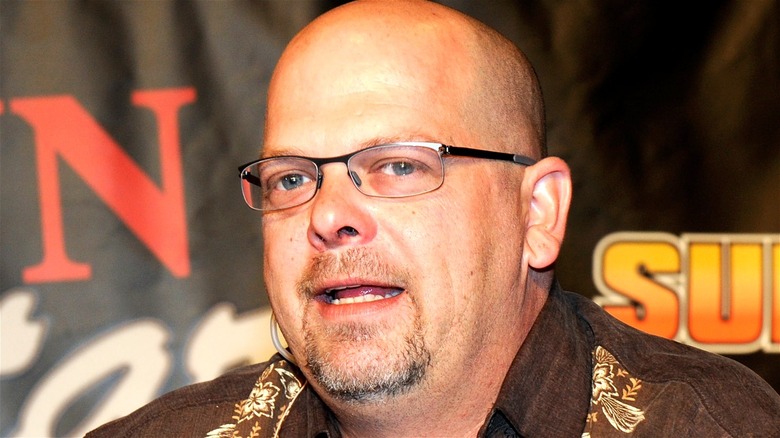 Ethan Miller/Getty
In a typical episode of pawn shop reality show "Pawn Stars," a few more-or-less everyday people bring valuables into the Gold & Silver Pawn Shop in Las Vegas for evaluation by the series' central cast. While the ensuing negotiation resembles the sort of conversation a seller might have with a pawn shop employee in real life, production of "Pawn Stars" necessitates that what's shown on camera is more of a recreation of a pawn shop deal than the real thing. In effect, this means that, while filming does indeed take place in an active pawn shop, the contents of "Pawn Stars" are only ever shot while the shop is closed to the public and effectively transformed into a private TV set.
This isn't the only manner in which the series sacrifices some authenticity for the sake of a cleaner product. In an interview with British satellite TV service Freesat, pawn shop patriarch Rick Harrison detailed his process for screening what sorts of items he would like to appear on "Pawn Stars" ahead of filming.
The valuables that appear on Pawn Stars are up to Rick's discretion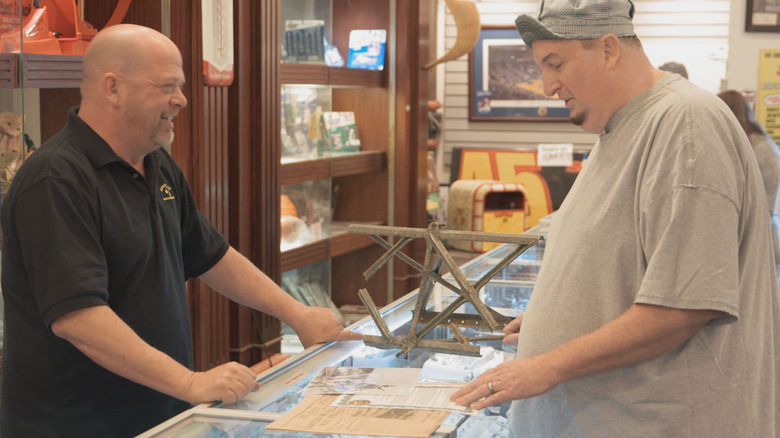 In response to a question from Freesat asking how he chooses which items to feature on "Pawn Stars," Rick Harrison discussed his philosophy behind determining just what ends up on-air. "Basically if it's something different and it hasn't been on the show before," he said, then it may be right for "Pawn Stars." Sometimes, he went on to explain, he approves an item based solely on a picture, only ever seeing it in person months later. "Usually if it's something different and cool," he continued, "and it's normally based off an image on the internet, a really small one, and I think it looks really cool, I say bring it on in. Because with most of these things if you want to see if it's real you've got to see it in person."
He then revealed that his on-camera assessments of the items he chooses largely consist of his own prior knowledge. "Sometimes I actually have to stop the camera and do a little research, but in general that's all me," he said. "I'm just that nerd you see on television and that's how we do it."
In summary, then, the items that end up on "Pawn Stars" are typically ones that haven't been featured in the series prior. Beyond that, Rick simply utilizes his considerable knowledge to pick valuables he thinks have "Pawn Stars" potential.