The Real Reason Lisseth Chavez Won't Be Returning To Chicago P.D.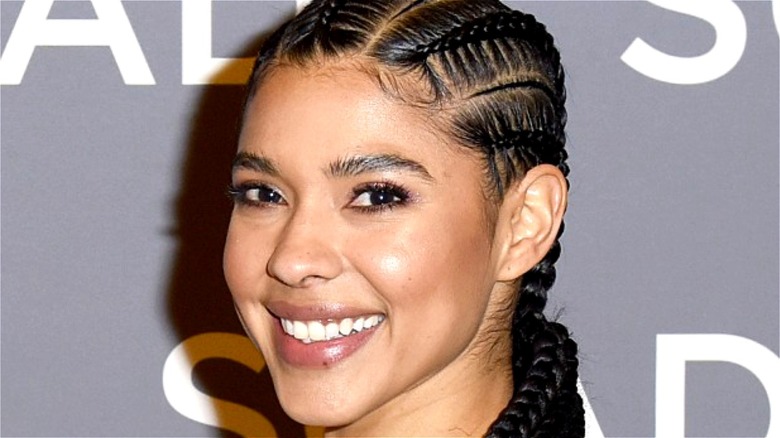 Vivien Killilea/Getty Images
Lisseth Chavez was a central figure on NBC's "Chicago PD" during its 7th season. Her character, Officer Vanessa Rojas, was introduced as a rookie and swiftly found herself in the thick of the action down at the 21st District. During her short time with the force, Rojas discovered that a close friend was involved in a drug ring and was forced to arrest them. Eventually, Rojas took measures to protect her friend's life while they were in custody, and her partner, Detective Hailey Upton (Tracy Spiridakos), tried to cover for her actions. That didn't work out well for Upton, who was sent to New York City on a temporary case assignment, which allowed the character to appear in a rare crossover event on CBS' "FBI." Rojas also started up a tentative romance with Officer Kevin Atwater (LaRoyce Hawkins).
But all of that changed in the blink of an eye when the character disappeared completely from "Chicago PD" without any onscreen fanfare during its Season 8 premiere. Fans have been left wondering what happened to the character and asking if Chavez will ever return to the role. Here's what we know about where Lisseth Chavez is now and why it's unlikely "One Chicago" fans will see Vanessa anytime soon.
Chavez is a cast member on DC's Legends of Tomorrow
For those missing Lisseth Chavez's work, she is currently a major part of the CW series "DC's Legends of Tomorrow." The actress took on the role of Esperanza "Spooner" Cruz in the 6th season of "Legend" and has been a regular on the show ever since (per Deadline). That explains why she hasn't returned to the "One Chicago" universe since Rojas' disappearance back in 2020. According to Deadline, the show's creative team chose to conclude Rojas' storyline, and Chavez's option was not picked up, which left her free to pursue the part of Cruz. Whatever plans the writer's room had for Rojas' exit never came to fruition because the COVID-19 pandemic shortened "Chicago PD"'s filming schedule for its 7th season, leaving no time to properly conclude Rojas' story arc.
"Chicago PD" — which as of writing is in its 9th season — hasn't addressed Rojas' disappearance onscreen yet. According to a 2020 TV Line interview with "Chicago PD" showrunner Rick Eid, the show's writers scripted an exit for Rojas in the Season 8 premiere but declined to use it because it "felt forced." "We're still working on it," he told the website at the time. With Kevin Atwater having moved on romantically and the show's characters making no mention of her since Season 7, that's not good news for fans of Vanessa Rojas. But devotees of Chavez can always catch her over on "DC's Legends of Tomorrow."