Stephen Amell Swings Into Action In Celebrity American Ninja Warrior Photos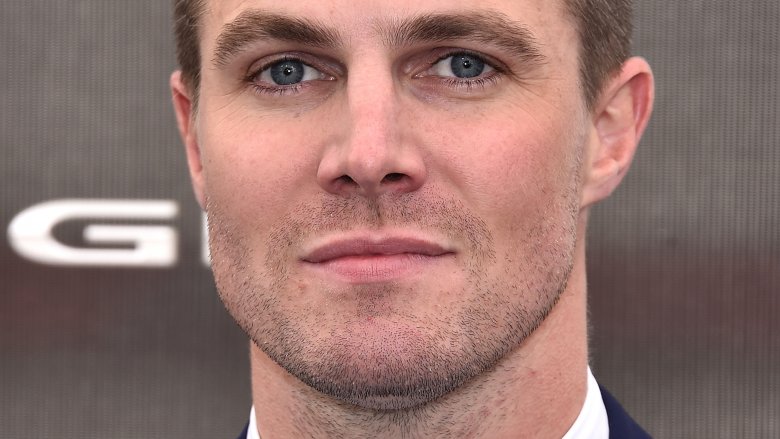 Getty Images
Stephen Amell is (probably) going to conquer Prometheus in Arrow's season five finale, and, shortly after that, it appears that he'll conquer the Celebrity American Ninja Warrior course as well. Amell is one of nine celebs who will take on the course as part of NBC's Red Nose Day, and new photos from the event show that he presses the buzzer.
Amell will be joined by Parenthood's Erika Christensen, Today's Natalie Morales, Not Safe's Nikki Glaser, American Pie's Mena Suvari, Dancing with the Stars' Derek Hough, Last Comic Standing finalist Jeff Dye, former MLB star Nick Swisher, and two-time Olympic gold medal decathlete Ashton Eaton. The group will take on the show's signature Floating Steps, along with five other obstacles including Block Run and Amell's favorite, the Salmon Ladder. Each celeb will be paired up with a Ninja Warrior partner, who will serve as their coach/cheerleader; Amell will work with Kacy Catanzaro, the first woman to complete a city qualifying course.
The photos show Amell at the top of the Warped Wall, and he appears to be pretty dry, implying that he makes it through the whole course (not surprising, considering the fact that the actor does most of his own Arrow stunts). However, it's still possible that he takes a spill somewhere in the middle of the course and is allowed to get back on and try again. Amell called tackling the course "surreal," and said that Catanzaro's help was necessary for his success. "For me, the most nerve-racking moment was the very first obstacle," he told Yahoo! TV. "Ninjas make it look easy... It isn't!"
Ninjas Kevin Bull, Flip Rodriguez, Grant McCartney, Jessie Graff, Natalie Duran, Daniel Gil, Meagan Martin, and Drew Dreschel will also appear for the special, which will air on Thursday, May 25 at 8 p.m. as part of NBC's Red Nose Day programming, which raises money for children living in poverty across the world. You can view more photos of Amell tackling the course below, or read up on the untold truth of American Ninja Warrior.