Arrow Season 5 Finale Ends On A Cliffhanger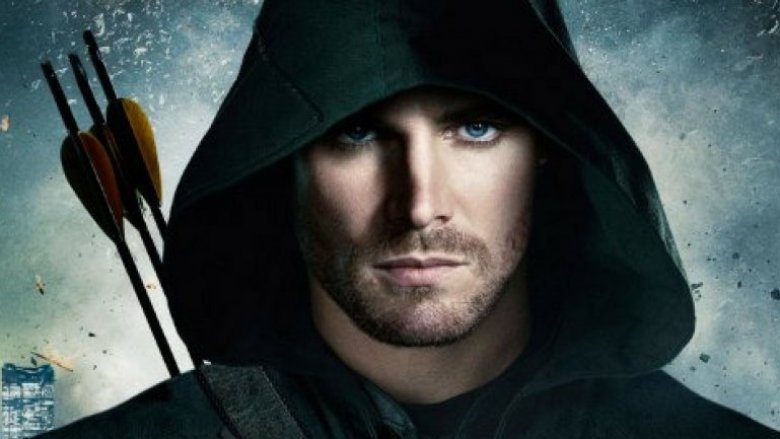 You might not have the answers you seek at the end of Arrow's season five finale. EP Wendy Mericle recently revealed to Entertainment Weekly that the finale will end on a big cliffhanger that will set up the show's sixth season.
Season five's final episodes will see the climax of Oliver's showdown against Adrian Chase (aka Prometheus), something which Mericle says will end in a very personal way to Oliver. "It is going to be the showdown between him and Adrian Chase that we've all been waiting for," she teased, adding that the finale has "some pretty big surprises" as the pair faces off both emotionally and physically.
"Not surprisingly, Adrian is going to continue to be several steps ahead of Oliver, but I think Oliver has got his number," Mericle added. "Emotionally, Chase has been trying to prove to the world and to Oliver that he is not a hero, he's a killer. He's going to pull out one final, big whammo at the end that is going to really leave Oliver reeling and raise a lot of questions. I think Oliver is going to come down on the right side of that question, but not without a lot of risk and a lot of potential heartache."
Still, Mericle says that, in the end, Oliver will get closer to accomplishing what he has been trying to do all season: putting the past behind him. To do so, though, he'll have to revisit it, with the show returning to Lian Yu as it wraps up Oliver-centric flashbacks. Oliver's trip down memory lane will also provide some new information for viewers as well, with the show revisiting some key moments from the pilot.
"We've managed to hopefully stick the landing on it in a cool way that allows us to see both some of the moments right before we first met Oliver in the pilot, where he launched that flaming arrow and it lit up the signal fire, and also maybe just a little bit after as well, some of the more emotional moments that we never got to see in the pilot," Mericle said. "While that's happening, we have the opportunity to see the island in the flashback, and we might see a little bit of it in present-day as well."
Oliver's journey to the past will also bring back some familiar faces to the show, including Katrina Law's Nyssa al Ghul, Katie Cassidy's Black Siren, John Barrowman's Malcolm Merlyn, and Manu Bennett's Deathstroke. Mericle says that each of the returnees plays an important role in Oliver's story, with some joining Chase's side and some joining Oliver's. "What I can tell you about in terms of motive and story is Chase has been Oliver's most formidable enemy so far, and he's going to need some people help him take Chase down," Mericle teased, lending more credence to the implication in the sizzle reel that Oliver will team up with Deathstroke.
The rest of the team will also have a big role to play in the finale, which Mericle calls an "all-hands-on-deck situation." "Everyone is going to have to do something to help put Chase to bed finally," Mericle said, adding that Slade, Felicity, and Diggle will all have very important parts in the final takedown. "Everyone's going to have a huge emotional stake in it, everyone is going to have a very big role to play."
The finale, which could see some character deaths, will mark a turning point for Oliver, after which he'll have to fight to bring things back to the way they once were. This rebuilding will be a theme of season six, which will look further into what Oliver's legacy is going to look like now that Chase has destroyed everything he once stood for. "Because we're closing such a big chapter, I think there are going to be some really new and exciting questions," said Mericle, adding that the finale will set up "a new dynamic" for season six. "Where all the characters are is an opportunity to redefine and for everybody to look back, reflect, and then start to look forward about where they want to go and where do they have the most impact in our lives? How are they going to be the best heroes they can be?"
The Arrow season five finale, aptly titled "Lian Yu," will air on May 24 at 8 p.m. on The CW. While we wait to see how this season's epic storyline will conclude, see how the show's characters should really look based on the comics.