This The Harder They Fall Easter Egg Might Get You Teary-Eyed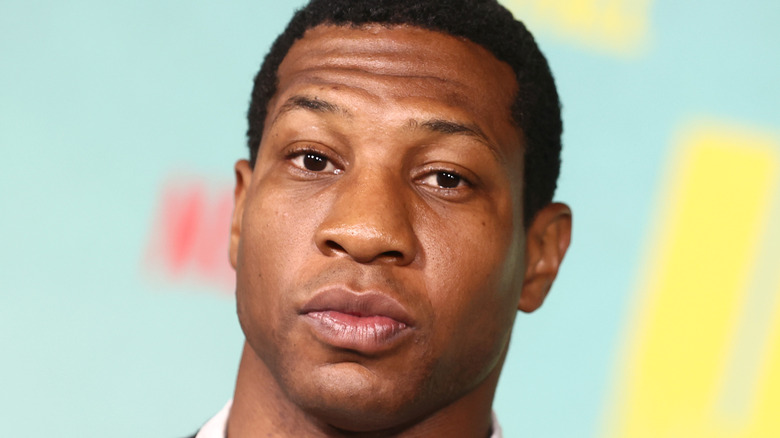 Rich Fury/Getty Images
This week, a brand new Western rode into town on Netflix, and it's already carrying some fantastic reviews. "The Harder They Fall" is the directorial debut of Jeymes "The Bullitts" Samuel and is crammed with a talented all-black cast that is chewing scenery and shooting it all to hell as they do so. Idris Elba, Jonathan Majors, Zazie Beetz, and LaKeith Stanfield star in the tale of vengeance, justice, and duels to the death, and following its release, fans noticed a heart-warming homage to a talent that is still sorely missed.
The film sees Nat Love (Majors) on the hunt for Rufus Buck (Elba), a notorious leader of a gang of outlaws responsible for killing his parents. Around 23 minutes in, Buck escapes being transported by the law after his partners in crime hold up the train and bust him loose. While the scene in itself is an incredible sequence, eagle-eyed fans may have spotted that both the train and one of the carriages that are moving Buck have a distinct name adorned on the side. The engine itself has the initials "C.A.B" at the front, while a carriage has "C. A. Boseman" in huge letters filling the background. As confirmed by Netflix following the film's release, this is no random name but a tribute to a former king of the Marvel Cinematic Universe and "Da 5 Bloods" star.
The Harder They Fall pays tribute to Chadwick Boseman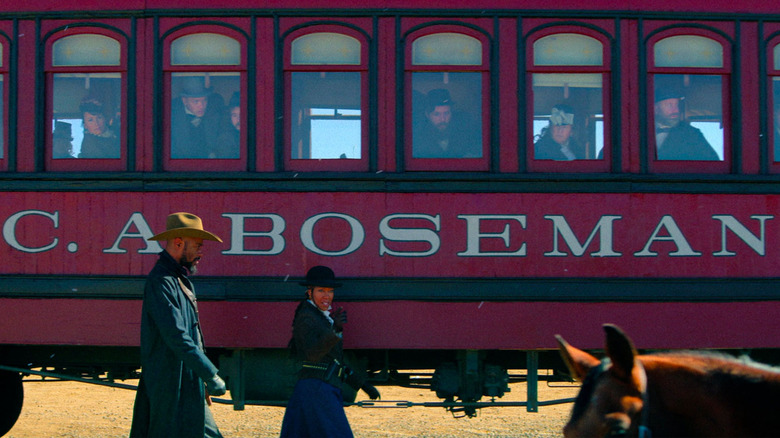 Netflix
The initials on show belong to the late and great actor Chadwick Aaron Boseman, who sadly died from cancer last year. Giving his last-on screen performance in Netflix's "Ma Rainey's Black Bottom" alongside Viola Davis — which earned him an Oscar nomination — Boseman was unquestionably one of the most influential black actors in recent years for his tragically brief time in the film industry. 
Following the release of "The Harder They Fall," the heartwarming tribute was highlighted by Netflix's Strong Black Lead account on Twitter, which said: "Our favorite trivia from 'The Harder They Fall' might be the fact that the train is named after our forever king, Chadwick Aaron Boseman." As far as easter eggs go, that's probably the most touching one you're going to see this year.
You can see it and the rest of "The Harder They Fall" now on Netflix.