When Will Spider-Man: No Way Home Be Available For Free Online?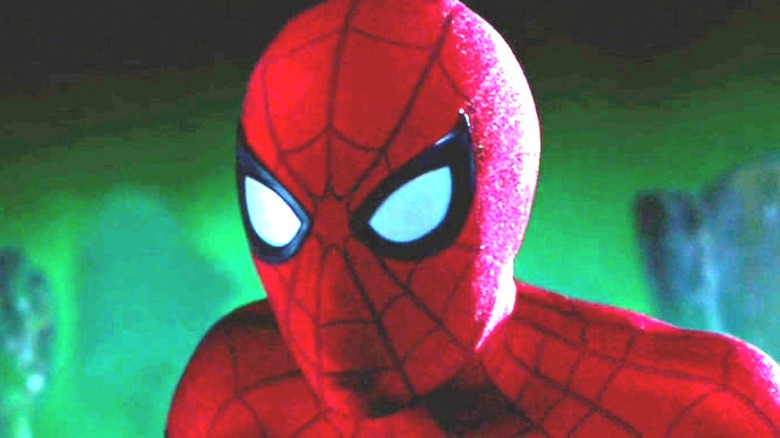 Marvel/Sony Pictures
Marvel fans have been chomping at the bit for more information about the latest "Spider-Man" movie for months now. The movie's tightly-guarded production process has resulted in an information desert. It's no wonder that when the first trailer for "Spider-Man: No Way Home" accidentally leaked, pandemonium set in. Fans went wild for what they saw: Alfred Molina returning as Doc Ock, Peter Parker (Tom Holland) and MJ (Zendaya) dealing with the fact that Peter has become an internationally reviled figure, and Dr. Stephen Strange (Benedict Cumberbatch) trying to fix it all.
Thankfully, the wait is nearly over. On December 17, the movie will finally hit theaters. But what about fans who want to stay home and watch the film online? What about fans who'd much rather see "No Way Home" for free? We know how you can see "Spider-Man: No Way Home" without breaking your piggy bank, but you'll have to be patient to do so.
A trial membership to Starz will let you see No Way Home ... eventually
Here's the bad news: the streaming situation for "Spider-Man: No Way Home" is not as convenient as say, Marvel's "Black Widow" release on Disney+ earlier this year. It appears that the film will be a theatrical exclusive. Per The Wrap, as of August 2021, Sony Pictures has promised movie theater owners it will avoid using a day-and-date system, so "No Way Home" will not be available for digital rental in December. But if you're patient and willing to wait a few months, then there's definitely a way to view the film for free online. 
Via What's On Disney+, Starz will be the exclusive cable home of "Spider-Man: No Way Home" when it's released for home media consumption sometime in 2022. The network offers a free weeklong trial for their service, and you can cancel it at any time. You can also add a free Starz trial to your Hulu package. Both options offer free online viewing and streaming options during this trial period of both their OnDemand programming and live network. Like the previous "Spider-Man" films, it likely won't be available on Disney+ any time soon, if ever. 
You might have to wait until spring at the earliest to find out how Peter's adventures turn out, but at least you won't have to put any money down to do so.