Courtney Love Has Some Surprising Remarks About Succession's Use Of A Classic Nirvana Song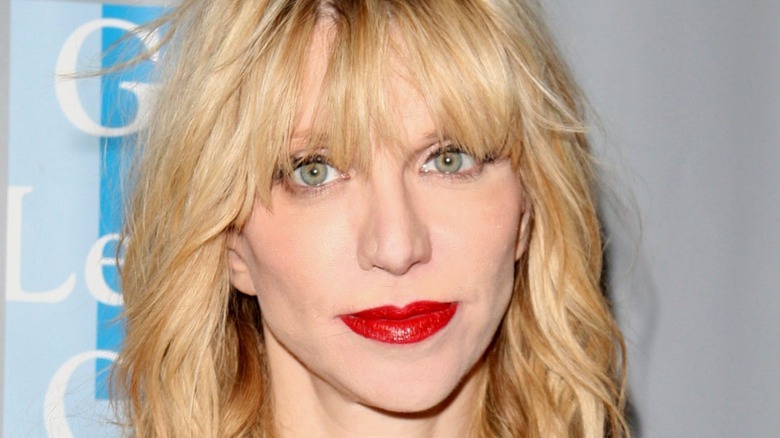 Joe Seer/Shutterstock
On this week's episode of HBO's "Succession," which is titled "The Disruption," things got ugly — or, at least, uglier than things involving the Roy siblings usually are. With the Waystar-Royco corporation still dealing with the fallout from its ongoing sexual harassment scandal, ousted CEO Logan Roy (Brian Cox) recently promoted his daughter Siobhan (Sarah Snook) to President of Domestic Operations. However, during her inaugural town hall event, Shiv's jealous brother Kendall (Jeremy Strong) — who publicly accused his father of covering the scandal up at the end of "Succession" Season 2 — disrupts the proceedings by blaring a Nirvana song over the company loudspeakers.
The song of choice was none other than Nirvana's controversial 1993 offering, "Rape Me," and its use was Kendall's not-so-subtle way of reminding everyone why Shiv was given the job. As the only "clean" member of the Roy family, she's supposed to help rehabilitate the company's public image.
It's a shocking, eyebrow-raising moment, but it might also cause some confusion amongst fans of the iconic Seattle grunge band, who may be surprised to learn that the song was allowed to be used that way in the show. However, Courtney Love, Nirvana frontman Kurt Cobain's widow, was quick to share her take on the scene.
Courtney Love is happy with Succession's Nirvana moment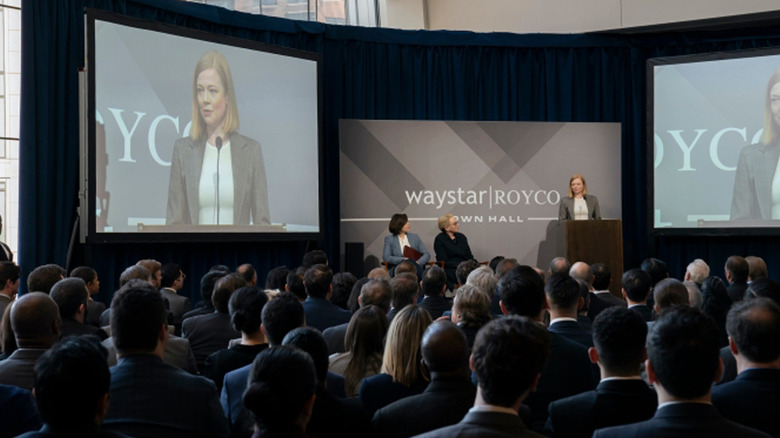 HBO
Courtney Love recently took to Instagram to praise "Succession" for its use of the Nirvana song (via Variety). "I've never been so proud of approving one of Kurt's songs," Love wrote. "This cue in @succession is as if they truly understood [Kurt Cobain and] what he was screaming his heart out ... without specifics ... about. I'm sure wherever he is he's proud of this."
In her post, Love also expressed her admiration for the song itself, writing, "I was in the room watching (agog) as this song was written in about an hour."
Even though Kendall's motivations for using the song are entirely selfish, it makes sense why Love would approve of its use. "Rape Me" is an anti-sexual assault anthem, and throughout his life, Cobain was outspoken about his views on the subject. "Rape is one of the most terrible crimes on earth. And it happens every few minutes," Cobain told NME in 1991. "The problem with groups who deal with rape is that they try to educate women about how to defend themselves. What really needs to be done is teaching men not to rape. Go to the source and start there."
If you or anyone you know has been a victim of sexual assault, help is available. Visit the Rape, Abuse & Incest National Network website or contact RAINN's National Helpline at 1-800-656-HOPE (4673).